Trouble in Paradise: China's Influence and Unrest in the Solomon Islands
Publication: China Brief Volume: 22 Issue: 4
By: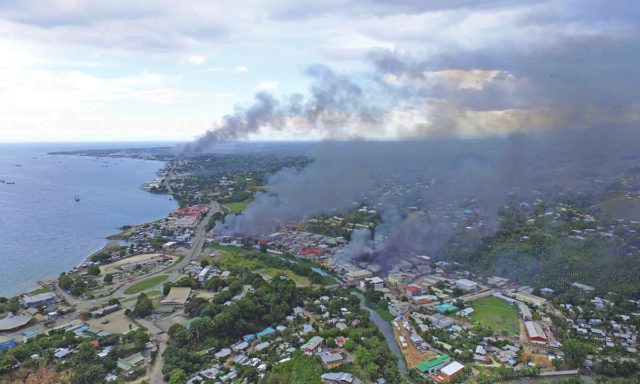 Introduction
What began as a peaceful protest in the Solomon Islands against the government's decision to switch formal diplomatic recognition from Taiwan to China turned deadly in late November. The demonstrations morphed into a violent expression of overall dissatisfaction with Prime Minister Manasseh Sogavare's government. Frustrated by high unemployment and crowded housing, rioters set buildings ablaze over three days of deadly unrest. In response, China dispatched six police officers to train the Royal Solomon Islands Police Force and provided equipment such as shields, helmets, and batons to "further enhance Police ability in confronting future threats" (Global Times, December 23, 2021; Australian Broadcasting Corporation, December 23, 2021). "China firmly supports the government of Solomon Islands in defending the country's stability, resolutely safeguards the relations between China and Solomon Islands and the legitimate rights and interests of Chinese citizens there, and strongly condemns any illegal and violent action," stated Foreign Ministry spokesperson Zhao Lijian (Ministry of Foreign Affairs of the People's Republic of China (FMPRC), December 23, 2021).
A disconnect soon emerged, however, in official statements from both sides regarding whether the Solomon Islands had explicitly asked China for help. Zhao said that China's anti-riot equipment came at "the request of the government of Solomon Islands" (FMPRC, December 23, 2021). But statements from the Royal Solomon Islands Police Force implied that the Pacific nation had first asked Australia for help before it also accepted China's unsolicited support. "While I appreciate the PRC for the support rendered, I must thank the Australia Government for responding to Solomon Islands request for assistance," said police commissioner Mostyn Mangau (Royal Solomon Islands Police Force, December 30, 2021).
The conflicting narratives and backlash against China's influence in the Solomon Islands highlight a complex bilateral relationship that has entered uncharted territory. While Beijing successfully convinced the Solomon Islands government in Honiara to abandon its diplomatic allegiance to Taiwan, it has yet to persuade many of the nation's 680,000 residents to follow suit.
Origins of Unrest
From November 24 to 27, hundreds of protesters looted shops and torched buildings, resulting in the deaths of four people (Japan Times, November 26, 2021). Amid the turmoil, Honiara's Chinatown district was one of the hardest-hit locations. According to the PRC embassy, riots in the Solomon Islands left "hundreds" of Chinese citizens homeless (South China Morning Post, December 6, 2021). Protesters also breached the National Parliament building in Honiara and set fire to a police station, among other buildings (The Sydney Morning Herald, November 26, 2021).
The premier of Malaita, the Solomon Islands' most populous province, has been particularly outspoken against Sogavare's embrace of Beijing and previously threatened to hold a referendum on independence over the issue. Prime Minister Sogavare accused unnamed "other powers" of igniting domestic tensions—a likely reference to Taiwan and the United States—who have provided financial aid to Malaita for opposing the Solomon Islands' diplomatic switch. "These very countries that are now influencing Malaita are the countries that don't want ties with the People's Republic of China, and they are discouraging Solomon Islands to enter into diplomatic relations and to comply with international law and the United Nations resolution," Sogavare said (Lowy Institute, November 26, 2021).
Chinese state-owned media outlets like the Global Times have pushed unsubstantiated theories about Taiwan's role in fomenting the riots. One article claimed that Taipei's ruling independence-leaning Democratic Progressive Party sought to cultivate influence in the region by "showering island officials with bribes, which were distributed to electoral districts and then used in elections" (Global Times, November 28, 2021). The Global Times also pushed an unfounded allegation that Taiwan sponsored the "premeditated" riots to "sabotage" Beijing's relations with Honiara (Global Times, January 4).
Relations with Taiwan
The Solomon Islands and Taiwan established formal diplomatic relations in May 1983, and the Taiwanese consulate was upgraded to an embassy two years later (Solomon Star, February 10, 2010, April 9, 2012). Since then, both states have built strong ties in the fields of medicine, education, and business. In 2006, Taiwan sent 24 "mobile medical groups" to South Pacific nations like the Solomon Islands and provided medical services to over 15,000 people (Taipei Times, March 28, 2008). Taipei established the Taiwan Health Center at the National Referral Hospital in Honiara in 2007, and dispatches a senior nursing professional to lead the mission each year (Office of the President of Republic of China, November 2, 2017). In 2010, Taiwan allocated $1.24 million to subsidize attendance fees for primary and secondary students across the Solomon Islands (Solomon Times, January 15, 2009). Recently, President Tsai Ing-wen's administration donated supplies including masks, soap, thermometers, and rice to assist with COVID-19 pandemic relief.
Taiwan has previously been criticized for its use of so-called "checkbook diplomacy" and bribes to political officials in the Solomon Islands, particularly under President Chen Shui-bian's administration (2000–2008) (Taipei Times, March 28, 2008). Sogavare seemed to echo similar criticisms when he accused "Taiwan's agents" of orchestrating the recent political unrest in November (France24, December 6, 2021).
Relations with China
While Taiwan has been accused of "checkbook diplomacy," China's use of what some describe as "dollar diplomacy" does not seem all that different. Instead, it looks to be a flusher and swankier version of the same playbook. The government in Honiara reportedly elected to switch diplomatic recognition to China in exchange for $500 million in aid (Taiwan News, September 16, 2019). Upon establishing diplomatic relations with China, the Solomon Islands joined the Belt and Road Initiative and finalized plans to receive a 10,000-seat national stadium in Honiara outfitted with an aquatic center, six tennis courts, a full-sized training track, and soccer and rugby fields, among other amenities (National Development and Reform Commission, July 27, 2021).
China's wealth of resources certainly factored into the Sogavare government's decision to cut ties with Taipei. "In terms of economics and geopolitics, we cannot flex our muscles. So they [Taiwan's government] are completely useless to us in that sense," the prime minister acknowledged in an earlier interview with Australian National University (Australian Broadcasting Corporation, September 16, 2019). Geopolitics aside, the economy of the Solomon Islands relies heavily on China. In 2019, China was the Solomon Islands' top import and export destination with a total value near $515 million (The Observatory of Economic Complexity, accessed February 22).
Despite extensive economic ties, China's influence has received significant pushback from other political leaders in Honiara. In November 2019, shortly after the decision to recognize China, the Solomon Islands Parliamentary Foreign Relations Committee submitted a report calling for the Sogavare government to "deepen its relations with the Republic of China (Taiwan) instead of severing its existing ties" (National Parliament of Solomon Islands, November 26, 2019). Disapproval of the move to normalize ties with China at Taiwan's expense prompted opposition leader Mathew Wale to seek Prime Minister Sogavare's removal through a no-confidence motion. While the move ultimately failed, it underscored the extent of domestic opposition to normalizing relations with Beijing. A Sydney-based news outlet reported that China promised payments of $44,000 to each of the Members of Parliament who backed the current Prime Minister in the recent no-confidence vote (The Australian, December 6, 2021).
Conclusion
Civil unrest and political violence are not new to the Solomon Islands. Between 1998 and 2003, tensions between different militant ethnic groups spurred the deployment of Australian and New Zealand peacekeeping forces (Regional Assistance Mission for Solomon Islands, accessed February 22). In 2006, over 300 ethnic Chinese people were forced to flee the Pacific nation after two days of violence, arson, and looting overwhelmed Honiara's Chinatown district (Al Jazeera, April 23, 2006). The Sogavare government's embrace of China has the potential to backfire and inflame such longstanding tensions, as demonstrated by the November 2021 riots.
The decision to switch allegiances also has significant geopolitical consequences. The Solomon Islands dealt a significant blow to Taiwan's international standing—leaving just 14 countries that still officially recognize the East Asian island—despite substantial influxes of U.S. aid to the pro-Taiwan government in Malaita (Solomon Business Magazine, October 8, 2020).
As China's geopolitical power continues to increase, and its international assertiveness along with it, the trend of diplomatic defections from Taiwan will likely persist. With the skepticism that many citizens harbor toward Beijing, China will need to fulfill its promises of economic aid. In late January, China delivered 50,000 COVID-19 vaccine doses, 20,000 test kits, and 60,000 medical masks to Honiara, accompanied by 15 tons of police supplies to support the island's efforts to "uphold stability and stop violence" (Ministry of Foreign Affairs of the People's Republic of China, January 26). Yet Beijing must tread carefully to ensure that such inducements do not resemble another form of dollar diplomacy at best and outright graft at worst. Otherwise, another tragic uprising will be unfortunate but not unsurprising.
William Yuen Yee is a Research Assistant for the Columbia-Harvard China and the World Program. His writing on China's foreign relations and international trade has been published in the Center for Strategic and International Studies, The Diplomat, and SupChina. You can follow him on Twitter at @williamyuenyee.