City of Vice: Macau, Gambling, and Organized Crime in China
Publication: China Brief Volume: 22 Issue: 4
By: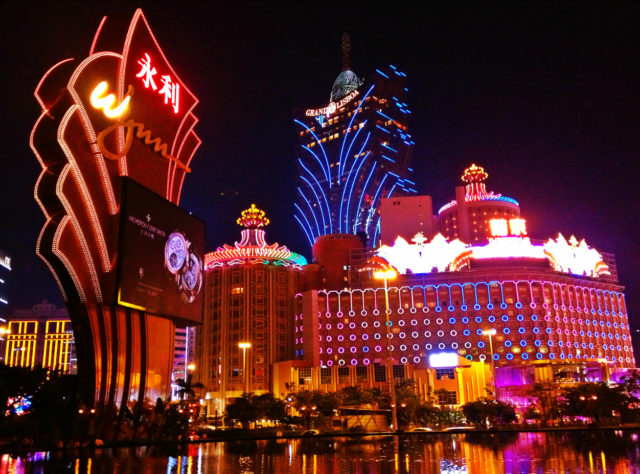 Introduction
In November 2021 and January 2022, the Macau Special Administrative Region (SAR) Judiciary Police arrested 13 individuals involved in operating two separate casino VIP customer "junkets" for engaging in illegal gambling activities, running a criminal syndicate, and money laundering (Macau Judiciary Police, November 29, 2021; January 31). The criminal groups used their VIP junket business in Macau casinos to recruit mainland Chinese residents to engage in illegal online gambling on overseas platforms, and illicit side-betting. The proceeds of the syndicate were then laundered and transferred through the junket accounts of the casinos using underground banks. These developments underscore how gambling in Macau has grown from small beginnings, as tolerant Portuguese administrators did not want to unduly antagonize local Chinese, to a multi-billion dollar business that has been infiltrated by organized crime groups for much of its modern history.
During Portuguese rule (1557–1999) Macau was described as the "city of the name God," hosting the religious orders of St. Augustine, St. Dominic, and St. Francis, as well as convents and Catholic churches (Cultural Affairs Bureau, Macau Government). In the 20th century, Macau became a city of vice as casino gambling emerged as the dominant business, supported by related prostitution, money lending, and money laundering from mainland China. After the return of sovereignty and administration from Portugal to China in 1999, Macau has had extraordinary economic success and relative political stability compared to the neighboring Hong Kong SAR. Macau's gross domestic product (GDP) rose from $6.458 billion in 1999 to $45,103 billion in 2016 at average annual growth rate of 12 percent. This economic growth, however, has been increasingly dominated by the gambling sector, which in 2013 accounted for over 60 percent of GDP. Casino "gross gambling revenue" in Macau has surpassed Las Vegas and the city is effectively the world's largest gambling center. [1] However, as the gambling sector has grown, so has the organized crime long associated with that business that has become a domestic problem for China and has impacted other countries in Asia. A particular concern for Beijing is the Macau gambling industry's role in facilitating capital flight.
Cross-Border Crackdown
The recent arrests in Macau followed warrants issued in November 2021 by the Wenzhou Public Security Bureau, Zhejiang Province, for Alvin Chau, the chairman of the Suncity junket (the largest in Macau) relating to the operating of cross border gambling on behalf of the Suncity Gaming Promotion Company (Xinhua Net, November 26, 2021). The following week, Chau was arrested in Macau. This has given rise to speculation that the huge gambling revenue growth from Macau casinos is over, as the illegal casino junket operators, which the gaming industry relies on, cannot operate.
The criminal cases seem to be signals from the Macau and mainland China authorities for certain cross border gambling activity to be restructured, and is related to the long term problem that the Chinese government faces with capital flight, which is harmful to the Chinese economy. China has strict capital controls, which allow an annual purchase limit of the equivalent of $50,000 in foreign currencies, but in 2015 an estimated $676 billion flowed out of the country as Chinese people sought safe havens for their money (Institute of International Finance, January 19, 2016). This caused the Central People's Government great concern as to how this capital flight was taking place.
Macau gambling and related illegal online gambling activity is not the only channel for unauthorized capital flows out of China, but given authorities' attention to the issue, it likely comprises a reasonable portion of the total funds being moved illicitly out of the country. In 2021, total annual gross revenue from casino games in Macau was 86.8 billion Patacas (around $10 billion), which, based on the currency controls, indicates that a substantial portion of this is illicitly moved overseas (Macau SAR Gaming Inspection and Coordination Directorate). Underground banking and illegal gambling also likely facilitate huge amounts of capital outflow. The Council on Anti-Illegal Betting & Related Financial Crime of the Asian Racing Federation reported recently that around 1 trillion renminbi ($145 billion) flows out of China via illegal online gambling websites each year (Asian Racing Federation, September 21, 2021).
In July 2019, Zhao Kezhi, State Councilor and Minister of Public Security, announced that appropriate departments should take special action to crack down and destroy criminal organizations involved in illegal online gambling, underground banks, and network payment platforms (State Council, July 13, 2019). The actions were swift and international in scope. In January 2021, the Ministry of Public Security announced that during 2020 over 600 suspects were repatriated by Chinese police in collaboration with counterparts in countries including the Philippines, Malaysia, Myanmar, and Vietnam (State Council, January 6, 2021). According to Zhao, by April 2021, police investigated over 17,000 cross-border gambling and related cases, apprehended 110,000 suspects, and stopped over 3,400 online gambling platforms and over 2,800 illegal payment platforms and underground banks (State Council, April 8, 2021).
Gambling in Macau
The Chinese Communist Party (CCP) outlawed gambling upon taking power in 1949, but illegal gambling in China has remained widespread through the present day. Macau is the only territory in the People's Republic of China (PRC) where casino gambling is currently legal. [2]
Macau casinos have a long history dating back to its centuries as a Portuguese colony from 1557 to 1999. In 1810, Macau introduced a charitable lottery. In 1846, the colonial government legalized Fan Tan (a game involving a random number of counters placed under a bowl with people gambling on how many will remain as four at a time are removed), and in 1847 Pai Gow (a Chinese tile game). The Macau government introduced gambling house franchises for both games, which became a source of revenue. In 1930, the Macau government launched a monopoly system for gambling houses and by 1961 the Governor declared that Macau was a "permanent gambling region." This led to a public tender for the monopoly casino operating license, which in 1961 was won by Stanley Ho and his Sociedade de Turismo e Diversões de Macau ("STDM") company.
Stanley Ho brought huge growth to Macau and transformed the city into the only Chinese gambling center for Chinese customers, who came from the mainland, Hong Kong, and the wider Chinese diaspora to gamble. STDM operated eight casinos in Macau, as well as a horse racing track, greyhound racing, and the only ferry service between Hong Kong and Macau. This monopoly made Stanley Ho and his associates astoundingly rich, but the involvement of organized crime groups caused doubt regarding the sustainability of the gambling business after triad societies (criminal syndicates) came into violent conflict in 1997.
STDM's long established monopoly over the Macau gambling industry ended in 2002 when the local authorities allowed U.S. and other overseas corporate gambling operators to enter the market. However, organized crime involvement in the gambling business did not end, but instead criminal groups increased their revenue as they expanded their gambling marketing, money laundering, and debt collection activities into Mainland China. The U.S. gambling operators quickly learned that they could not legally either conduct marketing to customers in Mainland China or collect gambling debts, which are not legally enforceable in the PRC. The result has been 20 years of massive revenue for those triad groups that transformed themselves into "junket operators" to bring Mainland Chinese to Macau to enjoy the city of vice.
Organized Crime in Macau
The violent conflict between triad societies (organized crime groups based in southeastern China) in 1997 illustrated how extensive they had become in the casino gambling industry and how powerless both the Portuguese authorities as well as the monopoly gambling operator were to control them. The triad conflict only ended when a key protagonist, Wan Kuok Kui (also known as "broken tooth") was arrested, convicted, and imprisoned (BBC, October 11, 1999). However, the real driver of the cessation of triad violence was the imminent resumption of sovereignty by the PRC and the fear among triad groups that Beijing would put an end to their gambling-related businesses.
In 1997, the Macau 14K and the Wo On Lok triad societies were in open violent conflict, leading in the first five months of the year to over a dozen murders, following 21 murders in 1996. Wan Kuok Kui destabilized the balance of power in the Macau underworld and caused the conflict by trying to capture market share from rival triad factions. The violent conflict only ended when the Portuguese led Macau Judiciary Police arrested Wan Kuok Kui in May 1998, leading to his conviction on charges of criminal association, loan sharking, and illegal gambling, which resulted in a 15-year prison sentence. [3]
The triad conflict stemmed from competition for control of the lucrative casino VIP rooms and vice (prostitution was often included in VIP packages provided to wealthy gamblers). VIP Rooms were introduced by STDM and Stanley Ho to bring high rollers into Macau's casinos. The VIP Rooms were leased to "junket" groups that were responsible for bringing customers from the PRC to Macau to gamble, as well as managing the illegal aspects of this business such as giving credit and recovering debts. The need for credit came from the PRC's law preventing anyone from taking more than around 20,000 renminbi (around $3,000) out of the country. Debt collection was complex as gambling debts are not legally enforceable in mainland China, where almost all gambling has remained illegal. "Junket" operators solved these problems for Stanley Ho and STDM, but as they were all involved with or operated by triad societies, these arrangements facilitated organized crime groups' access to the casino business.
The end of the casino monopoly in Macau in 2002, when the government granted three operating concessions and later increased to six, led many observers to predict that triad and organized crime involvement in Macau casinos would end. In reality, the growth of casino revenue in Macau fueled huge income for the triad society factions that dominated the major junkets.
Since the 2018 crackdown by the Chinese authorities against illegal gambling, it was clear that Macau, the junkets, and the triad leaders involved in the largest operators were deeply involved in cross-border organized crime. In July 2019, a state-owned news agency report denounced Suncity, the biggest Macau junket operator, for facilitating online gambling; Suncity denied the accusation. The report said that the practice had caused "great harm to China's social-economic order," and that the annual amount wagered by Suncity mainland clients in the online casinos it operates from Southeast Asia was over trillion yuan, equivalent to a staggering $150 billion (Economic Information Daily, July 8, 2019).
The PRC government has struggled with periodic capital outflows during the peak years of economic growth, which can weaken the Yuan currency. A key channel for capital outflows from China has been Macau casinos, facilitated by junkets arranging credit in the Mainland, providing underground banking facilities and assisting in the laundering of the proceeds of crime from the PRC. This problem illustrates the continued existence of organized crime groups in China, as well as their success in diversifying their business outside of the country and across Asia. It remains to be seen whether the crackdown by the Chinese authorities on cross border illegal gambling, related underground banking, and money laundering will succeed
Martin Purbrick is a writer, analyst, and consultant. He spent over 32 years in Asia working in the Royal Hong Kong Police serving in Special Branch and the Criminal Intelligence Bureau, followed by senior leadership roles managing financial crime risk with several major companies.
Notes
[1] Mingjie Sheng and Chaolin Gu, Economic Growth in Macau (1999–2016): The role of the booming gaming industry, Cities Vol.75, May 2018 (https://doi.org/10.1016/j.cities.2018.01.003)
[2] Sonny Shiu-Hing Lo, The Politics of Controlling Organized Crime in Greater China, Routledge, 2018, 145.
[3] Ibid, 131-133.