Trump's Bombast in Brussels and London Will Not Help Putin in Helsinki
Publication: Eurasia Daily Monitor Volume: 15 Issue: 105
By: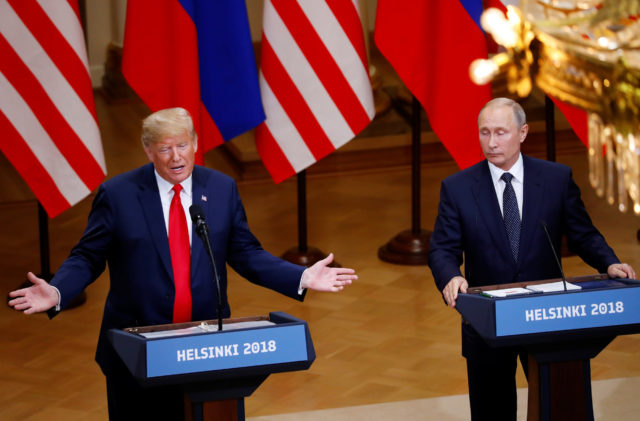 The culmination of United States President Donald Trump's European tour occurs today (July 16), in Helsinki, at the anxiously anticipated but far-from-perfectly prepared meeting with Russian President Vladimir Putin. Trump comes to the rendezvous carrying the baggage of old problems and new controversies (see EDM, July 9, 12) generated during his participation in the North Atlantic Treaty Organization (NATO) summit in Brussels, his official visit to the United Kingdom, and with the long-declared intention to develop a useful rapport with Putin. In Moscow, experts were reluctant to ponder what sort of offers Putin might make to the capricious interlocutor. But they were eager to speculate about tensions and disagreements within the North Atlantic Alliance (Nezavisimaya Gazeta, July 11). Trump's unrelenting and undiplomatic pressure on the European (and Canadian) Allies, as well as his casual insult of UK Prime Minister Theresa May were described in the Russian press with keen attention to detail (Rossiiskaya Gazeta, July 12). Omitted in most of the commentary, however, was the direction of Trump's escapades, which typically targeted Russia's interests and intrigues.
The main pressure point for Trump's assault on the Europeans is their collective failure for years to increase their defense budgets to the level of 2 percent of GDP (RBC, July 12). It is certainly politically convenient for the US President to place such a heavy emphasis on this long-debated "burden sharing" issue because it stifles the criticism of many of his other policies, from undermining the nuclear deal with Iran to withdrawing from the Paris climate accord (Grani.ru, July 13). The essence of this demand, however, is to force the concerned but demobilized NATO member states to become more serious about deterring Russia's aggressive behavior. And every success that Trump achieves in compelling the Allies to more strongly assist with containing Russia is a setback for Moscow's experiment with projecting power, particularly since the scope of US military deployments and activities on the European theater has also been steadily growing (Nezavisimoe Voennoe Obozrenie, July 6). Trump's talent for offending allies may be warmly appreciated by the Kremlin, but the fact that NATO is fast expanding its military capabilities and infrastructure is certainly not.
Another angle of attack, in which Trump particularly targeted Chancellor Angela Merkel, is Germany's dependency upon Russian exports of natural gas and oil. Trump's stated data was seriously distorted—imports from Russia cover about 15 percent of Germany's overall energy consumption, and certainly not 70 percent—but his point about the consequences of this growing dependency (particularly in the gas market) was, nevertheless, well taken (Republic.ru, July 12). Merkel sought to disprove Trump's accusation that Germany is "totally controlled" by Russia, which is certainly an exaggeration. But the addiction to ostensibly cheaper and supposedly reliable supplies delivered by Gazprom involves security risks and bolsters Russia's export of corruption (Moskovsky Komsomolets, July 11). Merkel's support for the Russian project to construct the Nord Stream Two gas pipeline is dubious in terms of its economic rationale and politically damaging for European solidarity. And Trump hit precisely this sore spot (Vedomosti, July 13). The Kremlin rushed to defend Putin's pet project and accused the US of using the threat of sanctions to seek unfair competition in the gas market. Putin was expected to refrain from putting this issue on the Helsinki agenda (RIA Novosti, July 13) because a compromise here seems out of the question and Moscow certainly does not want more volatility on the oil market (RBC.ru, July 12).
The NATO summit dealt with several important matters in the southern flank, to which Trump paid scant attention—and this neglect actually helped to achieve significant low-profile progress. Macedonia, finally close to resolving the long-running dispute with Greece about its name, received an invitation to join the Alliance. The Russian foreign ministry duly condemned this "forceful absorption" (Mid.ru, July 12). Additionally, Georgia's President Giorgi Margvelashvili secured recognition of Georgian reform efforts that made the country a strong candidate for membership and registered another promise from NATO Secretary General Jens Stoltenberg to conclude the accession process in due time (Kommersant, July 13). Armenia and Azerbaijan, meanwhile, took a couple of tentative steps toward resuming the conflict resolution dialogue (Kommersant, July 12). Ukrainian President Petro Poroshenko had a brief meeting with Trump in Brussels and made sure that his country's ambition to join the Alliance was duly appreciated by the White House (Gazeta.ru, July 13). All these developments established yet again that NATO is going to remain actively engaged across Europe's wider East, which Russia seeks to secure as its zone of effective dominance. Thus, Trump cannot grant Putin any concessions regarding the management of the multiple conflicts and fragile ceasefires in this zone of turmoil.
The declaration adopted at the NATO summit pointedly references Russia's attempted interference in member states' election processes as well as its disinformation campaigns and malicious cyber activities. And this seemingly ties Trump's hands regarding potentially accepting Putin's proclamation of innocence in subverting the US 2016 elections (Novaya Gazeta, July 12). Moreover, the recent indictment of 12 officers of Russian Military Intelligence (GRU) by Special Counsel Robert Mueller for hacking the computers of the Hillary Clinton campaign has put the blame for a major cyber-crime squarely on the Russian state (Kommersant, July 17). Trump may try to shift the blame for Washington's feeble response to this attack on President Barack Obama, but he cannot exonerate Putin. The Russian foreign ministry condemned the "shameful comedy" of Mueller's investigation as an attempt to spoil the atmosphere of the Helsinki summit. Yet, Trump surely knows that his every demarche against Russian spies and trolls would be welcome by the Allies as true leadership (Mid.ru, July 13).
Trump's unfathomable capacity for sowing discord in the West and offending US allies theoretically makes him a valuable "asset" for the Kremlin. But the sum total of these commotions in the run-up to the Helsinki summit have actually been quite disappointing for Putin. NATO has again proven its capacity for forging common positions, and Trump ultimately declared himself entirely satisfied with this process. New battalions and squadrons committed by the Alliance to the defense of the Baltic States are surely disturbing for Moscow, as are the US ships partaking in naval exercises in the Black Sea. Putin's hand in Helsinki is weakened by the firm stance of Stoltenberg, Merkel, May and Mueller; and Trump—odd as that may seem at first glance—is actually in the lead of the common cause of curtailing Russia's assault on Western unity.