Tsentr-2011 Gambles On Central Asia's Participation
Publication: Eurasia Daily Monitor Volume: 8 Issue: 180
By: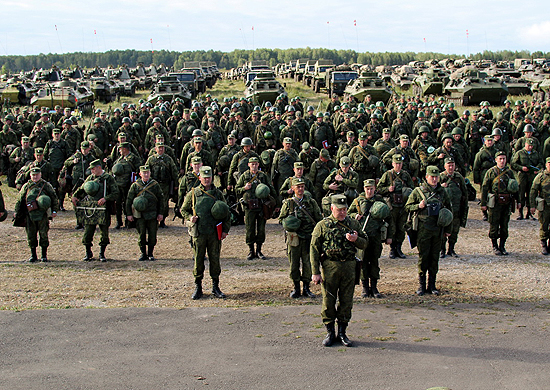 Much criticized for its inability to meet regional challenges, the Russian-led Collective Security Treaty Organization (CSTO) is seeking to boost its image in Central Asia. The organization's latest military drills "Tsentr-2011" were focused on helping Central Asian states to meet newly emerging domestic challenges. For over one week, the Russian military trained Central Asian personnel to prevent mass uprisings similar to those in the Middle East and North Africa (www.newsru.com, September 20).
Ironically, however, as changes in the Middle East have been unfolding, all the Central Asian leaders sought to publically deny any possibility of an "Arab Spring" in their states. Instead, Central Asian leaders have prepared to prevent mass protests following two regime changes in Kyrgyzstan over the past six years. The CSTO's choice to exercise against the "Arab Spring" scenario, therefore, reflects a Russian perspective on Central Asia rather than a view commonly held within the region.
According to the Russian defense ministry, the main goal of Tsentr-2011 was to work out a common approach to deploying CSTO troops in armed conflicts in the Central Asian region. CSTO members were to learn how to jointly prepare and deploy armed forces for stabilization and carry out military activities in Central Asia (structure.mil.ru /mission/practice/all/[email protected]).
This is not the first time the CSTO has focused almost entirely on the Central Asian region. Most previous CSTO drills were also concentrated predominantly on security issues plaguing the region, including "color revolutions," the spillover of terrorist movements and drug trafficking. Yet, since its first joint drills in 2003, the organization has never actually deployed its troops to a conflict zone. The CSTO's exercises concentrated on its two European members – Belarus and Armenia which are much smaller in scale and often linked to bilateral issues.
In June 2010, Kyrgyzstan's interim government requested that Russia should send CSTO forces to deal with the ethnic violence in the country's south. The Kremlin then declined the request, stating this was the country's internal matter. This year, however, instability in Kyrgyzstan has become a showcase for why the CSTO is needed in the region and why the military alliance needs to focus on Central Asia. In June the CSTO announced that all the necessary legal provisions are ready to allow the organization to intervene in Kyrgyzstan, should there be another outbreak of violence.
The CSTO's annual drills have been one of the few activities taking place within the organization on a regular basis. They provide a sense of institutional evolution, consolidation of the organizational agenda and foster military development among its members. Moreover, the scope and size of collective military activities have grown since 2003, involving greater numbers of troops and more sophisticated technologies. Overall, Tsentr-2011 involved 12,000 troops, 50 military jets, 10 warships, and 10,000 firearms. They were staged on the territories of Russia, Tajikistan, Kazakhstan, and Kyrgyzstan.
Tsentr-2011 was among the largest CSTO exercise to date, involving unprecedented numbers of units, according to Army-General Nikolai Makarov, the Russian Chief of the General Staff. He further noted that Tsentr-2011 was designed to prepare states to respond to mass unrest similar to that seen in Libya and Syria, and to any potential spillover of instability from Afghanistan after NATO's withdrawal (https://vg-news.ru, September 12).
Meanwhile, Uzbekistan ignored the drills, instead seeking to restore relations with Washington. On September 28, US President Barack Obama telephoned his Uzbek counterpart to congratulate him on Uzbekistan's 20 years of independence (www.blogs.voanews.com, September 28). The Obama administration has also been pushing the US Congress to renew military assistance to Uzbekistan (www.eurasianet.org, September 28). After a few years of closer collaboration with Moscow following the May 2005 tragedy in Andijan, Tashkent has been shifting away from Russia's regional initiatives since 2009.
Kyrgyzstan and Tajikistan, in turn, have little choice but to participate in the drills. By exerting political pressure, the Russian leadership has been trying to establish a long-term military presence in both states in exchange for military assistance (see EDM, September 22). Finally, Kazakhstan's participation in the CSTO initiatives is part of the country's balanced foreign policy. The CSTO helps Moscow deflect the importance of the China-led Shanghai Cooperation Organization (SCO), which has similarly been engaged in annual military drills in the region. Without its Central Asian participants, however, the CSTO would cease to exist.