Tsentr 2011: Russia's "New" Brutal Army
Publication: Eurasia Daily Monitor Volume: 8 Issue: 177
By: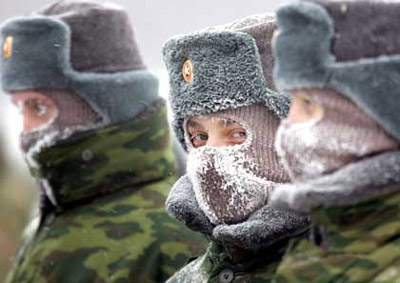 The highlight of the combat training year for the Russian armed forces, conducting the operational-strategic exercise Tsentr 2011, illustrates the experimental nature of the numerous contradictory reform aspirations and the weakness of the country's conventional military. Tsentr 2011, staged in seven training ranges in southern Russia, Kazakhstan, Kyrgyzstan and Tajikistan on September 19-27 also tested Collective Security Treaty Organization (CSTO) capabilities. The exercise involved 12,000 personnel, 50 aircraft and helicopters and the Caspian Flotilla (Interfax, September 19-27).
Army-General Nikolai Makarov, Russia's Chief of the General Staff, oversaw Tsentr 2011 and emphasized "new" features ranging from updated combat regulations to commanders managing combat units in different ways with reference to individual initiative (Izvestiya, September 19). Makarov explained that during the past three years, guideline documents on combat training were rewritten, devising 137 changes and overhauling the approach to organizing formations and conducting operations. The need for individual problem solving and initiative throughout the chain of command is equally stressed; tactical level commanders were "expected" to devise tactics and work out what was required. At no stage did the chief of the General Staff explain how this sudden eruption of "initiative" had transpired within the Russian armed forces.
Makarov also pointed to the defensive nature of the exercise, with its scenarios built around localizing internal conflict or responding to a limited external act of aggression. The top brass linked the scenario modeling to the Arab Spring and the NATO drawdown in Afghanistan. Colonel-General Vladimir Chirkin, the Commander of Central Military District (MD), told Ekho Moskvy that a deterioration of the security situation in Central Asia can be anticipated following the NATO exit from Afghanistan, and consequently much of the exercise concentrated on this region and rehearsing various measures to neutralize militant activity (Ekho Moskvy, September 19).
Nonetheless, aspects of Tsentr 2011 – not least manpower related issues – undermine the argument that the Russian General Staff fears a post-NATO Afghanistan. The maneuvers in the Caspian Sea were about combating a naval power, which clearly the Taliban is not, and the use of heavy bombers as well as Iskander launches elsewhere do not quite fit an Afghanistan-linked scenario (Krasnaya Zvezda, September 19, 20). In terms of what was tested during the exercise, Viktor Litovkin noted the absence of any reference to the long-promised automated command and control system, and concluded that it simply was not ready. Moreover, despite Makarov's comments about new approaches to warfare, from the extensive coverage of the exercise there was nothing to indicate any change to counter insurgency methods (Nezavisimoye Voyennoye Obozreniye, https://nvo.ng.ru/realty/2011-09-23/1_exam.html, September 23).
Another indication that the Russian General Staff is not overly anxious about a NATO withdrawal from Afghanistan relates to manpower, quite apart from the presence of poorly trained reservists, which would seriously inhibit Moscow's capacity to maintain forces in theater for anything other than short spells. Indeed, a critical flaw in exercises of this type is that within only a few weeks, much of the manpower will be lost as senior conscripts are demobilized from the units. During Vostok 2010, some conscripts were prevented from demobilizing, while on the other hand many draftees involved in its various stages had been in the army for only a few weeks. One commander summarized the problem, lamenting: "give then a shovel and they will either lose it or break it." Judging by Tsentr 2011, the "progress" is at best glacial (Krasnaya Zvezda, October 22, 2010).
There are also grounds to doubt the quality or "combat readiness" among these conscripts. Reportedly in an effort to placate the defense ministry leadership who prefer to believe that dedovshchina [hazing] no longer exists within the military system, there was an upsurge in the number conscripts who tried to commit suicide in Chelyabinsk Region and were sent to the psychiatric hospital in Birgilda (RIA Novosti, September 15). Alexei Sevastyanov, the region's human rights ombudsman noted in his blog that the numbers of servicemen arriving in the psychiatric hospital had spiked, which he linked to preparations for Tsentr 2011. Sevastyanov blamed the psychological and physical impact of dedovshchina for such an upsurge. In the first nine months of 2011, around 22 servicemen from the Chebarkul tank brigade were admitted to the hospital after attempting to commit suicide due to stress. The defense ministry suspended reporting statistics on the number of annual suicide cases in the armed forces, though it is unofficially estimated at around 20 per month, or a battalion per year (https://newsru.com/russia/07sep2011/altay.html, September 7).
Following allegations made by the mother of a young soldier in Chelyabinsk, on September 15, the Central MD's military prosecutor opened an investigation and formed special monitoring teams to send to Tsentr 2011. Olga Rodionova's son, Ivan Golubev, was drafted in July and on September 13, a senior conscript attacked him with a block of wood. She visited the garrison of the 7th Tank Brigade and witnessed first hand life in the "new look" army; beatings of young soldiers were ignored by officers, personnel slept on the ground wrapped in their jackets, their feet rotted as a result of wearing wrong-sized footwear, medical aid was scarce, and inadequate washing facilities featured among other issues. Rodionova observed one soldier being kicked repeatedly in the stomach as officers walked past – evidently accustomed to witnessing and ignoring such violence. She stated that in preparation for Tsentr 2011, conscripts spent 14-18 hours per day digging large holes and building a notional camp. They lived without hot water, sleeping 36 to a tent designed for 22 soldiers. The bathhouse was heated twice weekly, but medics prevented new recruits washing due to the festering sores on their feet. Despite the reported outsourcing of catering, in late August there was a large-scale outbreak of food poisoning caused by soldiers eating rotten fish. Rodionova also expressed concern about the disregard for safety standards for soldiers assigned to unloading munitions. Rodionova concluded "You get the feeling that this is not an army – they are cattle with automatic weapons" (Novvy Region, September 15, 16).
This "new" brutal Russian army contrasts with many of the superficial pretentions to achieving success in the reform efforts to date. Moreover, as the conscripts frequently rotate out of these units, little scope remains for seriously improving combat training. Such reduced capabilities also undermine the assertions by Russia's neighbors about any conceivable increased military "threat" from the country.