Russia Agrees to Re-Launch Negotiations On Transnistria After Five-Year Breakdown
Publication: Eurasia Daily Monitor Volume: 8 Issue: 176
By: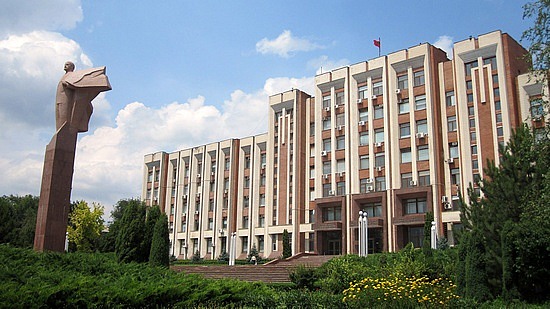 On September 22 in Moscow, participants in international negotiations on the Transnistria conflict announced their collective intention to re-launch official negotiations after a five-year breakdown. This means that Russia and Tiraspol authorities have finally stopped refusing to engage in negotiations, although they continue to set pre-conditions to negotiating.
The 5+2 participants – Russia, Ukraine, and OSCE as "mediators," the European Union and United States as "observers," and Moldova and Transnistria as "parties to the conflict" – had not convened for official negotiations since February 2006. This international format itself operated for only five months – October 2005-February 2006 – until Moscow and Tiraspol jointly scuttled it, citing Tiraspol's veto rights as a "party to the conflict" co-equal with Chisinau. The 5+2 format only met for unofficial consultations since then. Not only the conflict, but the negotiating process itself has been frozen.
The OSCE is the international organization responsible for facilitating these negotiations, although it lost its lead role since 2005. Six years and as many OSCE chairmanships later, this year's Lithuanian chairmanship has lent a significant and successful impetus to a re-start of the negotiations. As a follow-up to this initial success, the Lithuanian chairmanship has offered to host in Vilnius the first round of the re-started official negotiations. The current global and overall European context does not favor Western interests in the negotiations on this and other Soviet-legacy conflicts. Thus, the OSCE's Lithuanian chairmanship is realistically aiming for what it calls "millimeter-like progress."
The September 22 announcement from Moscow may, ultimately, turn out to have produced more than a millimeter-like advance. However, there is still a long way to go from declared intentions to an actual re-start of official negotiations. No date has been set for a re-start. According to the Russian Foreign Affairs Ministry's, Tiraspol's, and the OSCE's announcements, that first official meeting would deal with the "principles" of the negotiating process and its future agenda. This apparently alludes to official pre-negotiations over the conditions for re-starting actual negotiations (Interfax, Olvia-press [Tiraspol], Moldpres, September 23).
Russia's and Tiraspol's pre-conditions have long been known. They want co-equal status for Chisinau and Tiraspol in the negotiating process (i.e., veto power for Tiraspol, or Moscow behind Tiraspol); to address the political settlement and the transformation of Russia's "peacekeeping" operation in this sequential order (i.e., Russian troop withdrawals conditionally linked to a political settlement acceptable to Russia); and to see concrete results from the Chisinau-Tiraspol confidence-building groups on socio-economic issues, as a prerequisite to political negotiations (i.e., Moscow and Tiraspol to determine whether the socio-economic measures are enough to allow conflict-settlement negotiations to proceed or not).
Apparently, Russia and Tiraspol have ruled out the principle of Moldova's territorial integrity from the parameters of the re-launched negotiations. When the 5+2 format had last convened in June in Moscow, Western participants and the OSCE omitted any reference to Moldova's territorial integrity from their secret non-papers. Those non-papers were to serve as the basis for setting the parameters of the re-launched negotiations. After this massive Western concession, it seems very unlikely that Russia and Tiraspol would accept reverting to the principle of Moldova's territorial integrity in the re-launched negotiations (see EDM, June 6, 8, 21, 22).
According to participants in these negotiations, the OSCE non-paper's prime author was the US-led OSCE mission in Chisinau, not the Lithuanian chairmanship. Russia can squeeze such concessions by wielding its veto power within this organization. The US and EU have not explained why they dropped the principle of Moldova's territorial integrity from their documents. Presumably, they did so unwillingly, only in order to start a "negotiating process" that Russia and Tiraspol could have continued blocking indefinitely. Viktor Yanukovych's Ukraine is the one party that insists on Moldova's territorial integrity within the 5+2 format. Ukraine's national interests imperatively dictate upholding the territorial integrity of states in this region. Whether the EU's concession to Russia on this point at Moldova's expense boosts the EU's credibility in Kyiv is a question that needs addressing.
With little if any international notice, Russia has almost stopped the lip service it used to pay to Moldova's sovereignty and territorial integrity in Transnistria. In a series of statements in the last three months, Russian officials including Prime Minister Vladimir Putin, Duma Chairman Boris Gryzlov, the Duma's international affairs committee chairman Konstantin Kosachev and others have issued official statements congratulating Transnistria on its "independence" and promising continuing support, with no reference to Moldova. This development is reminiscent of that which occurred by early 2008 in Georgia. At that juncture, Russia stopped its former lip service to Georgia's territorial integrity in its public communications. This danger signal failed to register internationally. Russia will of course not attack Moldova, but is trying to pre-judge the ultimate outcome of re-launched negotiations by eliminating the territorial-integrity principle from the agenda.
Moldova insists on upholding its territorial integrity, the transformation of Russia's "peacekeeping" operation in an international civilian (police) operation, and a political status for Transnistria consistent with the unity of the Moldovan state. Prime Minister Vlad Filat and his Foreign Affairs Minister, Iurie Leanca, consistently defend these positions. The onus seems to be on them to prove that they are "constructive" in the negotiations. Moldova's past experience, however, serves as a warning that negotiating without well-defined goals (territorial integrity, unity of the state) becomes a risky proposition when Russia is involved.