TULIPS BLOOM IN KYRGYZSTAN BRINGING HOPES FOR DEMOCRATIC DEVELOPMENT
Publication: Eurasia Daily Monitor Volume: 2 Issue: 60
By: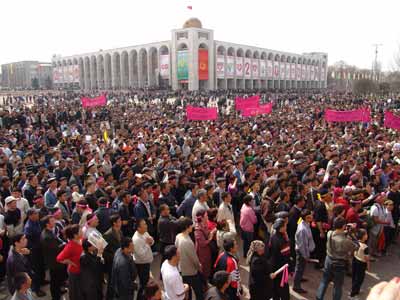 March 24, 2005, has become an important date in the history of Kyrgyzstan. On that day, in less than an hour, a crowd of demonstrators seized the Kyrgyz White House in Bishkek, opposition leader Felix Kulov was freed from jail, and President Askar Akayev reportedly fled the country. Taken together, these three events signified the collapse of the Akayev regime.
But instead of celebrations, looting and arson overtook Bishkek. The destruction shocked Bishkek's residents and devastated the thin strata of middle-class entrepreneurs. According to opposition leader Roza Otunbayeva, former members of Akayev's government had deliberately set loose groups of hooligans to cause unrest (Fergana.ru, March 27). But no state of emergency was declared in Bishkek as some 3,000 people volunteered to assist the militia in efforts to protect the capital.
Beyond the looting, citizens expressed their disappointment with Akayev's sudden disappearance: "If Akayev claims to be a legitimate president and refuses to resign, why is he not returning home and facing the opposition?" was a typical reaction. Many Kyrgyz think that if Akayev had left office in 2000, he could have been remembered as an honorable leader and quietly returned to scientific activities. Akayev and his family are thought to be in Moscow, because the Kremlin officially offered political asylum. The Russian Academy of Sciences reportedly has offered Akayev a position at one of its departments (Itar-Tass, March 26).
The interim government announced that leaders would accept the legitimacy of the new parliament and set presidential elections for June 26. In the meantime, there is speculation that the acting government will find it difficult to function because its power is scattered among multiple leaders. The list of prominent opposition members with wide public support includes:
Kurmanbek Bakiyev, the acting prime minister, was prime minister in 2001-2002. He joined the opposition after being forced to resign in 2002, following the bloody demonstration in Aksy. Leading the People's Movement of Kyrgyzstan, Bakiyev organized many of the protesters in the south and Bishkek. He has publicly declared his intention to run in the upcoming presidential election, and his opponents will likely be figures from northern Kyrgyzstan who previously supported Akayev. The new parliament, with a majority of pro-Akayev candidates, might form a new opposition coalition. While Bakiyev has absolute support in the south, Felix Kulov is more popular in the north.
Felix Kulov, also a former Akayev ally, was imprisoned on corruption charges in 2001 after challenging Akayev in the 2000 presidential election. According to Obshchestvenny reiting, Kulov's popularity almost surpassed Akayev's in the late 1990s, and many thought he would become the next president. Kulov has a background in military and security structures that worries some Kyrgyz about his potential to be a hard-fisted, undemocratic leader. Others, however, think that Kulov's strong personality will not tolerate law breaking and corruption in the government. Kulov was an outspoken critic of Akayev's pro-Russian politics in refusing to join the U.S.-led coalition in Iraq, arguing that an American military presence in Kyrgyzstan has strategic importance. His party Ar-Namys (Dignity) has members across the country, but he is most popular in the north. Kulov is currently in charge of security forces, and he was responsible for stopping the looting in Bishkek. The Kyrgyz Supreme Court will review Kulov's case soon and decide whether he must complete his prison term. Kulov will not likely run in June because his presence might split the new government.
Roza Otunbayeva joined the opposition late last year (Pravda.ru, March 25). An experienced diplomat, she was a USSR representative to the UN, twice Kyrgyz foreign minister, and Akayev's ambassador to the United States and Britain. She says she joined the opposition because she could no longer tolerate Akayev's corruption and growing authoritarianism. Otunbayeva helped consolidate the opposition and was instrumental in the people's protests in southern Kyrgyzstan, Talas, and Bishkek. As acting minister of foreign affairs, Otunbayeva has insisted that Akayev must be given a free choice of whether he wants to return to Kyrgyzstan or "stay in Russia if he feels more comfortable there." Bakiyev and Otunbayeva have stated that Kyrgyz-Russian relations will continue as before, and Otunbayeva added, "We will cooperate with CIS, the West, and Southeast" (Akipress, March 26).
Bakyt Maripov is an outspoken journalist from opposition newspaper Moya stolitsa novosti who ran against Akayev's daughter Bermet in the parliamentary elections.
Adahan Modumarov, another unsuccessful parliamentary candidate, is a leader from south, who helped mobilize thousands of protesters in Osh. He became a deputy prime minister in the interim government.
Other opposition members have been offered various positions in the government but have not yet been confirmed by parliament. There are fears that Bakiyev, born in Suzak (Jalalabad Oblast), will give preference to southern cadres. However, current cabinet appointments suggest that Bakiyev is not only keeping a balance between north and south, but has also reassigned some former public employees in the new government.
The opposition leaders have converted their main weakness, fragmentation, into an asset by forming a government with many political activists to reach a reasonable balance among different executive agencies. The speed and relative smoothness of the interim government's appointments suggests a consensus has been reached among the key figures.
"The Tulip Revolution is more important to the modern development of free Kyrgyzstan than the transition from the Soviet regime," commented one Kyrgyz student in Bishkek. Opposition groups in other former Soviet republics have taken notice. Members of the unregistered Uzbek Ovoz Dehkhonlar (Free Farmers) party gathered in front of the Kyrgyz Embassy in Tashkent to show support for the opposition's victory in Kyrgyzstan and on March 25 the Belarus militia violently suppressed hundreds of protesters in central Minsk.