RUSSIA'S BLACK SEA FLEET CAUSES INCIDENT IN UKRAINE
Publication: Eurasia Daily Monitor Volume: 2 Issue: 61
By: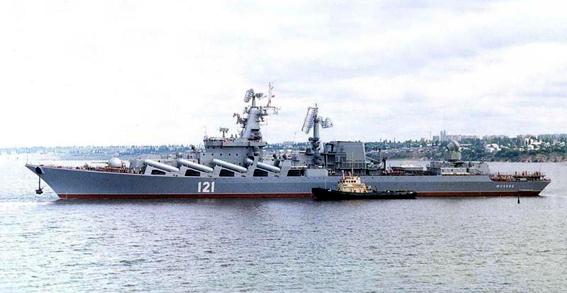 On March 23-24, a Russian naval landing force held for approximately 24 hours a beachhead near Feodosia on Ukraine's Crimea peninsula, as part of a military exercise not authorized by Ukraine.
At 6am on March 23, a Russian marine infantry unit based in Temryuk, Krasnodar Krai, Russia, landed 142 men and 28 vehicles (mainly APCs) ashore near Feodosia. The amphibious assault ship Nikolai Filchenkov of Russia's Black Sea Fleet based in Sevastopol, Ukraine, had picked up the landing unit in Novorossiysk, Russia, from where it had reached the Ukrainian coast during the night. The Russian ship notified the Ukrainian authorities when it crossed into Ukraine's territorial waters, but it did not provide the required information about its purpose, personnel, and cargo aboard. Upon landing, the marine infantry unit began setting up a training ground for an annual large-scale landing exercise, without pre-notification to Ukraine, much less permission from it as required. This exercise is usually held in April by prior arrangement.
Ukraine strongly protested the move. On March 24 at dawn, the Russian ship and the marine infantry unit left Ukrainian territory to return to Novorossiysk.
Explanatory press releases by the Russian Navy's Main Headquarters in Moscow and the Russian Black Sea Fleet command in Sevastopol stated, "The incident occurred because of uncoordinated actions by the Ukrainian authorities and the BSF command"; and, "It turned out that Ukrainian border guards had no information about the ship's arrival" (Itar-Tass, March 25). The euphemistic language sought to disguise the failure to request Ukraine's permission for the landing.
The Russian side may well have known that the landing of this unit was unlawful under the terms of the 1997 agreement on the legal status and conditions of stationing of the Russian Black Sea Fleet on the territory of Ukraine, as well as the accompanying agreement on the Russian Fleet's use of training grounds on Ukraine's territory. It also breached the Ukrainian law on the procedures regarding access of foreign military units on Ukraine's territory.
Under those bilateral agreements, only Russian Black Sea Fleet forces that are based in Ukraine's Crimea have a right to use certain training grounds leased by Russia in Crimea. The Russian Black Sea Fleet forces that are based in Russia, however, may not land on Ukraine's territory without permission. Only Ukraine's parliament — not the Defense Ministry, Navy, or border guard — can issue such permission. Ukraine's Ministry of Foreign Affairs reminded the Russian side of those stipulations in a protest note (Interfax-Ukraine, March 24, 25).
President Viktor Yushchenko termed the incident "a breach of the treaty," but not a deliberate provocation. He blamed it on "routine blundering" by a Russian military that "simply got used to landing wherever they want to, without understanding the meaning of the treaty and responsibility for violating it." Yushchenko announced that Ukraine would conduct a review of the Russian fleet's activities in recent years, and check that record against the terms of the 1997 agreements: "There are many problems in this area," he noted (Interfax-Ukraine, Ukrainian TV Channel Five, March 26).
Minister of Foreign Affairs Borys Tarasyuk, Defense Minister Anatoly Hrytsenko, and National Security and Defense Council Secretary Petro Poroshenko all raised the question publicly whether the incident stemmed from Russian military negligence and ignorance of legal obligations, or a "deliberate test of our firmness" (Hrytsenko), "an act of provocation for which those responsible should be punished" (Poroshenko). Tarasyuk recalled that similar incidents had occurred in the past, and that Ukraine had always insisted in accordance with existing agreements that the Russian Black Sea Fleet's land forces based in Russia not use Ukraine's territory for exercising. Tarasyuk now called for signing an agreement that would ban any operations by Crimea-based Russian Fleet forces outside their base areas (Interfax-Ukraine, Ukrainian TV Channels One and Five, March 25).
Security Service chief Oleksandr Turchynov concluded, "The Russian fleet's stationing on Ukrainian territory is not in Ukraine's national interest and does not assist the country's security… They will act as brazenly as we permit them to act" (Ukrainian TV Channel One, March 25).
The 1997 agreements on the stationing of Russia's Black Sea Fleet in Ukraine run through 2017. At present, no Ukrainian official calls outright for revising the agreements or abridging the duration of their validity. However, should incidents such as this recur, many in Ukraine could become less tolerant of the Russian fleet's presence, and could demand additional legal safeguards to restrain arbitrary actions and uphold Ukrainian sovereignty.