Turkey Balances Its Ties With West and Islamic World in Libya Operation
Publication: Eurasia Daily Monitor Volume: 8 Issue: 62
By: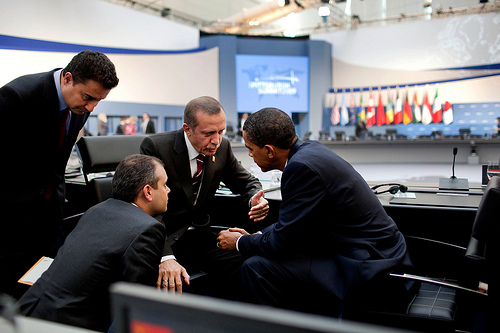 Turkey's position on the unfolding events in Libya has caused a great deal of confusion for observers of Turkish foreign policy. Despite its objections to the use of military force to solve the impending civil war, Turkey has eventually changed course, by agreeing to the transfer of the military operations to NATO command and taking part in non-combat military missions.
When the violence first broke out, Turkey was apparently caught unprepared to deal with a crisis that involved various issues. While the Turkish government had declared its support for the pro-democratic movements in the Middle East, it failed to offer unequivocal support to Libyan revolutionaries. Turkish construction firms' multi-billion dollar investments and the presence of thousands of Turkish workers in the country constrained Turkey's options. Consequently, Turkey gave timid responses to Gaddafi's brutal use of force, which drew international criticism. Turkish leaders expressed vehement opposition to international sanctions or use of military force to stop Gaddafi's aggression. Turkish Prime Minister, Recep Tayyip Erdogan, went as far as criticizing the motivations of the Western powers, arguing that they were after Libya's natural resources (EDM, March 4).
Although Turkey successfully evacuated its citizens from Libya, it maintained the same rhetoric critical of the Western policy. One Turkish diplomat visiting Washington to explain Turkey's position argued that Turkey had to tread cautiously considering the uncertainty over the future of Libya in a post-Gaddafi scenario (Anadolu Ajansi, March 3). However, the gains achieved by the rebel forces cast doubts over Turkey's policy. Some commentators increasingly argued that by failing to side with the Libyan rebellion, Turkey might risk becoming the loser in the future determination of Libya's political structure (Haberturk, March 13).
Another criticism of Turkey's policy was raised on moral grounds, given that Turkey apparently offered no viable solution to halt Gaddafi's atrocities other than to constantly counsel him to step down from power. This challenge became urgent, as the heavily armored Gaddafi forces repelled the rebel forces back to Benghazi. As international concern grew over Gaddafi's use of force against civilians in the recaptured towns, the debate on the military option was reignited. Following UN Security Council Resolution 1973, authorizing a no fly zone, the Western powers led by the United States and France accelerated consultations for military operations.
Turkey still insisted that military intervention should be avoided and a negotiated settlement might be possible. Ankara even proposed observing a ceasefire, when Gaddafi announced that he would impose a unilateral ceasefire. Nonetheless, Turkey underlined that it would back an arms embargo, provision of humanitarian assistance and the no-fly zone, in line with the UN Security Council resolution (IHA, March 18).
However, the continuation of Libyan forces' attacks and Gaddafi's threats to enter Benghazi prompted the Western powers, joined by some Arab leaders, to act swiftly. France, leading the interventionist camp, gathered likeminded powers in Paris, to which Turkey was not invited (Anadolu Ajansi, March 19). When French aircraft started bombing Libyan military targets, Turkey continued its vocal criticism, calling for an immediate halt to operations, so that the destruction of Libyan infrastructure and killing of civilians could be prevented. Also angered by France's sidelining of Turkey, Erdogan argued that by acting recklessly against Libya, Sarkozy was only interested in his political career, not the wellbeing of the Libyan people (Zaman, March 22).
The lack of consensus within the pro-intervention camp as to how to handle the operations and what command and control roles NATO should play again brought Turkey to the forefront. Erdogan listed some conditions that needed to be met if NATO was to be given such a role. When the NATO Council met in Brussels, Ankara raised objections to the use of NATO beyond the enforcement of an arms embargo. It took President Barack Obama to telephone Erdogan before Ankara dropped its objections to the transfer of the operation to NATO (Anadolu Ajansi, March 23).
On March 25, Foreign Minister Ahmet Davutoglu, announced that Turkey's concerns and demands had been met. Meanwhile, the Turkish parliament also authorized a motion that permitted the Turkish military to participate in the international force in Libya and allowed the government to undertake a multi-dimensional contribution. According to the deal, it was reported that the NATO base in Turkey's Aegean town of Izmir might be one of the operational centers for the NATO mission in Libya. Also, though not providing combat forces, Turkey would continue to contribute five warships and a submarine to operations for use solely for humanitarian purposes (Hurriyet, March 25).
Pro-government media sources heralded this development as a major achievement for Turkish diplomacy. Also, Western powers' decision to invite Turkey to the London conference on March 29, unlike the Paris summit, was viewed as a victory over France. Erdogan said that by transferring operations to NATO's command Paris would be sidelined. Also, Turkish sources later explained that they insisted on a broad-based participation in the London Conference so that the operations would not be perceived as exclusively Western (www.haber7.com, March 25).
Attending the London Conference on Tuesday, where an agreement to continue operations was reached, Davutoglu reiterated Turkey's position. Turkey would not participate in combat operations or airstrikes but it would take a role in the provision of humanitarian assistance and the enforcement of an arms embargo (www.ntvmsnbc.com, March 29). Earlier, Erdogan announced that Turkey would also take control of Benghazi airport to ensure the delivery of aid. Erdogan called for an end to military operations and asked for an immediate ceasefire. Arguing that Turkey maintained communication with not only the Gaddafi regime but also the rebel forces, he added that Ankara could mediate a ceasefire (Anadolu Ajansi, March 28).
As Erdogan emphasized repeatedly in his justification of Turkish policy, he is against placing the country in a position where it would be forced to take military action against another Muslim nation. Here, he constantly refers to the examples of Iraq and Afghanistan, where miscalculated US interventions resulted in the destruction of the country and killing of innocent civilians, and Turkey's decoupling from US policy gained him popularity at home and abroad. Turkey's removal of its objections to NATO's involvement also shows that it still values its partnership with the West and can prioritize Alliance unity. Ankara took seriously the intervention by President Obama and as in other crises with NATO it did not abandon its ally altogether.