Ukraine Sends Mixed Signals on Free Trade With The EU, Russia
Publication: Eurasia Daily Monitor Volume: 8 Issue: 62
By: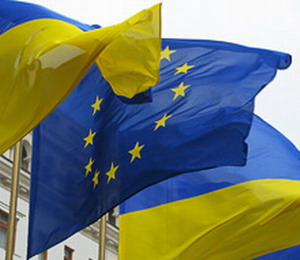 Ukraine finds it increasingly difficult to balance its relations between the European Union and Russia, which are viewed in Kyiv as equally important trading partners. While talks on political association and free trade with the EU slowed somewhat recently, Moscow is stepping up its pressure on Ukraine to join its Customs Union with Kazakhstan and Belarus. Membership of the Customs Union and free trade with the EU are mutually exclusive. There are signs that Kyiv may opt for the Moscow-led Customs Union if the free trade talks with the EU, which started in 2008, are not completed this year as planned.
Moscow uses all methods of persuasion at its disposal to convince Ukraine to join its trade club. Russian Deputy Prime Minister, Igor Shuvalov, argued in Kyiv early this month that Ukraine would benefit from joining the union and then negotiating free trade with the EU as part of it (UNIAN, March 3). The approach of Russian Prime Minister, Vladimir Putin, is less subtle. Speaking in Minsk on March 15, Putin made it clear that Russia would use both carrots and sticks. Putin said Ukraine would benefit from joining the union, although he did not explain how. At the same time, he made a specific threat, saying that if Ukraine opted for free trade with the EU, Russia would "be constrained to build a [trade] border" in order to protect its market from EU goods (Interfax-Ukraine, March 16).
Ukraine is interested in free trade with Russia, which is the primary market for key Ukrainian exports. In particular, the local machine-building and food industries are recovering fast after the financial crisis mainly due to growing demand for their products in neighboring Russia. Ukraine also hopes for multibillion dollar loans from Russia to help it build new nuclear power units and for Russian orders for its ailing aircraft industry, which is too weak to compete on the markets outside the CIS. If Ukraine became part of the Customs Union, it could hope for cheaper Russian oil for its refineries and discounted natural gas. Kyiv wants free trade with both Russia and the EU, but Russia is reluctant to open its market to Ukrainian goods if Ukraine refuses to join the Customs Union. Ukraine's market is larger than those of Russia's current union partners Belarus and Kazakhstan taken together, consequently taking Kyiv onboard is very important for Moscow.
On March 17, the Ukrainian daily Den cited an anonymous senior Ukrainian diplomat as saying that Ukraine's position on the Customs Union could change if a free trade agreement with the EU is not signed by the end of 2011. The source added that Ukraine could extract a temporary benefit from membership of the Customs Union although it is unclear in both capitals what exactly Ukraine would lose if it opted against joining the union. For the time being, Ukraine continues to prioritise the EU but this may change, judging by the mixed signals from Ukrainian officials after Putin's statement in Minsk (Den, March 17).
On March 17, Prime Minister Mykola Azarov, told visiting European Parliament Socialist group leader, Martin Schultz, that Ukraine would continue its free trade talks with the EU, remaining optimistic about their outcome. Azarov also regretted the fact that recent discussions of free trade between his first deputy Andry Klyuyev and EU officials in Brussels did not result in a breakthrough. Azarov suggested that the EU should upgrade the format of the talks in order to strengthen their momentum (UNIAN, March 17). Azarov went further during a meeting with British businessmen the following day, saying that Ukraine would apply for EU membership in the future (UNIAN, March 18). However, during an interview with the Austrian newspaper Der Standard, on March 20, Azarov said that although Ukraine continues to hold talks with the EU, this did not necessarily mean that Kyiv should abandon the Customs Union option. He suggested that experts should determine whether membership of the Customs Union was worth considering (Ukrainska Pravda, March 21).
Foreign Minister, Kostyantyn Hryshchenko, told students in Kyiv that Ukraine wanted to cooperate with the Customs Union in such a format that the association and free trade talks with the EU would not be harmed. He noted that Ukraine was not in talks to join the union (Interfax-Ukraine, March 18). At the same time, Klyuyev told a CIS forum in Moscow that Ukraine might join the union in the future. Klyuyev said Ukraine would participate in such economic unions from which it may benefit, such as cooperating on certain trade positions, while it would be more beneficial to be part of a free trade area with the EU on some other issues, Klyuyev added (UNIAN, March 18). Klyuyev is Ukraine's chief negotiator in the talks with the EU, and his being evasive may indicate a change in Ukraine's course.