Turkey Meets Over Half Its Defense Requirements Domestically
Publication: Eurasia Daily Monitor Volume: 8 Issue: 100
By: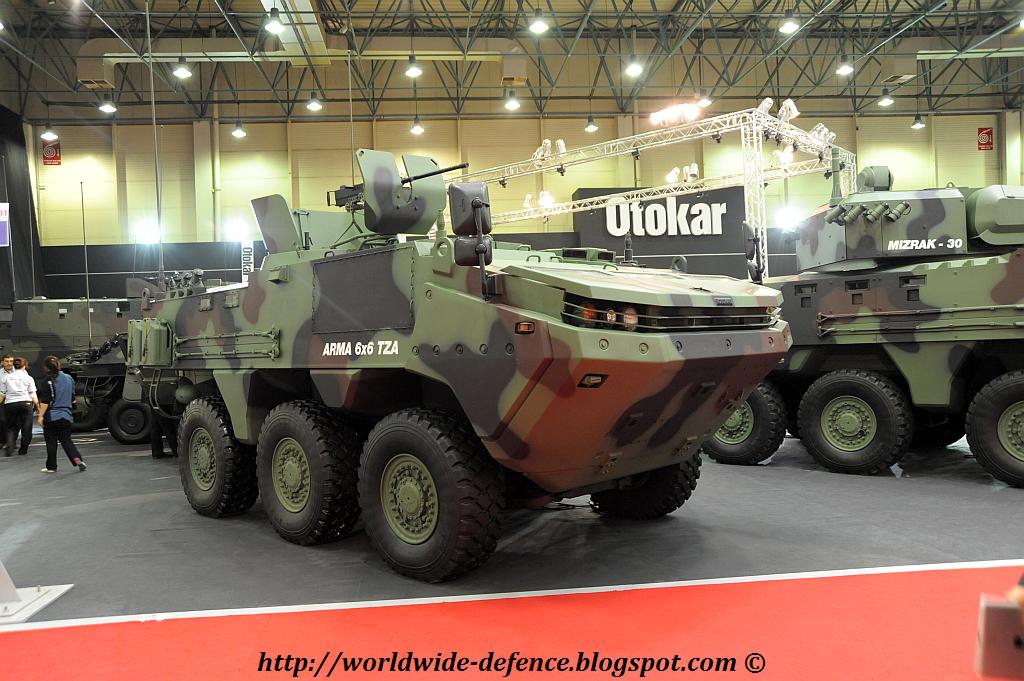 The 10th International Defense Industry Fair (IDEF), held in Istanbul on May 10 – 13, was an important venue to demonstrate the transformation of the Turkish defense industry in recent years. Organized biannually since the 1990s, the event featured over 600 companies or company representatives from 49 countries, including Turkey, while delegations from over 70 countries visited (www.idef11.com). Delivering an address at the inauguration, President Abdullah Gul reiterated the importance Turkey attaches to the defense industry. He referred to Turkey's efforts to increase local input in defense procurement through greater utilization of various joint production programs and boosting domestically designed production (Star, May 11).
Despite some international representation, the fair largely served to exhibit products of Turkish producers, as well as to publicize the achievements of Turkey's flagship defense projects in recent years. Leading defense companies such as Lockheed Martin, Boeing and EADS were also present, but Western defense observers reportedly maintained that "in nature, the fair remains mostly a Turkish, regional and Middle Eastern event." In a development reflecting the regional nature of the event, the largest deal struck at IDEF 2011 was reportedly an agreement for Turkey's export defense equipment to Qatar, including small unmanned aerial vehicles (UAVs), worth $120 million (Hurriyet Daily News, May 13).
Armored vehicles, Turkey's major export items, which find buyers in the Middle East and South Asia, were on display at the event. Moreover, a great deal of publicity was devoted to Turkey's main battle tank project, which was developed in partnership with South Korea's Hyundai Rotem, supplying the technological know-how (EDM, August 7, 2008). Turkish military vehicle producer, Otokar, introduced the first prototype of the tank at the fair, named Altay. Otokar expects the tanks to be ready for sale by 2016.
Similarly, the results of Turkey's national warship projects were also publicized at the fair. A Turkish corvette designed and produced in Turkey's shipbuilding yards was on display. In recent years, Turkey has placed greater emphasis on developing its national capacity to build warships of different classes to meet the Navy's needs. Murad Bayar, the head of the Under Secretariat for the Defense Industry (SSM), the organization in charge of procurement programs, argued recently that Turkey is capable of producing aircraft carriers domestically (Star, May 8).
Another high publicity weapons system on display was various UAV projects. The Turkish armed forces use several small-sized UAVs produced in Turkey and SSM has recently signed a contract with another defense manufacturing firm to produce tactical UAVs (Anadolu Ajansi, January 4). Turkey has also been working to develop a national medium-altitude long-endurance (MALE) UAV system to reduce its dependence on the United States and Israel for strategic intelligence gathering. ASELSAN, contractor for Turkey's MALE UAV project, announced recently that its UAV, named ANKA, successfully passed test flights and could become operational in one year's time. Defense industry analysts expect the UAV market to record rapid growth in the coming years. They argue that with its recent investments in the UAV sector, Turkey is poised to emerge as a leading supplier in its region (Haberturk, May 9).
Turkey is also working on a national attack helicopter project, ATAK, in partnership with Italy. Meanwhile, to meet the Turkish army's needs for general attack helicopters, Turkey has been evaluating various offers for some time (EDM, July 7, 2009). Turkey finally made a decision on a long-awaited tender and awarded the deal to U.S. Sikorsky. Turkish Defense Minister, Vecdi Gonul, described the $3.5 billion deal as a milestone, as it would involve joint helicopter production (Anadolu Ajansi, April 21).
Although foreign participation remained limited, the expanding product line on display at IDEF underscored the transformation of the Turkish defense industry and its expanding potential to meet the needs of the armed forces. In that regard, the recent figures released by the Defense Industry Manufacturers' Association also represented a bright picture for the sector (Anadolu Ajansi, April 26). In 2010, 52 percent of Turkish armed forces weapons systems needs were supplied by domestic producers. This development was seen as a success story, as the SSM had set the target of meeting 50 percent of the TAF's needs domestically. In 2003, the ratio of domestic production in the military procurement total was only 25 percent.
At the same time, the total volume of Turkish arms exports reached $634.2 million in 2010, five percent less than the previous year, reflecting the impact of the global financial crisis. Nonetheless, considering that in 2004 Turkey's exports were only $196 million, there is a visible improvement in its overall export potential. Representatives of the sector aim to reach an annual export volume of $1 billion this year and $2 billion by 2016. According to other statistics, total revenues for Turkish defense firms reached $2.7 billion in 2010, again a significant leap from $848 million ten years earlier. Reflecting this growing economic potential, Turkey invested over $500 million in research and development activities in 2010.
Determined to maintain this momentum, Prime Minister Recep Tayyip Erdogan argued during a recent meeting with businessmen that the Turkish defense industry's annual revenues will exceed $8 billion in five years (Hurriyet, May 19). Indeed, it has been part of Erdogan's goals to achieve self-sufficiency in military procurement since his party came to power in 2002. In 2004, Turkey overhauled its military modernization programs and rules on military procurement, seeking to increase the domestically manufactured share. The recent advances in that direction have pleased Erdogan, as he constantly refers to the transformation of the Turkish defense industry in his state of the union addresses (Anadolu Ajansi, October 30, 2010).
While Turkey was largely dependent on defense sector imports during the 1990s, the military modernization programs during that decade were focused on joint production with foreign manufacturers to supply the Turkish army. These facilitated the emergence of a domestic arms industry. In the last decade, the Turkish defense industry has increasingly shifted in the direction of national design and production, based on the accumulated experience and technology transfers achieved through international partnerships. This growth, which is geared toward meeting the Turkish army's needs, has been achieved largely thanks to support and protection provided by the Turkish government. Yet, the Turkish defense industry seems to be moving to a new phase of mass production for international markets, where it is likely to face fiercer competition.