Opposition Launches Another "Final Fight" Against Georgian Government
Publication: Eurasia Daily Monitor Volume: 8 Issue: 100
By: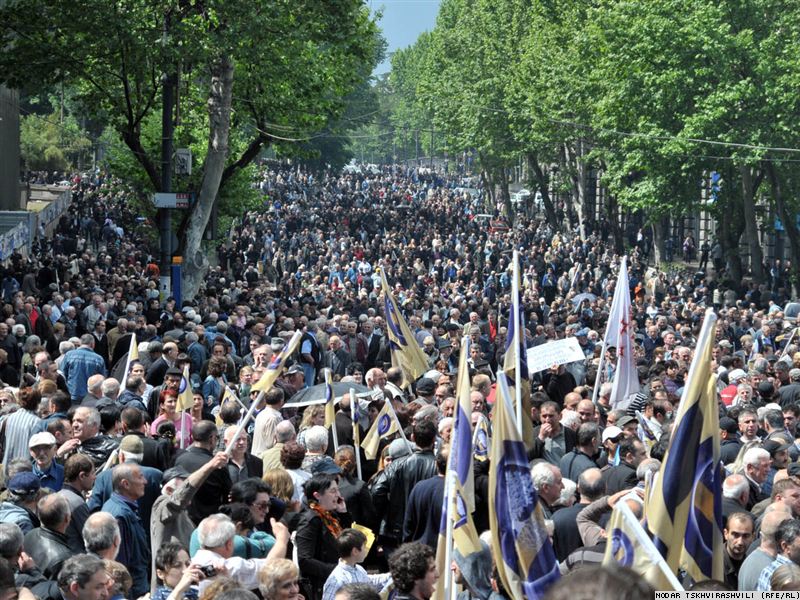 The militant opposition has launched its annual campaign to topple the Georgian government. One wing, describing itself as People's Assembly, is holding daily street rallies in Tbilisi from May 21 onward; while the other wing, Georgian Party, has scheduled a "Day of Rage" for May 25. Pursuing regime-change through upheaval, both groups seem poised to cross the line into using force. A growing number among the participants carry sticks, cover their faces with masks, and threaten to clash with the police.
Initially announced in late April and scheduled to start on May 2, the demonstrations had to be postponed for lack of public support. The rescheduled action is undoubtedly timed to derail Europe Week, a series of high-profile conference events with the participation of European cultural and political figures, due to be held in Tbilisi on May 25 – 30 to highlight Georgia's European aspirations. Some of the militant opposition leaders propose, on the contrary, a reorientation of Georgia toward Russia. Trying to portray Georgia as an unreliable, risky European integration candidate is a key aspect of Russia's policy toward Georgia.
The rallies' size—as estimated by Western media correspondents—has dropped from between 6,000 and 10,000 on May 21, to some 2,000 on May 22 (a Sunday), to 300 on May 23 (AFP, Reuters, BBC, May 21 – 23). The decline in attendance is partly due to rivalry between People's Assembly and the Georgian Party, each of them reluctant to urge its supporters to join actions of the rival group. While the overall numbers decline, the militant hard-core's proportionate share and influence is rising. The "Day of Rage" on May 25, however, will almost certainly see joint actions by both wings.
Leaders in both groups, such as People's Assembly's Nino Burjanadze and Georgian Party's Levan Gachechiladze, are attempting to create moral justifications for using force. While moving to seize public spaces without legal authorization and threatening to break into public buildings, these leaders claim a "right to self-defense" in the event that state authority intervenes. In that case, according to Burjanadze, "the authorities themselves will have provoked the revolution" (Kavkas-Press, May 22). Burjanadze, who has visited the Kremlin repeatedly seeking support, is using a new fighting slogan this season, denouncing the Georgian government as "neo-Bolshevik" (RFE/RL, May 22). And "we will fight to the end, it is the final and decisive fight, no steps back" (Civil Georgia, May 21).
Flanking Burjanadze in the People's Assembly's leadership are Teimuraz Sashiashvili and Irakli Batiashvili, relics from the chaotic 1990s and the agony of Eduard Shevardnadze's presidency. Sashiashvili had set up his own bailiwick as governor of Imereti at that time, alternately challenging the central government's authority and bargaining with it. Batiashvili was sentenced to prison in 2004 for inciting rebel mountain chieftain Emzar Kvitsiani in Svaneti, via open telephone lines, to persist with armed resistance against the government. Burjanadze and her husband, Badri Bitsadze, both from the Soviet-era nomenklatura, rallied in 2003 to the movement led by Mikheil Saakashvili and served as chairwoman of parliament and border guards' commander, respectively. They broke with the government in 2008, however, miscalculating that the government was getting weaker and the time was ripe for reintroducing the familiar clan system.
In the Georgian Party, Gachechiladze (runner-up in the 2007 presidential election) threatens to "prevent" the police from arresting his aggressive supporters, and to imprison Saakashvili instead, after the "revolution" (Kavkas-Press, May 23). Gachechiladze is another remnant of the chaotic 1990s, a hulking street fighter's figure, with a track record of involvement in fisticuffs. The same party's co-chairman, Irakli Okruashvili, has vowed to return from French political asylum to Tbilisi on May 25 "to put an end to this government…May 25 will mark the final day of the current authorities" (Kavkas-Press, May 22). Okruashvili, however, was a top "revolutionary" personality in 2003 and defense minister afterward, only to lose his post when Saakashvili's government cracked down on official corruption. Sentenced in absentia to prison on extortion charges, Okruashvili has enjoyed political asylum in France since 2008. With an eye to May 25, Georgia's Internal Affairs Ministry has warned that it would detain him on sight if he returns.
Irrational groups and personalities had long monopolized Georgia's opposition scene and persist with street politics on a seasonal basis. Recently, however, a more mature, constitutional opposition has developed in Georgia (see EDM, May 3). The local elections, held country-wide in 2010, marked a decisive turning point in this regard. Constitutional opposition parties—the Christian-Democrats and Our Georgia-Free Democrats—plan to compete in the 2012 and 2013 parliamentary and presidential elections. These parties are distancing themselves from "revolutionary" street politics.
Demonstrators have provoked two violent incidents in the ongoing actions. On May 21 in Batumi (the only street action venue outside Tbilisi), a small mob using sticks broke windows of the Ajaria TV station and attempted to storm it after an "ultimatum." On May 22 in Tbilisi, militants used sticks to attack a police crew, injuring three. Police used batons and tear gas to suppress both incidents.
The Internal Affairs Ministry has announced that police would not intervene to disperse protest rallies, but only to curb violence by protesters if necessary. Demonstrations are to be allowed to continue unhindered, as long as they remain peaceful. It is the ministry's policy to keep law enforcement personnel out of demonstrators' sight, to the extent possible. According to Parliament Chairman, Davit Bakradze, "If these actions stay within the law, then I see no problem, and it does not matter whether we like it or not" (Civil Georgia, May 21).