Turkey Reaches Compromise Over New Head of NATO
Publication: Eurasia Daily Monitor Volume: 6 Issue: 65
By: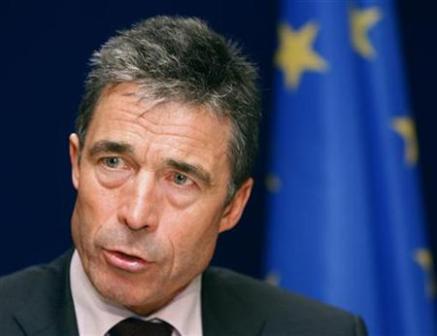 NATO members took important decisions during the April 3-4 summit, celebrating the Alliance's 60th anniversary. Following intense negotiations to ameliorate Turkey's reservations, on April 4 NATO leaders named Danish Prime Minister Anders Fogh Ramussen as their new Secretary-General. Turkey's agreement sparked controversy in Turkey as to whether Ankara had used the threat of veto prior to the summit as an effective bargaining chip.
Turkey had signaled that it might veto Rasmussen's appointment, based on its misgivings in his handling of the "cartoon crisis," and his government's refusal to address Turkey's concerns regarding the activities of the pro-PKK Roj TV in Denmark (EDM, March 26).
Turkey maintained its objections during the summit as President Abdullah Gul resisted pressure from European leaders, and reiterated Turkey's concerns, which raised tensions and threatened to publicly expose the lack of consensus amongst the allies. The deadlock was finally broken only minutes before the conclusion of the summit. Announcing Rasmussen's appointment, the current Secretary-General Jaap de Hoop Scheffer told a news conference: "there has been discussion over the past 36 hours but the fact that we are standing here next to each other means a solution has been found also for the concerns expressed by Turkey, and we all very much agree and are unanimous" (Hurriyet Daily News, April 5).
President Barack Obama's intervention apparently played a crucial role in securing the deal. Gul explained that he held a long and fruitful meeting with Obama, which was later joined by Rasmussen, during which Turkey's concerns were alleviated. Gul added that "if we had not been convinced, we would not have hesitated to use our natural right," implying that Ankara was prepared to veto Rasmussen (www.gazeteport.com.tr, April 4).
Obama was not alone in approaching Turkey's leaders to convince them to drop their objections to the EU-backed candidate Rasmussen. Italian Prime Minister Silvio Berlusconi telephoned his Turkish counterpart and close friend Recep Tayyip Erdogan. Berlusconi was so occupied in a lengthy last-minute cell-phone conversation with Erdogan, that he could not join the other heads of state during the closing ceremonies, including the group photo.
According to Erdogan, what changed Ankara's position was Obama's personal assurances to Gul that he would be the guarantor of the deal. The Turkish press reported that the package offered to Turkey included the following points: NATO's deputy secretary-general, deputy assistant secretary-general for arms control, and special envoy for Afghanistan would be drawn from Turkish diplomats, and Turkish officers would receive command positions in the alliance's military structures. Moreover, Rasmussen himself agreed that he would issue an apology to the Muslim world for the infamous cartoon crisis, and the Danish government would take steps to close the Roj TV (www.ntvmsnbc.com, April 4).
It is unclear whether the episode was a success for Turkish diplomacy. It might be considered a failure, because, as many diplomatic observers had previously expected, Turkey could not risk undermining transatlantic consensus and ultimately had to lift its threat of veto. Conversely, it might be seen as success, because, Turkey held its ground until the last moment, and received concessions which appeared to satisfy its demands.
On April 5, the headlines in Turkish newspapers included: "Turkey shaped NATO" (Yeni Safak), "Turkey won arm wrestling" (Sabah), "He will apologize in Istanbul" (Star). Commentators from the pro-government press compared Turkey's attitude towards NATO to Prime Minister Erdogan's Gaza policy and his high profile walkout in Davos. They argued that, unlike past governments which were submissive to western pressures, the Justice and Development Party (AKP) government successfully defended the country's national interests, and advocated Turkey's preferences within an international organization. A commentary in Zaman on April 5 argued that through tough bargaining, Turkey had achieved its strongest position to date within the Alliance's command structures. While the Islamist Vakit asserted that Turkey was no longer a country which would grant concessions without receiving anything in return.
However, newspapers more critical of the government, represented Turkey's "conditional approval" as a major defeat. On April 5 one Cumhuriyet columnist maintained that after weeks of bullying, Erdogan simply bowed to a Western imposition, only receiving minor concessions in return. Vatan maintained that Ankara failed to stand firm, and had to accept an insulting attitude from its European allies, while Erdogan did more harm than good by raising tensions ahead of the summit. They added that after Turkey perpetuated the image of Rasmussen as "the enemy of Islam," a face saving compromise became more difficult to achieve. Hurriyet's editorial highlighted the contradictory pre-summit statements of both Erdogan and Gul; whereas Erdogan had argued uncompromisingly that Turkey was opposed to Rasmussen, Gul said that Turkey would not object to any name in principle. This discrepancy at the apex of the state, combined with drawing back from the veto threat had harmed the country's national interests (Hurriyet, April 5).
Although the compromise preserved the Alliance's unity, its implications for Turkish diplomacy will be uncertain until Rasmussen takes office in August. After failing to convince its European allies to significantly increase their troop deployments to Afghanistan, Obama's ability to foster consensus over appointing the next Secretary-General of NATO can be considered as a partial success for his leadership. For their part, Turkish leaders did not disappoint Obama, demonstrating the high premium they place on rejuvenating Turkish-U.S. relations. Obama must now deliver his side of the deal, and enforce its terms on Denmark and other European allies in order to help his Turkish counterpart claim success for this controversial decision.