Turkey's 'African Eagle' Trains Turkish-Speaking Troops in Somalia: Where Next?
Publication: Terrorism Monitor Volume: 18 Issue: 21
By: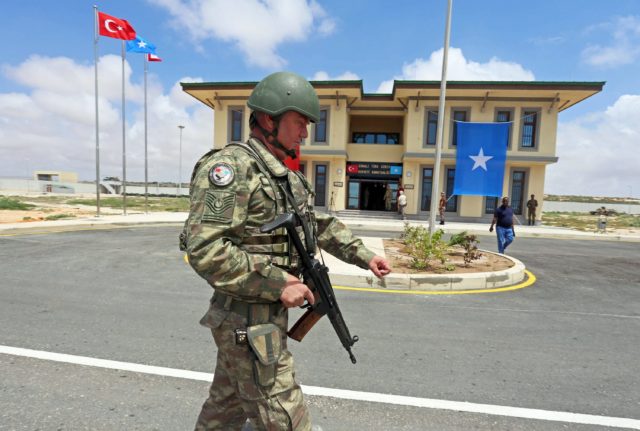 Africa has become an important pillar of Turkey's widely debated expeditionary military policy and forward-basing posture. The Turkish contingent stationed in Mogadishu, Somalia has an official patch with the Afrika Kartalı (African Eagle) inscription on it, which is telling when seen through the prism of Turkey's calculus behind this symbol. Specifically, it marks Turkish political-military might in its broader hinterland (Anadolu Agency, April 7, 2018).
Turkey has already built an overseas presence in Somalia and Libya. Soon, Niger could represent another example of this trend. In Somalia, however, Ankara has employed a distinct overseas military strategy unlike anywhere else on the continent. Only in Somalia is Turkey both forward-basing and, more importantly, graduating a fresh generation of trainees and building a new military-sociological identity that is intended to shape Somalia's future.
In sum, Turkey has been training Turkish-speaking Somali soldiers that Ankara expects will eventually contribute to a new geopolitical reality in the Horn of Africa.
The Turkish-Speaking Troops in Somalia
A closer look into Turkey's military-sociological identity building efforts in Somalia reveals that Somali officers and non-commissioned officer corps receive their education in Turkish after an intensive Turkish language course (TRT Haber, January 27, 2018). They even take their oath in Turkish in addition to their native Somali language (Turkish Ministry of Defense, November 29, 2019). The Somali troops also follow the same ceremonial rituals as the Turkish Armed Forces, including singing the Turkish Military Academy's traditional anthem and even commemorating fallen troops in the Ottoman Empire's Gallipoli (Çanakkale) defensive campaign against Britain (TRT Haber, April 7, 2018; Turkish Ministry of Defense, March 18, 2019).
Turkey's largest overseas military base is also in Somalia, Camp TURKSOM. It offers 400 hectares for training Somali soldiers, hosts the Turkish contingent and Somali cadets, and cost some $50 million to construct in 2017 (Yeni Safak, September 30, 2018). In keeping with its 'military-generation raising' objective, Turkey is also involved in Somalis' initiation into the military cadet force as officers and non-commissioned officers. Notably, the Turkish Embassy in Mogadishu releases the official application documents on its website for the Somali Armed Forces. The competitive process takes place in Camp TURSKOM and likely involves Turkey's military advisory contingent in evaluating the candidates (Turkish Embassy in Mogadishu, November 14).
Turkey also attaches importance to training a reliable warfighting force in the Horn of Africa through robust allied capacity-building activities. At present, the Turkish contingent aims to generate three Somali battalions per year through an initial 12-week training program followed by a customized commando specialization course in Turkey. By Summer 2020, Turkey had graduated some 2,500 Somali troops and was striving to soon boost the number to 5,000. The overall aim is to graduate at least 10,000 personnel and build a "Turkish-Speaking Somali military" (Anadolu Agency, August 4; Yeni Safak, September 30, 2018).
Somali Soldiers in Turkey and Turkey's Interests in Somalia
Having completed their military initiation, Somali battalions are regularly sent to Turkey to undergo elite training programs, including commando and special operations, counter-terrorism, urban warfare, and counter-improvised explosive device activities (Turkish Ministry of Defense, June 18, 2019). Some of these courses take place in the Turkish military's Counter-Terrorism and Commando Training Command in Isparta in western Turkey. The center in Isparta is one of the most important in Turkey for graduating battle-hardened units, including those that conducted Turkey's Syrian and northern Iraqi campaigns. In 2019, Somalia scored gains against al-Shabaab by retaking territory outside Mogadishu, which reflected capacity-building efforts to the Somali military by Turkey, the United States, and African Union forces (Turkish Ministry of Defense, April 18, 2019; Milliyet, May 1, 2019).
In addition, Turkey also transfers tactical arms to the Somalis' arsenal. This year, for example, Turkey donated 12 BMC Kirpi ("Hedgehog") mine-resistant and ambush-protected (MRAP) fighting vehicles to Somalia. The Somali Army also uses the Turkish military's MPT-76 assault rifles (Anadolu Agency, August 29; Africa News, November 02, 2017).
Turkish military academia's writings suggest that Turkey considers the Horn of Africa, and in particular Somalia, to be a major geopolitical hub across the axis of the Gulf and continental Africa, with rich natural resources and critical choke points, including the Bab al-Mandeb along the Red Sea and Gulf of Aden (Turkish National Defense University, 2019). This remains the underlying reason for Turkey's military policy in Somalia, which extends also to critical national infrastructure. At present, for example, Turkish firms manage the Mogadishu International Airport and Mogadishu Port (Turkish Foreign Office, November 14, 2020).
Where Will Turkey's 'African Eagle' Land Next?
Turkey's forward-basing in Africa beyond Somalia comes with pros and cons for Ankara. On the one end, it provides the Turkish government with important military leverage in critical flashpoints, such as Libya. Without Turkish involvement, Tripoli would have been overrun by General Khalifa Haftar's forces. Likewise, the Somali Armed Forces would not have fielded as well-trained and well-equipped combat formations as they do now if not for Turkey having entered the picture.
However, on the other end, one cannot ignore that there have been various attempts to target Turkey for its role in African operations, including in combating al-Shabaab. In June, for example, a suicide operation took place only 200 meters away from the contingent at Camp TURKSOM. It was prevented by the Somali guards of the base (Hurriyet, June 24). In addition, the Wattiyah airbase in Libya, where the Turkish government seeks to establish an overseas airbase, came under attack in July 'by a foreign actor,' which was reportedly the United Arab Emirates Air Force taking off from Egypt (Daily Sabah, July 8). Overall, an expeditionary military policy is lucrative but risky.
At present, there is no expectation for Turkey to scale down its ambitions in Africa. And, as mentioned above, Somalia is something different and unique in Turkey's strategic calculus. Turkey's policy in Somalia is not only about forward-basing, but rather about building a natural ally in a crucial country in the Horn of Africa.
Finally, one might ask 'where next' in Ankara's plans? Turkey's forward-basing patterns all start with a "military training and cooperation" agreement, like the one that Turkish Foreign Minister Mevlüt Çavuşoğlu secured in Niger in July (Turkish Foreign Office, July 21). In Niger, however, Turkey will have to at least compete with France, which dominates Niger's defense agenda. That is also in addition to Chinese and Soviet-Russian weaponry, which constitute an important part of Niger's arsenal.