Turkish Counter-Terrorist Police Allege Hizb-ut-Tahrir Link with Ergenekon
Publication: Eurasia Daily Monitor Volume: 6 Issue: 147
By: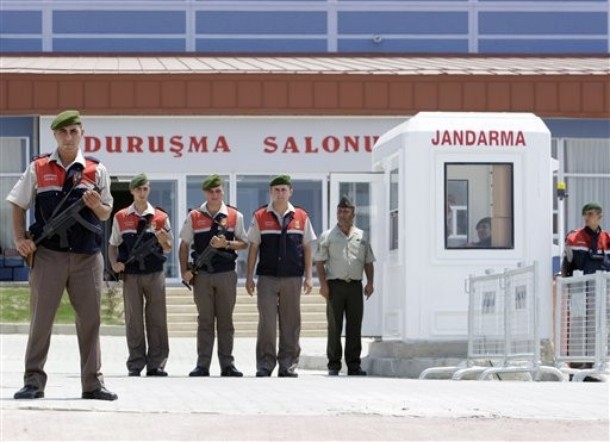 A total of seven lieutenants from the Turkish navy were arrested recently on charges of plotting to assassinate two admirals as part of the trial concerning the alleged activities of Ergenekon. Istanbul prosecutors accused the lieutenants of planning the assassination of two admirals, identified as "Ugur" and "Metin." Metin is believed to be the current Naval Commander Metin Atac due to retire in August, and Ugur is allegedly Esref Ugur Yigit, who is expected to replace Atac (Milliyet, July 29).
There were also claims that the lieutenants were in close contact with Major Levent Bektas, who was arrested in April on suspicion of being linked to a large cache of ammunition unearthed during excavations on land owned by the Istek Foundation in Istanbul's Poyrazkoy district. That discovery came as part of the investigation into Ergenekon, whose alleged members are currently standing trial on charges of plotting to overthrow the government. The lieutenants are also accused of being involved in an illicit sex and drug trade operation to provide funds to Ergenekon.
In a separate development, Turkish Colonel Cemal Temizoz was arrested recently in connection with suspected extra-judicial killings in the country's war stricken Kurdish dominated southeast in the 1990's. A court in Diyarbakir province in the southeast, issued an arrest warrant for Temizoz, who will appear before the court early in September. In excavations around Cizre, meanwhile, officials have so far found pieces of clothing and at least twenty human bones, which will be subject to DNA examination (Today's Zaman, Vatan, July 15).
As those arrests became public, the Turkish police detained nearly 200 suspected members of the outlawed Islamic organization Hizb-ut-Tahrir in simultaneous raids in 23 provinces across Turkey (All dailies, July 24). 33 out of 200 detained were arrested as the Istanbul anti-terrorist unit held a press conference saying they had confiscated a number of documents linking the suspects to the Islamist group. Police officials revealed some of the suspects' links with Ergenekon (Hurriyet, July 28).
Amid those operations, the second trial of the Ergenekon organization began on July 20, against 56 suspects including two former four star generals, Sener Eruygur and Hursit Tolon, on charges of plotting a coup to topple the government. This trial marked the first time that retired senior generals were put on trial over coup plots in a country where the military has made five direct and indirect interventions into politics since 1960.
Prosecutors demanded life imprisonment for Eruygur, the former commander of the Gendarmerie General Forces (JGK) and Tolon, a former army commander, charging them with forming a terrorist group to overthrow parliament. The same day as the second Ergenekon trial started, the Istanbul chief prosecutor's office released the third 1,454 pages long indictment that accuses 52 people including academics, journalists and a union leader of involvement in the coup plots. 52 suspects, 37 of whom are still under arrest, were arrested between January 10 and April 17.
A statement issued by the Istanbul prosecutor's office on July 20, recalled that two cases have been brought to court so far as part of the investigation (Ergenekon) that was launched on June 12, 2007, after a house full of ammunition and weapons was discovered in Istanbul's Umraniye district.
The introduction to the third indictment contained a summary of the first phase of the Ergenekon investigation and the first indictment, along with information on the activities planned and perpetrated by the organization, including its assassination plans and ammunition seized, said the statement (www.ntvmsnbc.com, July 20).
"The crimes the suspects are charged with are: setting up and leading a terrorist organization; attempting to destroy the government of the Republic of Turkey or blocking it from performing its duties; attempting to destroy the Turkish parliament and blocking it from performing its duties; recording personal data; destroying, distorting, stealing and acquiring secret documents on national security; carrying explosives; firing weapons that pose a threat to people's lives and disclosing footage and voice recordings belonging to private life," the statement continued (Today's Zaman, July 21).
Weapons and ammunition with which Ergenekon allegedly intended to sow chaos also featured in the indictment, including 275 pistols, 44 rifles, 424 hand grenades and 3 kilograms of explosives. The Istanbul court is expected to make its decision over whether to accept the indictment in early August, and begin the trial of 52 suspects.
The first Ergenekon trial started in October 2008 in which the retired Turkish general Veli Kucuk featured among approximately 86 defendants. Meanwhile, the former Chief of the General Staff retired General Hilmi Ozkok, told prosecutors of the Ergenekon investigation that he had been informed about coup plots within the military during his term in office, but he could not take action since he lacked evidence (Milliyet, July 28).
As a reflection of the deepening divide not only within society but also among the judiciary over Ergenekon, a high judiciary board's annual appointment of judges and prosecutors turned into a power struggle between the ruling Justice and Development Party (AKP) and the appointed bureaucrats. The three week long meetings of the Supreme Board of Judges and Prosecutors (HSYK) (whose controversial status has been strengthened by the 1982 military dictated constitution following the 1980 military coup), culminated in the board being prevented from replacing the Ergenekon judges and prosecutors (Taraf, July 28).
Turkey's politically powerful armed forces (TSK) which has been damaged by the Ergenekon probe and trial, will meet on August 1, under the chairmanship of Prime Minister Recep Tayyip Erdogan to decide on promotions and the retirements of generals. What kind of action the top commanders will take over active officers allegedly involved in Ergenekon, during this four-day long biannual High Military Council (YAS) meeting, is the main question being raised in public. In particular, it will be curious to know whether Colonel Dursun Cicek will retain his post in the TSK, after being arrested earlier this month on suspicion of preparing an action plan that outlined a conspiracy to topple the government. Cicek was also known for his signature on the memorandum, named "Lahika 1" and intended to discredit businessmen, including Rahmi Koc. Its existence was confirmed last year by the then-Chief of the General Staff General Yasar Buyukanit, who has since retired.