Turkish Government Criticized for its Policy on Kyrgyzstan
Publication: Eurasia Daily Monitor Volume: 7 Issue: 123
By: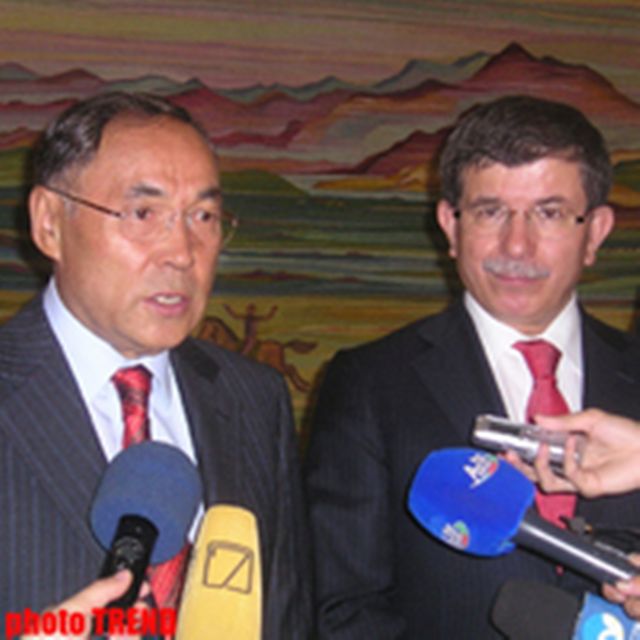 On June 21, Turkish Foreign Minister Ahmet Davutoglu, paid a visit to Kazakhstan. Davutoglu met his Kazakh counterpart, Kanat Saudabayev, and President, Nursultan Nazarbayev, to discuss the situation in Kyrgyzstan as well as bilateral relations. The two nations agreed to coordinate their assistance to Kyrgyzstan. They announced their agreement on a joint action plan, which would be put into effect following the constitutional referendum on June 27. They sent a letter to the Kyrgyz interim leader, Roza Otunbayeva, expressing support for her plans to hold a referendum and readiness to assist the nation's reconstruction. Although no details of the roadmap was announced immediately, Davutoglu said that upon consultation with other friendly nations, they would form the contents of the action plan. Davutoglu and the Kazakh leadership underscored that long-term stability in Kyrgyzstan depends on the formation of a workable and self-sufficient political system in the country (Anadolu Ajansi, Cihan, June 21; Zaman, June 22).
The declaration follows Turkey's earlier diplomatic efforts during the recent crisis. When the first signs of violence were reported in the region, it caught Ankara by surprise, as the government was preoccupied with other international crises. Turkey established crisis desks at the foreign ministry in Ankara and its embassy in Bishkek. Ankara initially committed to provide humanitarian aid through the Turkish Red Crescent and undertook measures to ensure the safety of Turkish citizens living in Kyrgyzstan. Turkey dispatched planes to evacuate Turkish citizens in the two cities that were affected the most by the conflicts, Osh and Jalalabad. Davutoglu and Turkish Prime Minister, Tayyip Recep Erdogan, contacted the interim Kyrgyz government and conveyed their readiness to take all steps required aimed at contributing to regional stability. Turkish leaders urged their Kyrgyz counterparts to avoid provocations and maintain calm in the crisis (Anadolu Ajansi, June 13, June 14).
Meanwhile, Turkey sent a special envoy to Bishkek who met with the Kyrgyz interim government officials to gauge their expectations from Turkey. Prior to his departure for Astana, Davutoglu stressed that Turkey's utmost priority was to maintain a neutral position in the conflict and ensure that the country would not split into two separate parts (Today's Zaman, June 18). The joint declaration with Kazakhstan reflects Turkey's desire to realize those objectives.
Several factors explain Turkey's attempts to address the crisis in cooperation with Kazakhstan. First, the two countries' current tenure in regional organizations has naturally pushed them to the forefront in efforts to address the unrest in Kyrgyzstan. Kazakhstan holds the rotating Chairmanship of the Organization for Security and Cooperation in Europe (OSCE). Turkey has also assumed the term presidency of the Conference on Interaction and Confidence-Building Measures in Asia (CICA) from Kazakhstan. The two countries, thus, will seek to implement the joint road map on behalf of their respective organizations, which might enhance the effectiveness of such action.
Moreover, Kazakhstan occupies a key role in Turkey's Central Asia policy. As part of its recent efforts to revitalize its presence in Central Asia, Turkey has sought closer coordination with Kazakhstan. During a June 18 security conference in Istanbul, a representative from Turkish foreign ministry labeled Astana as the lynchpin of Ankara's Central Asian policy and maintained that the Turkish-Kazakh axis could serve as the best guarantor of regional stability. Nonetheless, Turkish experts expressed reservations, arguing that the rapprochement with Kazakhstan was hardly based on realistic calculations and Ankara might find it difficult to sustain.
Nonetheless, a growing volume of bilateral contacts is apparent. During the Kazakh President, Nursultan Nazarbayev's, visit to Turkey last year, both sides agreed to deepen their "strategic partnership" in economic and political affairs, especially in energy cooperation (EDM, October 26, 2009). In May, the Turkish Chief of Staff, General Ilker Basbug, also visited Kazakhstan to foster closer bilateral military cooperation (Anadolu Ajansi, May 21). Turkish President, Abdullah Gul, visited Kazakhstan in the same month, during which he emphasized that Turkey was watching closely the rising power of Kazakhstan in the region. The parties signed various agreements intended to carry bilateral relations to higher levels (Anadolu Ajansi, May 24). Gul is also scheduled to visit Kazakhstan next month.
However, the Turkish government was still criticized by opposition parties and many civil society organizations, alleging it had failed to respond adequately to the crisis in Kyrgyzstan on the one hand, and having ignored the Turkish speaking countries in Central Asia due to its excessive involvement in the Middle East, on the other. In support of their arguments, for instance, critics pointed to how Turkey wasted the opportunity provided by the recent CICA summit in Istanbul, where Turkey assumed the chairmanship of the organization. The meeting was overshadowed by Israel's attack on the humanitarian aid convoy, which resulted in the deaths of several Turkish activists (www.cnnturk.com, June 7). For government critics, the fact that Ankara invested time and energy in persuading the participating nations to issue a declaration condemning Israel's attack, instead of addressing the volatile security situation in Kyrgyzstan was a sign of neglect on the government's part (Hurriyet Daily News, June 18).
In his address to parliament on June 16, and during his Astana trip, Davutoglu defied critics, referring to the various high-level contacts Turkey established with the region in recent months. Davutoglu also pointed to several projects being carried out by Turkey's state-run development agency, TIKA, in Kyrgyzstan, in particular and more widely within Central Asia (Anadolu Ajansi, June 21).
Davutoglu might be correct to highlight the recent Turkish activism, while defending his government's Central Asia, policy. Nonetheless, it is also difficult to deny that, in the first few years of the Justice and Development Party government, Turkey's involvement in the Central Asian Turkish-speaking republics remained rather limited. Only in recent years, has Turkey refocused its attention on the region, owing largely to President Gul's efforts and Davutoglu's appointment as foreign minister last year. It remains to be seen if the newly found Turkish interest may make a modest contribution to stability in Central Asia, or whether its role will prove "too little, too late."