Turkish-Iranian Economic Ties Flourish
Publication: Eurasia Daily Monitor Volume: 8 Issue: 35
By: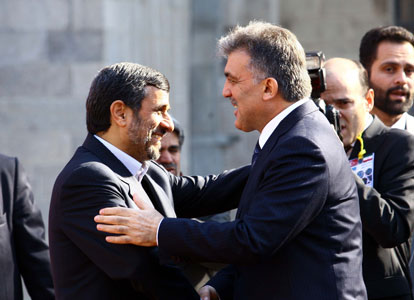 Turkish President, Abdullah Gul, paid a four-day state visit to Iran starting on February 13, to discuss ways to further bilateral cooperation. The sheer frequency of such high level mutual visits between the two countries in recent years indicates the growing multi-dimensional ties between Ankara and Tehran. Coupled with the convergence of both countries' positions on many regional problems, the Turkish-Iranian cooperative relationship in economic and political affairs has been one of the most constant elements in the emerging Middle Eastern geopolitical map which is often fluid and full of uncertainties.
Given Turkey's involvement in international efforts to find a solution to the diplomatic standoff over Iran's nuclear program, this issue has occupied a large part of Gul's agenda. So far, Turkey has objected to the Western policy of pursuing coercive instruments to halt the Iranian nuclear enrichment program which has raised suspicions in the West that Iran might eventually opt to acquire nuclear weapons. Turkey has, instead, operated on the assumption that the Iranian nuclear program was driven by peaceful purposes and advocates a diplomatic solution through dialogue and engagement with Iran, which occasionally pits it against the United States (EDM, June 1, 2010).
Gul's remarks on this issue highlighted the extent to which Turkey seeks to take into account Iran's concerns. Gul underlined that Iran needs to be offered an honorable solution to end this standoff. Commenting on this issue, Gul said that he agreed with President Mahmoud Ahmadinejad to continue joint efforts on a new road map to explore the possibilities of addressing this issue. Gul also added that Turkey will remain committed to its facilitator role so that this issue could be solved through diplomacy and dialogue. Indeed, Turkish Foreign Minister, Ahmet Davutoglu, accompanying Gul in Tehran, met his Iranian counterpart as well as Iranian chief nuclear negotiator Saeed Jalili. In the wake of the latest meeting between Iran and P5+1 countries held in Istanbul last month, which ended in failure (EDM, January 25), Turkey has remained steadfast in its insistence on a diplomatic solution. While Western leaders, including European officials issued statements calling on Iran to be forthcoming, Turkey is worried about any further escalation of tension and has been calling for the continuation of dialogue. Thus, in talks with his Iranian counterparts, having evaluated the Istanbul meeting, Davutoglu discussed the details of Turkey's future contributions to this issue. Davutoglu said that the next meeting between Iran and world powers might also take place in Istanbul (Anadolu Ajansi, February 15, 17).
Bilateral economic cooperation was another item pursued during Gul's visit to Tehran. In parallel to the Turkish government's recent policy of deepening economic exchange with its neighbors, Ankara has wanted to further trade ties with Tehran. In recent years, the Turkish-Iranian trade volume has grown enormously. In 2010, bilateral trade reached around $10 billion. However, it has been a major challenge for Turkey to fix the major trade deficit in Iran's favor, generated by Turkey's hydrocarbon imports from Iran. While Turkey's exports were about $3 billion, its imports were around $7 billion last year. At least since Prime Minister Recep Tayyip Erdogan's visit to Iran in October 2009, where he had vowed to raise the trade volume to $30 billion (EDM, October 29, 2009), Turkey has endeavored to increase its exports, through various measures, including forming joint economic commissions, easing border trade, trade fairs and plans to use national currencies in bilateral trade. Despite an absolute increase in exports, those policies have so far failed to break Turkey's vulnerability, partly due to Iran's rather protectionist economic policies. Moreover, Turkish firms' plans to boost the volume of their investments in Iran have been stalled because of restrictive Iranian regulations on foreign investments.
Thus, reflecting Turkey's determination to break this unfavorable economic pattern, Gul brought with him a large group of businessmen who sought to agree on trade deals with their prospective Iranian partners. During Gul's visit, several Turkish-Iranian business forums were convened in major Iranian cities including Tehran, Esfahan and Tabriz, by the representatives of Turkish business associations. Attending those forums, Gul reiterated the target of raising the trade volume to $30 billion. He emphasized clearly Turkey's dissatisfaction with "over-protectionist" economic policy in Iran and called for the elimination of restrictions. For some time, there had been bilateral talks on preferential trade agreement. Gul said that some Turkish officials accompanying him would remain in Iran to negotiate conditions for a free trade deal instead (Anadolu Ajansi, February 15).
Indeed, the conditions seem ripe for such a deal, as both countries have their own incentives to increase the bilateral trade volume. For its part, Turkey's recent foreign economic strategy is built on diversifying export markets as a tool to stimulate growth and cushion the negative effects of the global economic crisis. Partly as a result of Turkish exporters' penetration into new markets in the Middle East, Africa and Asia, Turkey has managed to overcome the crisis, without major assistance from international financial institutions.
For Iran, trade with Turkey has assumed a vital importance in the wake of the new round of sanctions initiated by the US. Although Turkey announced that it would comply with the UN-authorized sanctions, it would not implement the more stringent list of sanctions imposed by the US and European countries. There has been speculation that Iran might be subjected to more economic pressures following its "uncooperative" attitude during the talks in Istanbul. Moreover, recent reports indicate that the sanctions have started to hit Iran hard after some of Iran's traditional partners including the UAE decided to restrict their trade with Iran.
Against this background, Turkey is becoming a major lifeline for Iran. As underlined by Turkish expert Bayram Sinkaya in a recent report, "thanks to both Turkish-Iranian political rapprochement and their policy of furthering economic cooperation, Turkey has started to replace Dubai, which has been Iran's most important trade partner and operations center. Especially since June 2010 … Iranian businessmen have redirected [their operations] towards Turkey as an alternative to Dubai. As a result, over 600 firms have been set up by Iranian businessmen in Istanbul alone" (www.orsam.org.tr, February 10). It remains to be seen if growing Turkish-Iranian trade might arise as yet another divisive issue in Turkish-US relations and how Turkey will handle those tensions.