Turkish-Iranian Energy Cooperation in the Shadow of US Sanctions on Iran
Publication: Eurasia Daily Monitor Volume: 7 Issue: 144
By: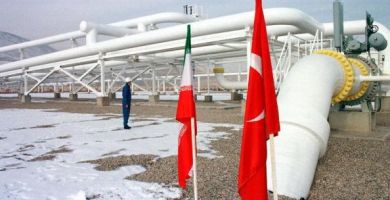 Iranian Petroleum Minister, Masoud Mirkazemi, visited Turkey last week to discuss Turkish-Iranian energy cooperation. The Iranian oil ministry announced that during the visit, a deal was concluded with a Turkish private energy company, worth $1.3 billion to build a pipeline from Iran to Turkey. The projected 660 kilometer (km) pipeline will be constructed within three years, allowing Iran to export 50 to 60 million cubic meters (mcm) of gas daily to Turkey and Europe, by paying transit fees to Ankara (www.shana.ir, July 21, July 23).
Turkish Energy Minister, Taner Yildiz, clarified immediately that neither the Turkish government nor the state-owned pipeline company BOTAS was party to such an agreement. He noted earlier interest expressed by private companies in such a pipeline, and said that it might involve one of these companies and Iran (Cihan, July 23). Nonetheless, it was unusual that he acted as though he had no knowledge of an agreement being signed, although it was publicized by the Iranian side.
The CEO of the Turkish counterpart in the project Som Petrol, Sitki Ayan, told the press that they were party to a deal with Iran. He added that they will build a pipeline to the Turkish-Iranian border, and it was part of a larger multi-billion dollar project (Hurriyet, July 24).
Iran has frequently expressed interest in exporting its gas to Europe, while Turkey also stated its willingness to assist Iran. Thus, Ankara concluded an agreement with Tehran in November 2008 pertaining to the export of Iranian gas to Europe and to the joint exploitation of Iran's reserves. In particular, Turkey wanted to invest $5.5 billion in the South Pars field to produce 20-35 billion cubic meters (bcm) of gas annually. Ankara would receive operation rights for three offshore gas fields in South Pars. Under US pressure, Turkey shelved this agreement. Later, it was rekindled in October 2009 during Prime Minister, Recep Tayyip Erdogan's, visit to Tehran, defying objections from Washington.
Since October 2009, Turkey and Iran have held talks on the details of the agreement, yet the viability of this cooperation has proved to be controversial. Ankara argues that cooperation with Tehran was essential first and foremost to meet its energy needs. Iran is currently the second largest supplier of natural gas to Turkey, following Russia. Moreover, such energy cooperation with Iran might also bolster European energy security, as Tehran could serve as a potential supplier for the EU-backed Nabucco project. This argument is particularly relevant given the ongoing uncertainty concerning where Nabucco would secure its gas supplies.
Skeptics have suggested that Ankara's insistence on cooperation with Tehran was not realistic in the face of the US-led sanctions policy. Political disagreements aside, given Turkey's own limitations in this field, it might not be able to supply Iran with the sort of investment and technology needed to meet its needs; hence, Iran could be no panacea to ensure European energy security in the short term (www.cer.org.uk, May 5).
The recently announced pipeline deal, provided that it succeeds, might secure fresh supplies to European markets yet, several questions remain as to how it will be connected to the European grid. The most immediate alternative is the possible export of Iranian gas to Switzerland, which has been under consideration since 2008 (Sabah, February 14, 2008). Iran and a Swiss energy company signed a deal in March 2008 (AFP, March 18, 2008). Following the Turkish-Iranian agreement, Turkey signed a memorandum of understanding with Switzerland, under which it would enable the transfer of up to 5.5 bcm of Iranian gas through its territory to Switzerland. The gas would use the proposed Trans-Adriatic Pipeline (TAP) network (Milliyet, November 5, 2009). Another option would be to integrate it with the Nabucco grid in the future.
The outcome of the talks on the joint development of the South Pars field, however, was not as promising. In March, Yildiz announced that Turkey commissioned feasibility studies and would have to make a final decision on whether to invest in South Pars within two weeks. It was rumored that the Iranian side also considered assigning the fields reserved for Turkey to domestic firms, as the possibility arose that the time period envisaged in the original agreement might expire (www.enerjivadisi.com, April 20).
Commenting on Mirkazemi's visit, Yildiz said that Turkey cancelled its plan to invest in the South Pars gas project, after failing to find common ground on the production and marketing of the gas. "In the future, there might be other possibilities to advance mutual interests in the South Pars field. Yet, the current project is over," Yildiz added (ANKA, July 23).
Since these developments occurred against the background of a recent round of sanctions against Iran spearheaded by the US, it refocused attention on how Turkish energy cooperation with Iran is mired in Turkish-American relations. Iran possesses the second largest natural gas deposits in the world, but their development has been hampered by the US policy of isolating Iran. Partly because its quest to access foreign investments and advanced technology was thwarted, Iran not only failed to emerge as a leading exporter, but was also forced to import gas from Turkmenistan and, through a recent agreement, from Azerbaijan.
Although Turkey objected to US policy on the Iranian nuclear issue and voted against the UN Security Council resolution authorizing sanctions, it underlined that it would implement them. It is unclear whether this development played a direct role in Ankara's decision to cancel its investment in Iran. In any case, declining European interest in energy cooperation with Iran has possibly influenced this decision. Since European countries do not necessarily view Iran as a supplier for Nabucco in the short term, the reduced interest might have affected Turkish policy. Moreover, European countries recently decided to tighten sanctions against Iran, including taking some restrictive measures in the oil and gas industry. This development may further restrict Ankara's room for maneuvering, given the questions over its ability to carry out investments with its own resources.