Turkmenistan Becoming Regional Railway Hub
Publication: Eurasia Daily Monitor Volume: 11 Issue: 166
By: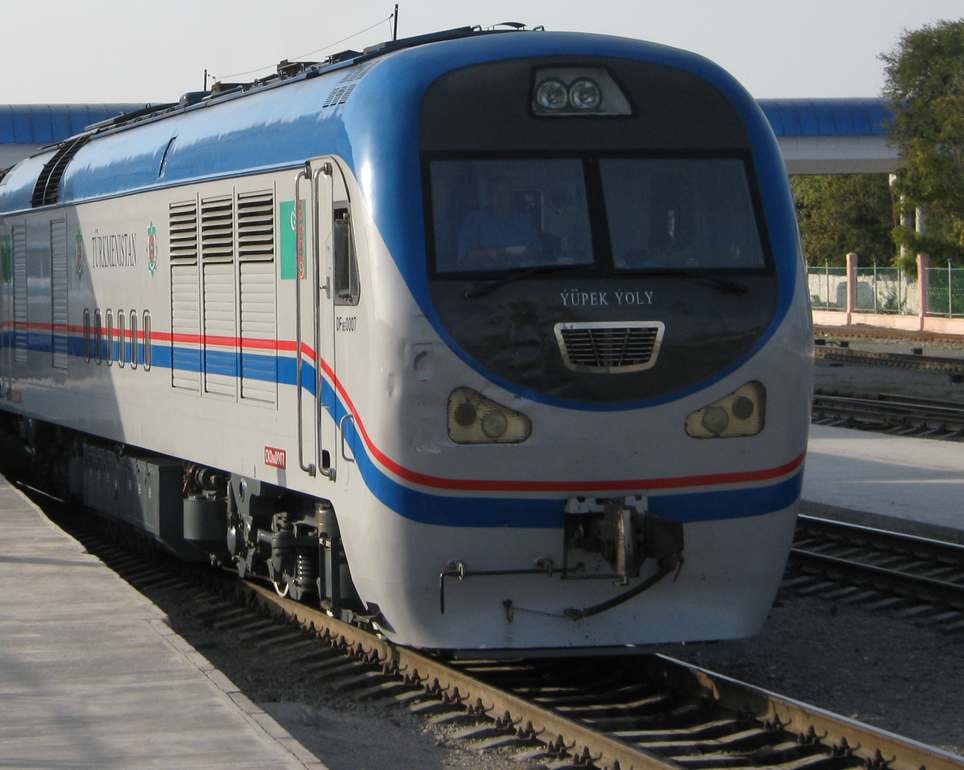 Buoyed by its rising hydrocarbon revenues, Turkmenistan is using some of that income to reduce its geographical isolation by upgrading and expanding its railway network while linking it to those of its neighbors. The most recent development is an Iran-Turkmenistan-Kazakhstan railroad, scheduled to be inaugurated in November (Fars News Agency, September 19). A second project is a Turkmenistan-Afghanistan-Tajikistan rail line (gazeta-pravda.ru, September 18). If carried through, the rail lines, along with Turkmenistan's position on the eastern shore of the Caspian, will transform Turkmenistan into a gateway for imports and exports from post-Soviet Central Asian nations, breaking Russia's traditional monopoly. All the post-Soviet South Caucasus and Central Asian states, with the exception of Georgia, are landlocked but are guaranteed access to international waters by the 1982 UN Convention on the Law of the Sea, making trans-national railways critical to efforts to surmount their isolation and reach the ocean.
The idea of the Iran-Turkmenistan-Kazakhstan railroad was formulated by Turkmenistan's President Gurbanguly Berdimuhamedov in May 2007. In his first year in office following the death of Sapramurat Niyazov ("Turkmenbashi"), he discussed constructing the Turkmenistani section of the railway with France's Bouygues Batiment International company (Watan TV, May 3, 2007). The railway was to be part of a larger north-south transnational railway corridor project, envisaged by Berdimuhamedov. A month later, following his first official visit to Iran, Turkmenistan's president said during a TV presentation, on June 16: "A very important point to single out is that our Iranian brothers agreed to join our railway project. Not only did they join it, but also they showed readiness to build a whole section running from Bereket to Gorgan" (Watan TV, June 16, 2007).
Two days later, during a telephone conversation with Kazakhstani President Nursultan Nazarbayev, Berdimuhamedov discussed building a railway line running through Kazakhstan, Turkmenistan and Iran, which Nazarbayev supported (Altyn Asyr TV, June 18, 2007). The new railway line would transit Kazakhstani oil supplies through Turkmenistan to Iranian ports at the rate of 10 million tons per year (Neitral'nyi Turkmenistan, June 20, 2014). Astana estimated that the railroad would cost $620 million to construct (Interfax, December 4, 2007).
Russia also expressed interest in participating, with Vladimir Putin assuring Berdimuhamedov in October 2007: "Our agreements on infrastructure projects are being implemented. Now that a trilateral agreement has been signed, the railway line will be linked to the Russian rail network, so we are moving ahead" (Interfax, October 16, 2007).
Turkmenistan has also been exploring railway options beyond Berdimuhamedov's initial north-south rail corridor vision. In 2007, Afghanistan and Turkmenistan signed a transport and transit agreement, which included extending the Turkmenistani railroad network from Serkhetabad to Torghundi in Afghanistan's Herat province ("Misuse of Licit Trade for Opiate Trafficking in Western and Central Asia: A Threat Assessment," UNODC, October 2012, p. 76). The project has stalled, however, over security and funding issues.
Farther east, on March 20, 2013, Afghanistan's then-president Hamid Karzai, Tajikistani President Emomali Rahmon and President Berdimuhamedov signed a memorandum of understanding to construct a 250-mile railroad linking Afghanistan's Akina-Andkhoy to Turkmenistan's Atamurat-Ymamnazar via Pyandzh in Tajikistan (ITAR-TASS, March 20, 2013).
Central Asia's burgeoning interest in railway construction integrates well with China's proposals for a "Silk Road Economic Belt." To further that agenda, in September 2013, Chinese President Xi Jinping paid state visits to Turkmenistan, Kazakhstan, Uzbekistan and Kyrgyzstan. China's financial role could be critical, as it has been in railway discussions throughout the post-Soviet space (see EDM, March 3, 2014; China Brief, June 4).
Turkmenistan's participation in TRACECA (Transport Corridor Europe-Caucasus-Asia), an international transport program that includes the European Union and 14 Eastern European, South Caucasus and Central Asian states, is critical to Turkmenistan's planned railway projects. TRACECA's involvement in the country's transport system will significantly reduce cargo delivery times compared to the traditional route from the ports of East and Southeast Asia to European ports, consolidating Turkmenistan's position as an important regional and continental transit and transport hub.
On July 10, 2014, Berdimuhamedov personally inspected a section of the north-south Bereket Etrek railway from a helicopter (Turkmenistan State News Agency, July 10). And by the following August, Berdimuhamedov's press office announced that Turkmenistan's portion of the Kazakhstan-Turkmenistan-Iran railway was now complete (AKIPress, August 26).
The railroad promises to have far-reaching implications for the region. Kazakhstan's leader, President Nazarbayev, sees immediate benefit from the Kazakhstan-Turkmenistan-Iran railway beyond its original oil export use. On September 9, while welcoming Iranian President Hassan Rouhani to Kazakhstan, he discussed building terminals on the Caspian in conjunction with the commissioning of the Kazakhstan-Turkmenistan-Iran railway, allowing the rail line to open the possibility of quintupling Kazakhstani wheat exports from 500,000 tons to 2.5 million tons (BNews.kz, September 9).
The Kazakhstan-Turkmenistan-Iran railway is a significant advance in ending both Central Asia's geographical isolation and the region's dependence on Russia's east-west Eurasian railway monopoly. While financial and security issues constrain Turkmenistan's potential rail links to Afghanistan and beyond to Tajikistan, the country's goal of being a regional transit hub for Central Asia is being realized via its collaboration with Iran, giving the region railway access to the world's oceans for the first time.
Technical issues remain, as all the former Soviet states use 1,520-millimeter gauge track, while China, Iran, Turkey and Europe use a standard 1,435-mm gauge. But these are minor compared to the geographic and geostrategic implications of the new line. Since this new rail corridor runs north to south, both Russia and China—purveyors of existing east-west railway links—will have to factor the new reality into their planning.