Turkmenistan's Naval Plans: Promoting its Maritime and Energy Interests
Publication: Eurasia Daily Monitor Volume: 7 Issue: 31
By: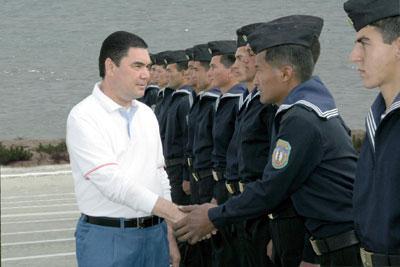 Turkmenistan's President Gurbanguly Berdimuhamedov has approved a program to create naval forces under the jurisdiction of the defense ministry, and will be deployed at the Turkmenbashi Caspian Sea port by 2015. The approval was announced at a meeting of the National Security Committee on January 22, during which the president emphasized the significance of the undertaking in upholding the state's political and military strategy (Voice of Russia, January 25).
Currently possessing 16 patrol boats and standing at 2,000 strong, the joint coast guard and naval base will protect Turkmenistan's maritime interests (Gundogar, September 1, 2009, Voice of Russia, January 25). "We are like any other country, with access to the sea. We need the ships to patrol our maritime borders to maintain the necessary level of security and prevent terrorism, to combat organized crime (poaching) and to prevent drug trafficking organizations," Berdimuhamedov stated in August 2009 when he first signed the decree to establish a naval force (Trend News, September 2, 2009).
Plans to purchase two naval ships and a number of patrol boats notwithstanding (www.censor.net, January 25), Turkmenistan will have to build its navy almost from scratch. The president confirmed this in 2009 when he tried to assuage fears over a possibly intensified arms race in the energy-rich Caspian region as a result of the country's naval plans: "…during the division of the former Soviet Union's military-technical base, all ships in the Caspian Flotilla returned to their old ports of registration, Baku and Astrakhan. Only two or three frontier boats were accounted for in Turkmenistan. Thus, reference "the Turkmen navy" has been inapplicable for a long time because of the absence of the fleet itself. Regarding the current process of technological modernization, there is no controversy or sensation here" (Trend News, September 2, 2009).
Indeed, Turkmenistan's naval capabilities are very limited. Its naval forces are the weakest among the Caspian states, while the government faces significant financial and technological challenges in acquiring combat vessels and constructing port facilities. Perhaps, this partially caused a delay in the president's decision to approve the naval program of almost six months after signing the decree in August 2009. Acquisitions by the Turkmen coast guard in recent years included patrol boats purchased from Ukraine in 2002 and seven safeguarding boats and one squadron mine boat leased from Iran in 2003. The US has also provided Turkmenistan with a Point Jackson-class boat, while Russia sold two "Sobol" patrol boats to the country in December, 2009 (APA News, January 25).
A Caspian Sea fleet, deployed in Astrakhan, Russia and operated by Russia, Azerbaijan, Kazakhstan, and Turkmenistan, currently serves as the backbone of regional maritime security. But given the pace of Kazakhstan's naval build-up and Turkmenistan's course of neutrality that prevents it from joining political and military alliances, the pursuit of its own naval forces will prove particularly appealing to Turkmenistan. Ashgabat has also engaged the US in the pursuit of common objectives aimed at bolstering regional energy security and balancing Russia's regional aspirations. The two countries have held negotiations over a possible US role in enhancing Turkmen naval capabilities against various regional security threats (www.politcom/moldova.org, October 5, 2007).
Uncertainty over its gas and oil field disputes with Azerbaijan might also have influenced its decision to build naval forces. In 2009, Ashgabat threatened to initiate legal action against Baku in response to the latter's unilateral attempts to develop disputed fields, against which the Azerbaijani media expressed a heightened sense of concern (Gundogar, Central Asia-Caucasus Analyst, September 1, 2009). Berdimuhamedov, however, pointed out that "Turkmenistan does not make territorial claims towards any country, or consider any state as its enemy" (Trend News, September 2, 2009).
Turkmenistan's relations with Russia have also revealed tensions. Not only were they at loggerheads over the terms of Turkmen gas exports to Russia, but they have sought to pursue divergent regional energy strategies. Ashgabat wants to diversify its export routes and clientele (illustrated by the recently constructed gas pipeline running through Central Asia from Turkmenistan to China), while Moscow attempts to retain its influence over regional energy exports and resources. A naval capability would help Turkmenistan protect its marine and energy interests.
The likely accelerated regional militarization might undermine the very objectives of the Turkmen navy due to the security situation in the South Caucasus, territorial disputes, and intensified competition over the region's energy resources. Moreover, a Western-sponsored Nabucco gas pipeline could yet face the daunting challenge of overcoming the mutual distrust between Turkmenistan and Azerbaijan – two countries that are critical for the successful operation of the pipeline. However, the absence of a Turkmen navy might also generate uncertain regional dynamics that could jeopardize both national and Caspian security. In this context, Turkmenistan's plans to build a navy may be an indication of the country's enhanced role as a regional energy player keen to appear as serious about protecting its growing maritime and energy interests, while it still finds itself financially constrained.