Tymoshenko Refuses to Recognize Yanukovych as President
Publication: Eurasia Daily Monitor Volume: 7 Issue: 37
By: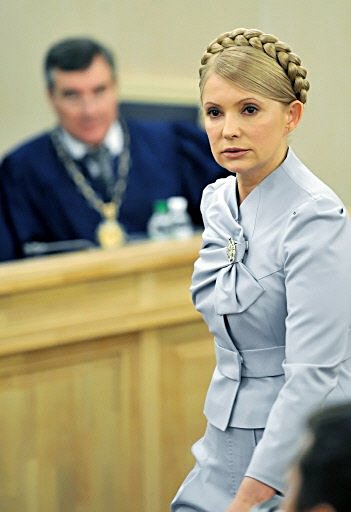 Prime Minister Yulia Tymoshenko has withdrawn her appeal from the High Administrative Court against the February 7 election runoff result. This means that nothing will prevent the election winner Viktor Yanukovych's inauguration on February 25. However, Tymoshenko refused to admit her defeat. Moreover, she told the nation that she refuses to recognize Yanukovych as president. This may undermine Ukraine's political stability. Yanukovych will have to oust Tymoshenko from the government as soon as possible, if he wants the country to be governable. A new coalition in parliament looks the best option for him in this situation.
The Central Electoral Commission on February 14 proclaimed Yanukovych the new president, confirming that he received 49 percent of the vote on February 7, while Tymoshenko gained only 45.5 percent. In a televised address on February 13, Tymoshenko said that she would lodge an appeal and that Yanukovych "will never become a legitimately elected president." Tymoshenko insisted that the vote was rigged and that ballots should be re-counted in Yanukovych's strongholds (Channel 5, February 13, 14). Tymoshenko stood no chance of winning her appeal because not enough evidence was collected to prove that the ballot was rigged and, unlike in 2004, when Viktor Yushchenko defeated Yanukovych in a "third round" which followed a controversial runoff, Yanukovych's victory was confirmed by exit polls, international observers, and world leaders such as US President Barack Obama and European Commission President Jose Barroso congratulated him on his victory. On February 20, Tymoshenko withdrew her appeal, accusing the court of bias. Outgoing President Viktor Yushchenko, consequently authorized the inauguration of his successor, scheduled for February 25 (Ukrainska Pravda, February 20).
Yanukovych predicted in an interview with 1+1 TV on February 21, that Tymoshenko would resign as prime minister. He said that talks on a new coalition in parliament were close to completion. Yanukovych did not say which parties might become coalition partners for his Party of Regions, but he stated that his caucus was in talks with all other caucuses including Tymoshenko's. This prompted Yushchenko to opine that a coalition could be formed between Yanukovych and Tymoshenko (Inter TV, February 21). Yanukovych told Ukraina TV on February 21 that Arseny Yatsenyuk, Serhy Tyhypko or Mykola Azarov could be the next prime minister, depending on the results of coalition talks. Yatsenyuk, a former parliamentary speaker, and Tyhypko, a businessman and former central bank chairman, came in fourth and third respectively in the first round of the election on January 17. Azarov served as finance minister in Yanukovych's cabinets in 2002-2004 and 2006-2007, and he managed Yanukovych's election campaign. While Yatsenyuk and Tyhypko are liberal reformers, Azarov was often criticized for his Soviet-style leadership.
Tymoshenko signaled that she would not agree to a coalition with Yanukovych in her address to the nation on February 22. Furthermore, she said she would not recognize Yanukovych as president. She insisted that the runoff was falsified and said that the court "cynically refused to establish the truth." Tymoshenko also claimed that she would not resign as prime minister (1st Channel, February 22). This means that Yanukovych has two options: either a new coalition with the splinter groups from Yushchenko's caucus and the bloc of Speaker Volodymyr Lytvyn or call for parliament's dissolution. Tymoshenko's demarche should not affect his inauguration, but it may prove difficult for President Yanukovych to work with a prime minister who does not recognize his power. If there were any doubts before Tymoshenko's address, now Yanukovych will insist on Tymoshenko's removal by any means. Yanukovych's team described Tymoshenko's address as being tantamount to a call for civil disobedience (Interfax-Ukraine, February 22).
By showing defiance, Tymoshenko wants to keep her fragile coalition in parliament for as long as possible in order to remain at the helm of the cabinet. Without an anti-Tymoshenko majority, Yanukovych has no power to oust her, and talks on a new pro-Yanukovych coalition have been difficult. In refusing to recognize her defeat in the election, Tymoshenko may destabilize the country, which is deeply divided along cultural and linguistic lines between the east and the west. If Yanukovych fails to remove Tymoshenko through forming a new coalition, he will call for early parliamentary elections. That would entail even more devastating consequences, especially for the economy, which is very slowly emerging from the crisis. The country will be unmanageable for several months until a new coalition, formed in a new parliament, tries to oust Tymoshenko or, on the contrary, confirms her credentials.
Meanwhile, Yanukovych will pay his first foreign visit as president to Brussels on March 1, Kommersant-Ukraine reported on February 23, citing European Commission sources. Yanukovych will also visit Moscow in early March. In selecting Brussels for the first foreign trip, Yanukovych apparently wants to shed his image as a pro-Russian politician. However, neither this nor his reluctance to carry out his pre-election promise to raise the status of the Russian language will make him a legitimate leader of the nation in the eyes of the nationally-minded and pro-Tymoshenko west and center of Ukraine, as long as Tymoshenko insists that "Yanukovych is not our president," as she asserted in her February 22 address.