U.S. Suggestion For Japanese Patrols in South China Sea Prompts ADIZ Threat
Publication: China Brief Volume: 15 Issue: 3
By: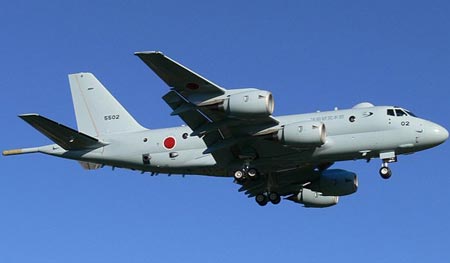 A recent U.S. suggestion for Japanese patrols in the South China Sea has elicited a sharp rebuttal by the Chinese government and reignited Chinese media discussion of a South China Sea Air Defense Identification Zone (ADIZ). In a strongly worded editorial the next day, the Global Times—the state-run People's Daily's more nationalistic and arguably less authoritative subsidiary newspaper—argued that China could respond to this rare open declaration of U.S. balancing against China by declaring a South China Sea ADIZ, quickening or expanding land reclamation efforts in the South China Sea or strengthening military cooperation with Russia in Northeast Asia (Global Times, January 30). A Xinhua article said Japanese patrols would raise tensions with China and noted that Japan just commissioned a new surveillance plane, the P-1, with an 8,000 kilometer range, enabling Japan to have the military capability to conduct these patrols in the South China Sea (Xinhua, January 30).
On January 29, Admiral Robert Thomas, commander of the U.S. Seventh Fleet in Asia, said "I think that [Japan Maritime Self Defense Forces] operations in the South China Sea makes sense in the future… In the South China Sea, frankly, the Chinese fishing fleet, the Chinese coastguard and the (navy) overmatch their neighbors" (Reuters, January 29). These comments were supported by the U.S. Department of Defense, though downplayed by the U.S. Department of State (South China Morning Post, February 1). The Chinese Ministry of Foreign Affairs (MFA) responded that "countries outside the region should respect the endeavor of countries in the region to safeguard peace and stability, and refrain from sowing discord among other countries and creating tensions" (Ministry of Foreign Affairs, January 30). There has been no statement by the Japanese government, but Japan has no announced intention of starting the patrols (China Daily, January 30).
Shen Dingli, a professor at Fudan University, wrote that the U.S. call for Japanese patrols "reflects the Pentagon throwing the South China Sea into disorder by getting even more countries involved in the dispute" (People's Daily Overseas, February 2). Shen asserted that the "United States hopes to kill several birds with one stone": increase international pressure on China, increase the threat level to China and signal to other claimants that they can rely on the United States to avoid negotiation with China.
Yet some analysts, including one Taiwanese expert interviewed on Phoenix TV, downplayed the issue. Zheng Jiwen noted that Japan has "security considerations" in the South China Sea because its "critical lifelines" run through the region, and added that Japanese military activity in the Sea is "not news" (Phoenix TV, January 30). He concluded that the patrols are by no means certain to happen and will take time, since there are questions about Japan having the right mechanisms in place in the event of a mid-air crisis, presumably landing rights with the Philippines.
Admiral Thomas' suggested Japanese patrols come after several years of efforts by Tokyo to build a presence in the South China Sea, which China has consistently opposed (People's Daily Online, 2011). Beyond revising its constitution to allow more active defense cooperation with the United States, Japan has conducted military exercises with the Philippines and will begin delivering vessels for the Philippine and Vietnamese coast guards in 2015 (Philippine Daily Inquirer, March 31, 2014; Tuoitre News, July 9, 2014; Asahi Shimbun, October 3, 2014). Furthermore in late January, Japan hosted the Philippine Minister of Defense for bilateral defense meetings and reached an agreement on increased defense cooperation (Philippine Star, February 1; People's Daily Overseas, January 30). Reflecting Chinese opposition, the People's Daily Overseas said the recent Japan-Philippine bilateral defense meetings demonstrated efforts to "contain China" and "gang up on China" and that Japan wants to link the East China Sea and South China Sea disputes (People's Daily Overseas, January 30).
The Global Times' threat to establish an ADIZ in retaliation for Japanese patrols appears to fulfill earlier statements by Chinese analysts but counters the Chinese government's repeated denials of rumors that Beijing seeks to establish a second ADIZ, after its November 2013 unilateral declaration of one over its disputed territory with Japan in the East China Sea (see China Brief, December 5, 2013; Sina, 2014). Most recently in December 2014, the MFA said that "it is within a country's sovereignty to decide whether to establish an air defense identification zone or not, meanwhile all sort of factors should be taken into account. Currently, peace and stability in the South China Sea is guaranteed," suggesting there was no need for one (MFA, December 22, 2014). However, Chinese analysts have stated that China may establish an ADIZ if necessary, including in response to more U.S. and Japanese patrols in the South China Sea that threaten China's national security (Global Times, January 3, 2014). The Global Times editorial appears to be a follow-up to that line of thinking.
This justification of a South China Sea ADIZ based on security threats is consistent with China's narrative for its 2013 East China Sea ADIZ, but the specific targeting of Japan counters the 2013 announcement's claim that "it is not directed against any specific country or target" (MFA, November 26, 2013). While the Global Times' threat may be a semi-authoritative signal that the Chinese government would not tolerate a Japanese patrol presence in the South China Sea, the fact that People's Daily did not respond and Shen's People's Daily Overseas article did not mention the ADIZ issue appears to suggest the Chinese government has not yet decided to declare an ADIZ in response to such patrols. Rather, it suggests the Chinese government has continued interest in eventually establishing an ADIZ and that a similar perceived provocation may serve as the justification when Beijing decides the timing is right down the road.