Ukraine Discontinues A Self-Defeating Unilateral Ceasefire
Publication: Eurasia Daily Monitor Volume: 11 Issue: 119
By: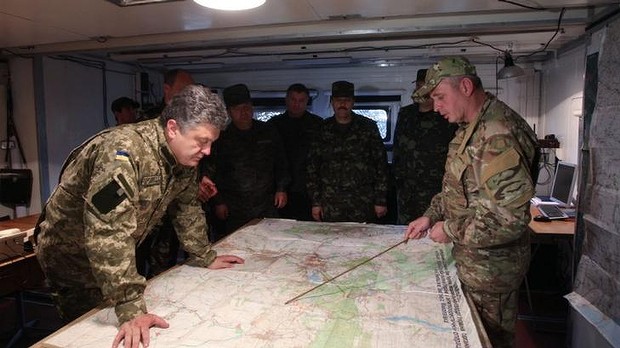 Ukraine has extricated itself from the trap of a unilateral ceasefire exploited by the Russian side. Ukrainian President Petro Poroshenko had declared a seven-day ceasefire on June 20, and prolonged it again unilaterally from June 27 through June 30. Secessionist leaders announced a parallel ceasefire on June 23, but did not honor it (see below).
In the late evening of June 30, Ukraine's National Security and Defense Council (NSDC) resolved to not prolong the unilateral ceasefire. The NSDC cited the secessionist forces' massive breaches of the ceasefire and their refusal to discuss any of Kyiv's peace proposals. President Poroshenko, as commander-in-chief, took personal responsibility for the NSDC's collective decision.
During the ceasefire period, Russian-led forces continued attacking Ukrainian fixed positions, killing at least 27 Ukrainian soldiers (including 18 during the June 20–27 ceasefire period, and another 9 during its June 27–June 30 extension) and wounding at least 69 (Interfax–Ukraine, June 30). On June 29, secessionist forces captured two Ukrainian military barracks in the city of Donetsk, and deployed an armored column in the city of Luhansk (RIA Novosti, Interfax-Ukraine, June 29, 30). Pro-Russian forces provided no figures of any casualties on their side for the ceasefire period. Indeed the Ukrainian forces remained mostly passive, despite the controversial nature of the unilateral ceasefire.
US and NATO intelligence ascertained that Russia reinforced its proxy forces in Ukraine during the latter's unilateral ceasefire. US General Philip Breedlove, commander-in-chief of NATO forces in Europe, told a June 29 briefing at the Pentagon that Russia transferred additional tanks, armored personnel carriers, anti-aircraft guns and other hardware to irregular forces in Ukraine's Donetsk and Luhansk provinces. "Russian regular forces are very active along the border of Ukraine facilitating the movement of forces, equipment, and finances across that border. Russian-backed irregular forces are very active inside eastern Ukraine. And Russian financing is very active inside eastern Ukraine," Breedlove noted (VOA, June 29, cited by Ukrinform.ua, June 30).
Briefing the media in Kyiv, Ukraine's Security Service (SBU) Vice-Chairman Viktor Yahun identified four enlistment and training centers in Russia's Moscow, Pskov, and Rostov oblasts and Krasnodar kray, respectively. Set up specially for Russia's paramilitary operations in Ukraine, those four centers recruit Russian military reservists with combat experience or certain technical skills, provide them with refresher training, and send them into Ukraine across border sectors controlled by Russian and proxy forces (Ukrainian Channel Five TV, June 29).
Addressing the country on television at midnight June 30–July 1, Poroshenko noted that Ukraine could not possibly extend its unilateral ceasefire while the other side was attacking relentlessly. "A ceasefire that must be paid for with the lives of our soldiers every day, is no ceasefire." Moreover, Poroshenko noted, the secessionist leaders had publicly rejected Kyiv's peace proposals in their entirety (see below). Reiterating that 15-point plan, he appealed to the Donbas population to act as an ally of the government through "civil disobedience toward the terrorists," so as to return the area to peaceful life. Poroshenko neither identified the secessionist as pro-Russian, nor named Russia as responsible for the situation. He alluded to Russia only once, indirectly, citing the secessionist forces' influx into Ukraine from "the other side of the eastern border" (President.gov.ua, June 30, July 1).
US State Department Spokeswoman Jennifer Psaki announced that the US would support Ukraine's sovereign decisions in this matter (UNIAN, June 30, July 1). The response from Berlin, however, is likely to be a tortuous one. Kyiv had yielded to convergent Russo-German diplomatic pressures when it declared the ceasefire unilaterally on June 20, entering moreover into negotiations with Russia's proxies on June 23 in Donetsk. Under that convergent pressure, Poroshenko felt that Ukraine must offer a good-will gesture and demonstrate its peaceful intentions in order to retain the European Union's political support (Ukrinform.ua, June 20, 23, June 30). That support seems limited and conditional due to Germany's strong influence in the EU.
On July 1, Poroshenko informed the leaders of Russia, Germany, and France about the expiry of Ukraine's unreciprocated self-restraint (Ukrinform.ua, July 1).
In response, Moscow has cancelled its June 29 consent to allow joint Russian-Ukrainian control of the border and a presence of OSCE monitors on that border. Russia takes the position that its assent was conditional on Ukraine's prolonging its unilateral ceasefire. Hence, Moscow holds Kyiv responsible for the consequences (Interfax, July 1). Those consequences are almost certain to show in the form of a greater influx of arms and combatants from Russia into Ukraine across that border.
Kyiv's unilateral ceasefire had met with fairly widespread criticism from military experts and some influential political groups and observers in Ukraine. Several Ukrainian paramilitary units threatened to mutiny in the event that the government prolonged its unilateral ceasefire. Critics noted that secessionist forces had been on the defensive, cornered in some places, when Kyiv gave them this breathing space. They took advantage of it to regroup, receive reinforcements including heavy weaponry from Russia, and go on to attack during the ten-day respite that was given to them. Had Kyiv prolonged its unilateral self-restraint—as Moscow demanded and Berlin recommended—Russia's proxy forces could have expanded their operations beyond Donbas, their likely next target being the Kharkiv province.
The NSDC's decision has restored the policy consensus in Kyiv and in the body politic writ large. However, Kyiv has yet to extricate from the other trap, namely, the Russia-mediated, OSCE-"facilitated" talks on a co-equal basis between the Ukrainian government and Russia's proxies in Donbas.