Ukraine Increases Trade With China at Russia's Expense
Publication: Eurasia Daily Monitor Volume: 15 Issue: 171
By: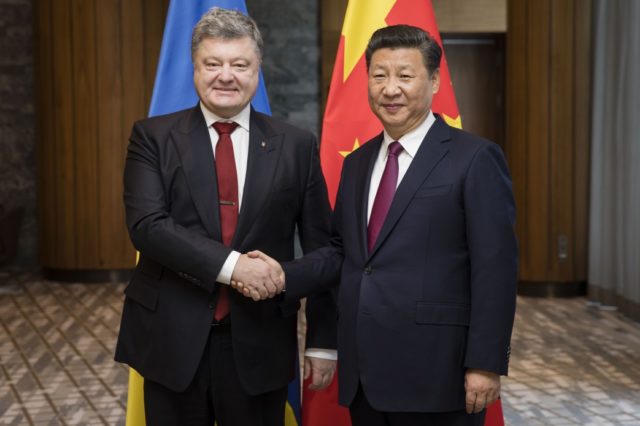 In line with China's continuing westward economic expansion, it may launch free trade talks with Ukraine. Stepan Kubiv, Ukraine's economy minister, coming back from a visit to China where he met Chinese Vice Premier Liu He last month, said Ukraine asked China to start consultations for a possible free trade agreement. The Ukraine-China intergovernmental cooperation commission resumed its activities after a long break. The two sides discussed cooperation in energy, infrastructural projects, machine building, agriculture and digitalization (Me.gov.ua, November 8). This was Kubiv's second visit to China this year, preceded by a long break, as no top-level Ukrainian government delegation had visited China since 2013 (Kmu.gov.ua, May 19).
Ukraine in 2016 cold-shouldered an offer from China to start talks on a free trade agreement. In the meantime, Ukraine has since 2014 signed free trade agreements with the European Union and Canada, completed talks with Israel, and has been in free trade talks with Turkey. Even without a free trade deal, China has been, along with the EU, Russia and Turkey, among the top four export markets for Ukraine for several years. China is one of the main buyers of Ukrainian agricultural produce. Ukraine has had the best agricultural harvest ever this year, and the last five years have been the best in terms of grain yields, so a free trade deal with China would come in handy (see below).
With natural gas wars, trade restrictions and the military invasion in 2014, Moscow pushed Kyiv to end its reliance on Russia as Ukraine's key trade and investment partner. The niches left by Russia have been filled mainly by the EU, which signed a free trade deal with Ukraine in 2014. The EU's share in Ukraine's exports grew to 40.5 percent in 2017, from 25.5 percent in 2010; and in imports, it grew respectively to 41.9 from 31.5 percent. China also made impressive progress, with its share in exports almost doubling to 4.6 from 2.5 percent, and in imports to 11.4 from 7.7 percent. In January–September 2018, China's share in Ukrainian imports grew further to 12.7 percent, although the share of exports inched down to 4.2 percent (Ukrstat.gov.ua, accessed December 2).
In imports, the current share of China makes it the second-largest single-national import source, behind Russia's 14.2 percent. Ukraine has traditionally relied on Russian energy. Although Ukraine has reduced its reliance on Russian gas to the minimum over the last several years (see EDM, February 11, 2016), it still largely depends on Russia for nuclear fuel, automotive fuels, and coal (see EDM, February 6, 2018). But the share of Russia in Ukraine's imports is set to decline further because of the complicated bilateral relations and Ukraine's efforts to diversify energy sources and reduce energy consumption. Conversely, China's share is likely to grow, as it sells to Ukraine mainly technological and consumer goods, demand for which has been growing along with general economic growth and rising incomes.
China has been trying to expand into the Ukrainian energy market with its relatively cheap technologies. In the nuclear sector, which accounts for about half of local power output, China has been trying to fill the niches from which the Ukrainian government has been squeezing out Russia for obvious reasons. The Ukrainian energy ministry discussed involving China Development Bank in developing local uranium deposits (Interfax, October 27, 2017). And Yury Nedashkovsky, the head of the Ukrainian national nuclear power firm, Energoatom, said China National Nuclear Corporation was interested in completing the construction of power units at the Khmelnytsky nuclear plant (UNIAN, November 6, 2017). Russia had been initially expected to complete construction works at Khmelnytsky, but after Russia's invasion in 2014 Kyiv froze the plan.
As the world's leading installer and producer of photovoltaic power, China has been actively expanding into Ukraine's renewable power sector. Last April, Ukraine's largest private energy company DTEK signed a contract with China Machinery Engineering Company to build a 200-megawatt solar farm. Once the $230-million solar farm is ready, it will be one of the three largest in Europe, said DTEK (Dtek.com, April 6). Over the last several years, representatives of the Chinese companies CCEC and GCL have been discussing investment in a giant 1-gigawatt solar project in the Chernobyl nuclear disaster zone, as well as a network of solar farms in Ukraine's southern provinces.
China has also been active in the Ukrainian construction sector. This year, Ukraine signed $200 million worth of contracts for Chinese companies to build highways; and Ukrainian Deputy Infrastructure Minister Viktor Dovhan announced last February that the government mulled borrowing $7 billion for infrastructural projects from China (Epravda.com.ua, February 2). Last year, the Kyiv mayoral office signed an agreement with a Chinese consortium, according to which Chinese companies are expected to build a long-awaited fourth metro line in the Ukrainian capital (Kyivcity.gov.ua, November 22, 2017).
Trade dynamics so far this year have not been in Ukraine's favor. Merchandise exports to China shrank by 0.9 percent year over year between January and September, while Ukraine's total exports grew by 10.3 percent over the period. By contrast, imports from China jumped 29.9 percent, much faster than the total import growth (16.1 percent) (Ukrstat.gov.ua, accessed December 2, 2018). Kyiv could try and reverse the disproportions if it starts free trade talks with China.