Ukraine, Russia and Georgia: Chameleon Politicians and Arms Exports
Publication: Eurasia Daily Monitor Volume: 9 Issue: 76
By: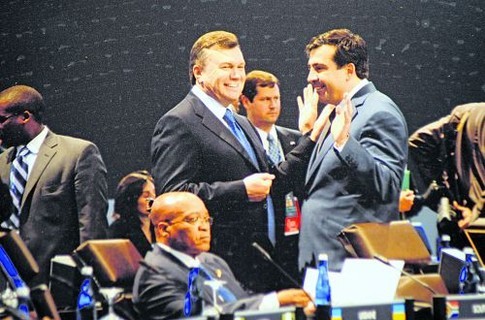 In February 2012, Giorgi Baramidze, Deputy Prime Minister of Georgia and State Secretary for European and Euro-Atlantic Integration, revealed that Ukraine is continuing to supply weapons to Georgia. "Moscow's position is not upheld by practically the entire world community. And, thank God, that Ukraine also does not [uphold it]," Baramidze said (https://zn.ua/POLITICS/georgiy_baramidze_nelegko_prinyat_gruziyu_v_nato_no_budetgorazdo_huzhe,_esli_ee).
Georgian-Ukrainian arms exports did not cease after Viktor Yanukovych was elected in February 2010 and continued based on earlier agreements signed by President Viktor Yushchenko. In 2010, Ukrspetseksport, Ukraine's state arms exporter, successfully conducted negotiations on intensifying military and technical cooperation with Georgia and Russia (Interfax-Ukraine, December 24, 2010), and a year later Ukrainian troops undertook their first year of training in Georgia. Defense Minister Mykhaylo Yezhel said, "Our military specialists will study at the base of a specialized center for mountain infantry units of the Georgian armed forces, which has good infrastructure. We are very interested in training our servicemen for mountain infantry units (Interfax-Ukraine, November 23, 2010).
Baramidze said that the Yanukovych administration does not believe the supply of weapons will inflame interethnic relations in the Trans-Caucasus. Party of Regions deputy Mykhaylo Chechetov agreed, believing Ukraine had no difficulties in exporting weapons to any country, including the Karabakh region controlled by Armenia, if this brings profits. Chechetov's statement was in response to a comment by Karabakh's parliamentary chairman Ashot Gulyan's condemnation of Ukrainian arms exports to Azerbaijan (Ukrayinska Pravda, November 19, 2010).
Military cooperation between Georgia and Ukraine was continuing and "[a]lthough I cannot go into details, there are no problems between us" Baramidze revealed. This view echoed that of President Mikheil Saakashvili who pointed out that relations with Ukraine had not deteriorated after Yanukovych came to power. Saakashvili said, "There have never been such good relations between us," and added, "I do not see any cooling in relations. Georgia is all the rage in Ukraine at the moment" (Segodnya, September 15, 2011).
These statements, even allowing for diplomatic language, are surprising for three reasons.

Firstly, according to then Interior Minister Yuriy Lutsenko, Yanukovych would never have won the 2010 presidential elections if he had not inflated the voter turnout in his home base of Donetsk. And this electoral fraud would not have been possible had President Viktor Yushchenko not sent home 2,000 tough looking Georgian "election observers" before the second round. Saakashvili had sent these to Ukraine at the request of Yulia Tymoshenko to reduce election fraud (see https://kp.ua/daily/180110/210695/; https://vlasti.net/news/74197;
https://www.georgiatimes.info/news/30036.html; https://www.georgiatimes.info/news/29552.html). Russia's Federal Intelligence Service (FSB) illicitly taped telephone conversations between Tymoshenko and Saakashvili (listen at
https://www.youtube.com/watch?v=DJR0WSB3WY8). Other intercepted conversations by the FSB or the Security Service of Ukraine (SBU) allegedly took place between the Georgian Chairman of the Parliamentary Committee on Defense and Security Givi Targamadze and a Ukrainian by the name of "Konstantin" on January 11, 2010, and between Targamadze and Georgia's Minister of Internal Affairs Vano Merabishvili on January 14, 2010 (listen at https://tribuna.com.ua/modules/pages/files/perevod_1.mp3, https://tribuna.com.ua/modules/pages/files/perevod_2.mp3).
Secondly, Yanukovych was alone among non-Russian CIS leaders in supporting separatism in Georgia. Belarusian President Alyaksandr Lukashenka, for example, refused to support Russia's position of recognizing the breakaway Georgian provinces of Abkhazia and South Ossetia. Yanukovych's position was totally at odds with not only Yushchenko but also former President Leonid Kuchma who correctly warned Saakashvili during a 2006 visit to Georgia that the Ossetian problem lies ahead and advised him when negotiating with Russia to do so from the principle of upholding Georgia's territorial integrity (Leonid Kuchma, Posle Maydana. Zapysky prezydenta 2005-2006, Kyiv: Dovira, 2007, p.234).
In September 2008, the Party of Regions, then led by Yanukovych, the Communist Party (KPU) and their Crimean Russian nationalist allies proposed resolutions in the Ukrainian and Crimean parliaments in support of Russia's recognition of the independence of South Ossetia and Abkhazia. The resolutions were controversial within even the Party of Regions, opposed by Raisa Bohatyriova, then Secretary of the National Security and Defense Council (see EDM, September 2, 2008).
The Crimean resolution was adopted because the autonomous republic's parliament was controlled by the For Yanukovych! coalition majority. The resolution failed in the Ukrainian parliament where it was opposed by the orange coalition of Our Ukraine-Peoples Self Defense (NUNS) and the Bloc of Yulia Tymoshenko (BYuT).
Thirdly, the issue of Ukrainian arms sales also made the recent warm Ukrainian-Georgian diplomatic exchanges surprising. In fall of 2008, the Party of Regions and the KPU demanded an investigation into allegations of Ukraine supplying arms to Georgia. Russia and the separatist leaders of South Ossetia and Abkhazia accused Ukraine of assisting in Georgia's alleged "ethnic cleansing" of South Ossetia and of supplying military equipment to Tbilisi. The Georgian Ministry of Foreign Affairs defended Ukraine by accusing Russia of having armed the separatists (Ukrayinska Pravda, August 9-10, 2008).
These accusations ignored the fact that "military-technical cooperation between Ukraine and Georgia, which has taken place over the last 15 years, took place within the parameters of international law" (see Volodymyr Kim, "Kavkazki kanonady," Dzerkalo Tyzhnia, August 9-15, 2008). Ukrainian supplies of military equipment to Georgia began during Kuchma's presidency with then Georgian President Eduard Shevardnadze, and continued throughout the 2002-2004 Yanukovych government (RFE/RL Poland, Belarus, and Ukraine Report, October 29, 2002). Georgia is not subject to an international arms embargo.
The Party of Regions demanded the creation of a temporary parliamentary commission to investigate the delivery of weapons to Georgia as well as Ukrainian support for Georgia (https://www.partyofregions.org.ua/, August 26, 2009). A failed resolution to create a commission was supported by 172 Party of Regions MPs, 27 KPU parliamentarians, 17 Volodymyr Lytvyn bloc members and 1 BYuT deputy (www.rada.kiev.ua).
Ukraine did have 21 military trainers in Georgia, but these soldiers did not participate in the conflict and returned to Ukraine on President Viktor Yushchenko's plane (interview with Defense Minister Yuri Yekhanurov, Ukrayinska Pravda, October 3, 2008). Yushchenko joined the Polish, Lithuanian, Latvian and Estonian presidents in a show of support for Georgia by standing on the same platform with Saakashvili in Tbilisi (see EDM, August 12, 2008).
Party of Regions deputy Valeriy Konovaliuk was accused by the SBU of leaking state secrets about Ukraine's arms exports after he led a Party of Regions campaign accusing Yushchenko of illegally supplying weapons to Georgia. The SBU intervened to prevent the screening of a documentary that was made with the support of the Russian Embassy at the Hyatt Hotel in Kyiv.
The Party of Regions' domestic campaign echoed Russia's external propaganda tirade, claiming Ukraine had supplied large volumes of weapons to Georgia and that Ukrainian mercenaries had fought on the Georgian side. A Russian Foreign Ministry statement claimed that "by supplying heavy military hardware to the Georgian army, the Ukrainian side partially bears the responsibility for the bloodshed" (https://www.mid.ru/).
The above analysis leads to three conclusions.
Firstly, Russia only condemns actions such as arms supplies to Georgia if they are conducted by pro-Western political forces, such as Yushchenko's administration, not by the Party of Regions.
Secondly, Yanukovych and the Party of Regions are chameleons on foreign policy, supporting separatism in Georgia and opposing arms exports when in opposition, while supporting the opposite when they are in power.
Thirdly, these conclusions should be a warning to Western policymakers of the lack of credibility of official Ukrainian rhetoric on foreign policy, as has been revealed by Yanukovych on European integration.