Ukraine and Russia Compete in Health Reform
Publication: Eurasia Daily Monitor Volume: 14 Issue: 151
By: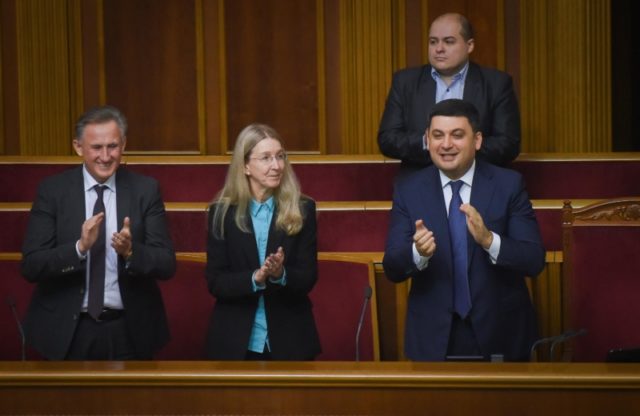 The Ukrainian Rada (parliament) successfully passed health reform bills on June 5 and October 19. Spearheaded by the American-born, Ukrainian acting minister of health, Dr. Ulana Suprun, the medical reform was strongly criticized in leading Russian media outlets. However, the Kremlin's attacks on Ukraine overshadow Russia's own systemic healthcare problems.
Russia's leading official media bashed Ukraine's Ulana Suprun, accusing her of carrying out Washington's agenda and of seeking to abolish Russian medical imports—thus further cutting an important conduit of the Kremlin's influence (Pervyi Kanal, April 15). Russia's TV One (Pervyi Kanal) claimed that the Ukrainian reforms were destroying local cardiovascular surgery clinics and introducing "exorbitant operational costs." The state television channel alleged that Ukrainian "people are faced with either dying or selling all their belongings and taking out loans [to pay for care]" (Pervyi Kanal, August 2)
This negative coverage falls within the Kremlin's broader political/informational war against Kyiv. On the surface, it targets Dr. Suprun, whose family fought against and fled from Joseph Stalin's armies during World War II. But Moscow's wider objective is to preclude Kyiv from developing an effective national healthcare management system—particularly if Moscow may at some point want to export its own model to other post-Soviet states. Indeed, Russia's own healthcare reform path has mostly departed from Soviet-era guaranteed total care. But this process has had mixed results (see below). In fact, thanks to its adopted reforms, Ukraine may actually offer more feasible and sustainable healthcare management and financing solutions compared to neighboring Russia.
According to World Health Organization (WHO) statistics, Russia (Who.int, accessed November 21) and Ukraine (Who.int, accessed November 21) have quite similar health profiles, although Ukraine exhibits somewhat better basic indicators, such as life expectancy and male mortality risks. At the same time, Russia's state healthcare funding, according to national data, makes up 3.6 percent of GDP (RBC, December 14, 2016), while Ukraine currently spends 2.6 percent (Liga.net, September 19, 2017).
Russia undertook its healthcare reform efforts earlier than Ukraine. And in fact, under former president Viktor Yanukovych, Ukraine actually considered copying Russia's reform model—a move then proposed by parliamentarian Tetiana Bakhteyeva, today a vehement opponent of Suprun's healthcare reform (Apteka.ua, October 1, 2012). The Russian reforms represent a strategic project personally sponsored by President Vladimir Putin.
The healthcare financing system in Russia follows the so-called "Bismarck-type" mandatory health insurance model, with multiple, tightly regulated insurers administered by a special government institution introduced in the early 1990s. Ukraine, on the other hand, has chosen a system closer to the "William Beveridge model," originated in the United Kingdom, Denmark and Norway. This latter model is based on centralized budget financing—for example as in the UK's National Health Service—and provides the government with more ability to control costs. Both healthcare models were discussed in Ukraine prior to the 2013–2014 Maidan revolution (Apteka.ua, July 30, 2012), but Suprun ultimately chose the one that virtually decouples Ukraine from Russia. Thus, in the newly reformed healthcare system, the Ukrainian state will purchase services for guaranteed primary, urgent and palliative care, as well as base specialty care from both state-owned and private medical facilities through the new National Health Service agency. Clinics and Ukrainian residents will register primary contracts thought the new online E-Health system by January 1, 2018. Each family physician in the country will be allowed to have no more than 2,000 patients, and the clinic where the doctor works will receive 370 hryvna ($15) per patient. Oleksandr Yabchanka, an advisor to the acting Ukrainian minister of health, notes that, in 2018–2020, the government will calculate the rates at which it will purchase secondary and specialized tertiary care services. Based on these rates, contracts with providers will be signed starting in 2020. The funding will be allocated from unified social tax contributions (Author's interview, November 5).
Meanwhile, the Russian system has shown systemic flaws. For one thing, reform efforts have resulted in massive cuts to healthcare expenditures. According to Novaya Gazeta, this year Russia has cut federal budget funding for outpatient clinics by 39 percent—68.995 billion rubles ($1.166 billion) this year, compared to 113.4 billion ($1.92 billion) the year before. Similarly, funding for research has dropped by 21 percent in 2017 compared to 2016—19.394 billion rubles ($320 million) versus 16.028 billion rubles ($270 million), respectively (Novaya Gazeta, October 19, 2016). The government has made insurers responsible for administering primary health care, medical aid quality control, and even the administration of financial penalties. But the private sector has been trying to minimize payments for healthcare services, forcing these to be supplemented by federal and regional budget subsidies (RIA Novosti, December 20, 2016). In order to ease the burden somewhat on state budgets, Russia is currently looking at the possibility of adopting a co-payment system, whereby patients pay a symbolic portion of their medical costs, with the substantial remainder covered by insurance or the government (Medportal.ru, October 17).
Ukraine hopes to eventually introduce the co-payment principle into its healthcare as well. If ultimately adopted, this will make Ukraine's system more like the National Health Insurance model that exists in Canada. However despite public opinion surveys showing support for such a system (see EDM, September 13; Moz.gov.ua, October 20), Ukrainian parliamentarians have yet to pass any legislation on healthcare co-payment, thus virtually guaranteeing that the current system of informal, out-of-pocket payments (paid by virtually all Ukrainians and a prime source of corruption in healthcare) will remain in place for the time being.
Ukraine's health reform represents a serious step away from the Soviet-era principle of universal healthcare. The experience of Russian healthcare reform shows that the government-mandated, employer-tied health insurance system currently in place is less effective: to save on taxes, businesses tend to minimize their payments, hence, only base services are covered. In light of these medical-sector shortcomings at home, the Kremlin-connected media have been attacking Ukrainian efforts, seeking to prevent acting health minister Suprun's healthcare reform package from succeeding.