Ukraine Signs Agreement to Extract Gas Jointly with Shell
Publication: Eurasia Daily Monitor Volume: 10 Issue: 15
By: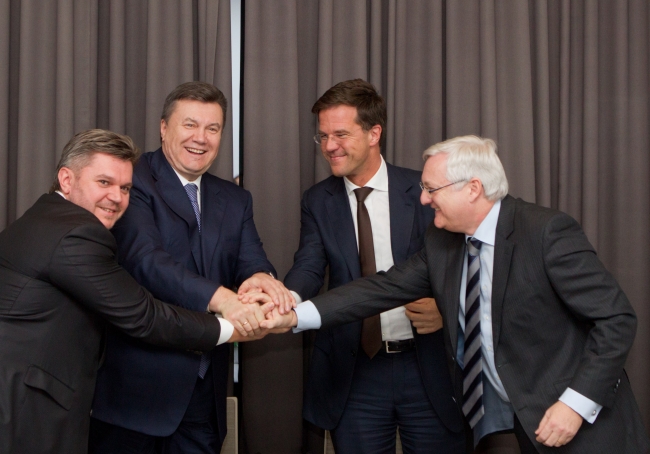 Shell will extract unconventional gas in Ukraine according to an agreement signed with Ukraine last week. This will be Ukraine's first big project with a large multinational company in the oil and gas sector, and Chevron is likely to follow suit later this year. With the help of the multinationals and new domestic projects, Kyiv hopes to drastically cut its dependence on Russian gas by the time the current contract with Gazprom, which does not suit Ukraine, runs out in 2019. The process is far from smooth: apart from natural resistance from Russia, the Ukrainian government has to overcome resistance from political opponents at home and to fend off difficult questions about corruption.
On January 24 in Davos, Switzerland, Shell CEO Peter Voser and Ukrainian Energy Minister Eduard Stavytsky signed a production sharing agreement (PSA) for Shell to extract shale gas from Yuzivske field in the eastern Ukrainian regions of Donetsk and Kharkiv. The PSA was signed for 50 years between Shell and the state company Nadra Yuzivska. Each will have 50 percent control. Investment in the project may eventually exceed $10 billion, Stavytsky said. It should be possible to extract 7–8 billion cubic meters (bcm) of gas from Yuzivske according to the pessimistic scenario in five years' time; and if the optimistic scenario materializes, output from the field may eventually reach 20 bcm. If so, Ukraine will produce more gas than it consumes, said Stavytsky. Work on the field will start in March, he added (Inter TV, UNIAN, January 24).
Last year, Ukraine imported 33 bcm of gas from Russia including 25 bcm bought by the national oil and gas company Naftohaz Ukrainy (mpe.kmu.gov.ua, January 24). Ukraine produces about 20 bcm of gas per annum while consumption declined by eight percent to 55 bcm last year and is set to decline further as the government is committed to replacing gas with local coal where possible in heating and electricity generation, while private gas consumers are introducing energy-saving technologies. This means that Ukraine will definitely have to import less than 35 bcm of gas this year. Moreover, Ukraine started to buy gas from Germany's RWE last November, is going to triple gas extraction from the Black Sea to three bcm per annum by 2016, and plans to launch a liquefied natural gas (LNG) terminal to process ten bcm of gas from either Qatar or Azerbaijan or both per annum. This, plus at least seven bcm of gas expected from the project with Shell, will make the contract with Gazprom—signed by the government of then Prime Minister Yulia Tymoshenko in 2009, which stipulates that Ukraine has to annually buy at least 42 bcm of gas until 2019—grossly outdated.

Gazprom knows this and is going to squeeze as much as possible from the current contract. Immediately after the PSA signing with Shell, it emerged that Gazprom asked Naftohaz to pay an additional $7 billion for gas deliveries last year. Thus Gazprom decided to punish Ukraine for buying less gas than stipulated by the contract, which contains a take-or-pay clause. Naftohaz said on January 26 that it paid for the gas it imported last year and that Gazprom had been warned in advance how much Naftohaz was going to import. Naftohaz did warn Gazprom, but no agreement has been reached so Gazprom has the right to sue Naftohaz in an international court according to the contract (Interfax-Ukraine, January 26; Kommersant-Ukraine, January 28).
Ukraine has yet to sign a PSA with Chevron, which last May won a tender to develop shale gas deposits in the western regions of Lviv and Ivano-Frankivsk. Shell's plans were approved smoothly on January 16–17 by the regional councils of Donetsk and Kharkiv, which are dominated by the ruling Party of Regions (UNIAN, January 17). However, Chevron has apparently encountered opposition in Ukraine. Prime Minister Mykola Azarov recently expressed his regret that the regional councils of Lviv and Ivano-Frankivsk have not yet approved Chevron's plans (UNIAN, January 19). The far-right party Freedom, which is in opposition to the government, dominates local politics in Ivano-Frankivsk and Lviv, especially after the elections last October in which Freedom unexpectedly won seats in the Ukrainian parliament for the first time ever. Freedom is against PSAs with both Shell and Chevron, citing environmental concerns (lb.ua, January 17).
The opposition raises concerns not only about the environment. The pro-opposition media and people's deputies have claimed that SPK-Geoservis, an obscure company that will be Naftohaz's junior partner in the project with Shell, may have links to people close to the presidential family (Ekonomichna Pravda, August 7, 2012; January 23). On the other hand, Deputy Prime Minister Yury Boyko, who was energy minister in 2010–2012, has had to fend off questions about reports claiming that the government bought drilling rigs to extract gas from the Black Sea from a fictitious firm based in Latvia (Kyiv Post, December 26, 2012; Ekonomichna Pravda, January 17; UT1 TV, January 25). Indeed, despite the promise of big payouts and mutually beneficial outcomes, multinationals tread on slippery ground by investing in Ukraine, which international watchdogs persistently rank among the most corrupt nations.