Ukraine Starts to Import Gas from Europe, Cuts Imports from Russia
Publication: Eurasia Daily Monitor Volume: 9 Issue: 213
By: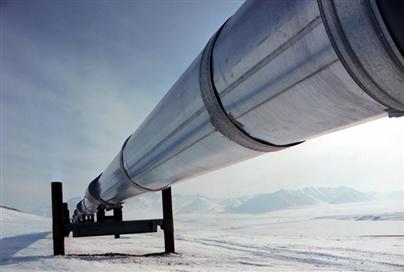 As Russia refuses to cut gas prices for Ukraine and proceeds with its South Stream pipeline project—aimed at diminishing Gazprom's dependence on Ukrainian gas pipelines (see EDM, November 16)—Ukraine has announced plans to further cut Russian gas imports. Even more notably, Ukraine began buying gas from the German company RWE this month. The Ukrainian government believes this will allow the country to cut Russian gas imports by some four percent this year and by more than 16 percent next year. Ukraine is also buying another two deep-water drilling rigs in order to boost gas extraction in the Black Sea.
RWE has been pumping gas to Ukraine via Poland since November 1, according to agreements signed in May and October. RWE's price is lower than the $430 that the national oil and gas company Naftohaz Ukrainy is paying Gazprom this quarter per 1,000 cubic meters of gas. This is because both Russia's price for Germany and gas prices on the spot markets in Europe are lower than Gazprom's price for Ukraine. RWE is going to deliver five billion cubic meters (bcm) of gas to Ukraine by May 2013. Both Naftohaz and RWE plan to renew their contract, and Ukraine hopes to receive eight bcm of gas from RWE next year (Kommersant-Ukraine, November 12). Citing Ukrainian experts, the Russian news agency RBC said on November 7 that RWE's gas will cost Ukraine $380–$390 per 1,000 cubic meters. Ukrainian Energy Minister Yury Boyko said that RWE's price was $40–$70 lower than Gazprom's and that the difference would rise to $100 by next summer (Inter TV, November 16).

Ukraine has never imported gas from Europe before. The breakthrough with RWE prompted Naftohaz deputy head Vadym Chuprun to announce that gas imports from Russia would be cut to 20 bcm next year from the earlier announced 24 bcm. He said Ukraine could in theory import gas from Europe not only through Poland but also through Slovakia, Romania and Bulgaria (Channel 5, November 16). Energy Minister Boyko said in June that Naftohaz would cut gas imports from Russia this year to 27 bcm from the 40 bcm imported last year, and in September he said Naftohaz would cut imports from Russia further to 24.5 bcm of gas next year (see EDM, September 18).
Speaking after Chuprun last Friday, Boyko said that thanks to RWE's deliveries already this year, Ukraine would cut gas imports from Russia further to 26 bcm. He said RWE's gas would be imported not only from the Polish border, but also from Hungary starting on January 1, 2013. The January 2009 contract signed with Gazprom obligates Naftohaz to import at least 41.6 bcm of Russian gas per annum until 2019. According to a take-or-pay clause in the contract, Ukraine has to pay for that amount of gas even if it imports less. However, Boyko said Ukraine would pay for no more than it physically imports. Boyko said Ukraine was ready to go to court if Gazprom sued. He noted that Gazprom recently lost several disputes over prices to its European customers (Inter TV, November 16). Gazprom, which faces a European Union probe into its contracts, lost in disputes over prices to companies from Germany, Italy, France and Poland over the past several months as the local gas market is being reshaped by the non-traditional gas boom. This must have inspired Ukraine.
In order to diminish dependence on Russian gas, along with importing gas from Europe Ukraine is starting the construction of an LNG terminal with a capacity of ten bcm of gas per annum near Odessa this month, which should be ready by 2018. Moreover, Ukraine is planning to replace gas with coal at several cogeneration plants with the help of Chinese loans, and the country will introduce new energy saving technologies. Ukraine invited Chevron and Shell to prospect for unconventional shale gas (see EDM, May 22), and a consortium led by ExxonMobil last August was awarded the right to explore an oil and gas field in the Black Sea.
Domestic gas output, currently at some 20 bcm per annum while Ukraine consumes over 50 bcm, is also set to rise. Ukraine pins special hopes on its Black Sea deposits, which are yet to be explored. This year and last, Ukraine bought two deep-water drilling rigs for Naftohaz's Black Sea subsidiary, Chornomornaftohaz. On November 16, the Singaporean company Keppel won a tender to deliver two drilling rigs to Ukraine for $1.2 billion, which is less than the $1.4 billion Naftohaz was ready to pay (zn.ua, November 16). Boyko said last September that a total of five deep-water drilling rigs would be used in the Black Sea so one more remains to be bought. Chornomornaftohaz is going to triple its output to three bcm per annum by 2015 compared to 2011 (blackseagas.com, October 2). However, this has failed to change Russia's position in the gas price dispute, which has been continuing since last year. Despite Ukraine's robust energy savings and diversification plans, the head of Gazprom's foreign economic department, Pavel Oderov, said recently that Gazprom did not see reasons to cut prices for Ukraine (Interfax, November 8).