Ukraine to Negotiate New Contract With Gazprom
Publication: Eurasia Daily Monitor Volume: 12 Issue: 50
By: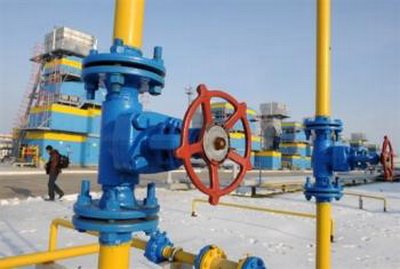 On March 20, Ukraine, the European Union and Russia plan to negotiate Gazprom's natural gas deliveries to Ukraine after March 31, when the "winter package," which was agreed upon at trilateral talks last October, expires (Eurointegration.com.ua, March 17). Russia says there is no need for a new agreement, suggesting Ukraine should simply adhere to the ten-year contract concluded in 2009. However, Ukraine insists on a new temporary agreement with better conditions—a "summer package"—in anticipation of a ruling, which Kyiv hopes will go in its favor, on the 2009 contract that is expected from the Stockholm arbitration court some time later this year.
Gazprom is "not in a position to dictate its conditions" this year, Andry Kobolev, the CEO of the national oil and gas company Naftohaz Ukrainy, said in a recent TV interview. Whereas Ukraine used to depend on gas imports from Russia several years ago, lately Ukraine has been successfully reducing this dependence, Kobolev said. Gazprom's share in Ukrainian gas imports is unlikely to exceed 40 percent this year, Kobolev noted, so Gazprom should to be more flexible about prices (Ukraina TV, March 11).
Ukrainian Energy Minister Volodymyr Demchyshyn told a press conference in Kyiv that he expected Gazprom's gas to cost less than $250 per 1,000 cubic meters after April 1, while gas prices on the European spot market fell below $270. Furthermore, he said Ukraine wanted to increase transit fees for Russian gas flowing to the European Union through Ukrainian pipelines by 30 percent (Business.ua, March 12).
Meanwhile, Russian Energy Minister Aleksandr Novak said Ukraine should adhere to the 2009 contract rather than inventing a "summer package." According to that contract and follow-on April 2010 agreements, Ukraine qualifies for a discount of $100 per 1,000 cubic meters of Gazprom's gas. Without the discount, the price for Ukraine would equal $350–360 in the second quarter, Novak predicted (Ru.reuters.com, March 11). Thus, Russia is likely to offer a price of around $250 at the talks on March 20. If the 2009 contract is adhered to, transit fees will remain low, and Russia will be able to reserve the right to penalize Ukraine for buying less than 41 billion cubic meters of gas per annum.
Naftohaz was paying Gazprom $378 in the last quarter of 2014, according to the "winter package." As world oil prices fell toward the end of last year, Gazprom's price fell to $329. However, this is still 15 percent more than Ukraine has been paying for gas imported from the EU, according to Demchyshyn (Pravda.ru, March 4). Ukraine resumed importing gas from the EU last spring, when Russia threatened to stop gas deliveries over a price and debt dispute. Ukraine last year was buying gas from RWE, GDF SUEZ, E.ON, Statoil and several other European companies, pumping it via Slovakia, Hungary and Poland (Theinsider.ua, March 9). As a result, Ukraine almost halved gas imports from Russia to a record low of 14.5 billion cubic meters of gas in 2014, while more than doubling imports from the EU to 5 billion cubic meters (Interfax, January 15).
This year, Ukraine is going to further increase gas imports from the EU. In particular, thanks to the launch of a new inter-connector pipeline this month, Ukraine hopes to boost gas imports via Slovakia alone from last year's 3.6 to 14.5 billion cubic meters per annum: i.e., the same volume of gas that was imported from Russia last year (LB.ua, March 1). Ukraine's Ministry of Energy expects that domestic gas consumption will fall to 40 billion cubic meters this year (Interfax.com.ua, March 4). Ukraine produces 20–21 billion cubic meters of gas per annum and imports gas also from Hungary and Poland. So it is easy to calculate that there may be no need to import more than around 5 billion cubic meters of gas from Gazprom from 2016 on.
European Commission Vice President Maros Sefcovic indicated earlier this month that the EU would support Ukraine on the "summer package." He said it would be difficult to return to the old contract, while warning that Russia's insistence on using it might damage the recent ceasefire agreements on eastern Ukraine (Cnbc.com, March 5). At the same time, he urged Ukraine to store enough gas for next winter so as to guarantee an uninterrupted Russian gas flow through its pipelines, and warned that EU countries had no technical capacity to further increase deliveries to Ukraine (UNIAN, March 5). Thus, Ukraine cannot do without Russian gas in any case, and has to negotiate. But its negotiating position will be stronger than last October, when it was feared that Ukraine would be unable to make it through the winter without Russian gas.
Ukraine and Russia will also have to discuss the unresolved issue of Russian gas deliveries to the rebel-held areas in eastern Ukraine. When Ukraine refused to pay for the deliveries in February, arguing that it had no control over the gas collection points in those areas, Russia threatened to stop gas deliveries altogether. Only the EU's interference prevented another gas war, and it was agreed that "the issue will be further discussed," according to a statement from Sefcovic (Europa.eu, March 2).