Ukraine to Resume Gas Purchases From Russia This Fall
Publication: Eurasia Daily Monitor Volume: 12 Issue: 176
By: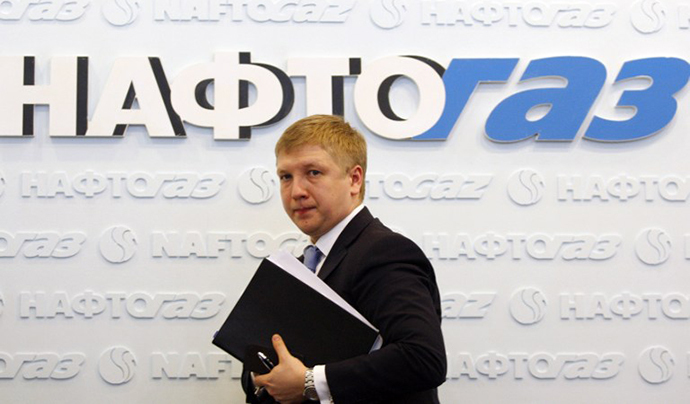 On September 25, Russia, Ukraine and the European Commission (EC), which has been acting as a mediator in the energy talks between Moscow and Kyiv, agreed on new terms for Russian gas deliveries to Ukraine from October 2015 until March 2016. EC Vice President Maros Sefcovic said Ukraine would have enough gas in the coming winter, and there would be no threat to gas transit from Russia to the European Union via Ukraine's pipelines (Europa.eu, September 25). Ukraine is expected to resume gas purchases from Russia's Gazprom after a three-month break caused by a combination of factors—first and foremost, apparently, the fear of dependence on energy from a country with which it is essentially in a state of war.
According to the agreement reached in Brussels on September 25, Ukraine will buy two billion cubic meters (bcm) of gas for storage in its underground reservoirs. Moscow agreed to cut its price through decreasing export duties—i.e., at the expense of Russian taxpayers, as it did in the past—so Gazprom's revenues should not be affected. Ukraine is expected to pay $227 per 1,000 cubic meters of gas in the fourth quarter of 2015, down from the $268 it paid in the second quarter. The price is likely to fall further by at least 5 percent in the first quarter of next year, as it depends on world oil prices, which are low this year, said Ukrainian Energy Minister Volodymyr Demchyshyn (Rbc.ua, Ukrinform.ua, September 28; Europa.eu, September 25).
The EC has mediated not only between Ukraine and Russia, but also with international financial institutions regarding loans for the cash-strapped Ukraine. As a result, they are expected to lend at least $500 million to Ukraine by the end of 2015, the EC said (Europa.eu, September 25). However, not everything is clear about funding. Gazprom head Alexei Miller said that even $800 million would not suffice if the winter were too cold, and that $500 million would arrive from the World Bank only in January (Interfax, September 26).
Ukraine had hoped for at least $1 billion in loans for gas. The European Bank for Reconstruction and Development (EBRD) and the World Bank (WB) tentatively promised $800 million earlier this year (Rian.com.ua, September 15). On September 30, the EBRD approved a loan of $300 million to Ukraine's national oil and gas company Naftohaz Ukrainy, to be used for gas purchases from the EU (Ebrd.com, September 30). Naftohaz Ukrainy already has $500 million on its accounts for gas purchases, but this apparently was borrowed from Ukrainian state-owned banks, so the international financial institutions are supposed to refinance the loan (Dsnews.ua, September 28).
Throughout the third quarter of 2015, Ukraine has been surviving without any imports of Gazprom's gas. In fact, for more than a year now, the country has relied heavily on gas deliveries from the European Union, Slovakia in particular. Russian Prime Minister Dmitry Medvedev argued recently this was not economically justified. He said Ukraine was paying $270–280 for gas imported from the EU in the third quarter, while Russian gas would have cost $20–30 less (Vesti.ru, September 8).
Ukraine, insisting that Russian gas should be cheaper, rejected the Russian price of $247 for the third quarter in June and stopped purchases as of July 1. However, the price was apparently not the main reason behind the refusal. Ukraine desperately strives to cut its dependence on Russian energy, especially after Russia annexed Ukraine's Crimea and invaded the Donbas area last year. Russia has proved an exceptionally unreliable supplier, cutting gas deliveries to Ukraine amid winter cold snaps in 2006 and 2009, and doubling its gas price for Ukraine in April 2014.
For this reason, Ukraine will not necessarily rely on Russian gas imports this time either, especially if the coming winter is as mild as the previous one, and unless Gazprom's gas is much cheaper than gas from Slovakia. A temporary deal similar to the September 25 agreement was reached between Russia, Ukraine and the EU in October 2014 for last winter, but Ukraine did not rush to buy gas from Gazprom. It resumed importing gas from Russia only last December, after a break in June–November, and has imported more gas from the EU than from Russia ever since. In the first half of 2015, Ukraine imported 6.3 bcm of gas from the EU and only 3.7 bcm from Russia (Utg.ua, July 1).
Naftohaz head Andry Kobolev made it clear at a recent press conference in Kyiv that Ukraine had no intention of decreasing gas imports from the European Union, but would rather use the new agreement with Russia as a bargaining chip. He said Naftohaz was in talks with gas suppliers from the EU to cut their prices (UNIAN, September 28).
In spite of its efforts to cut dependence on Russian gas, Ukraine will not be able to do entirely without it for the foreseeable future. And if Gazprom wants, it can always beat the prices of European suppliers for Ukraine, as the bulk of the gas that Ukraine pumps from the EU is, essentially, Gazprom's gas. The high prices that Russia charged in 2012–2014 were political. Also, the current throughput capacity of the pipelines used by Ukraine to import gas from the EU is insufficient for increasing gas deliveries from there. Ukraine has been able to do without Russian gas for many months in 2014–2015 because its industry has been in deep recession. However, the Ukrainian economy is expected to return to growth next year, so it will need more gas. Also, domestic gas production is likely to decline this year due to high taxes and war. Therefore, Ukraine's best efforts to wean itself off of a dependency on Russian energy supplies will continue to be an uphill battle for the coming year.