Ukraine, Turkey May Forge Anti-Russian Alliance in Black Sea
Publication: Eurasia Daily Monitor Volume: 13 Issue: 50
By: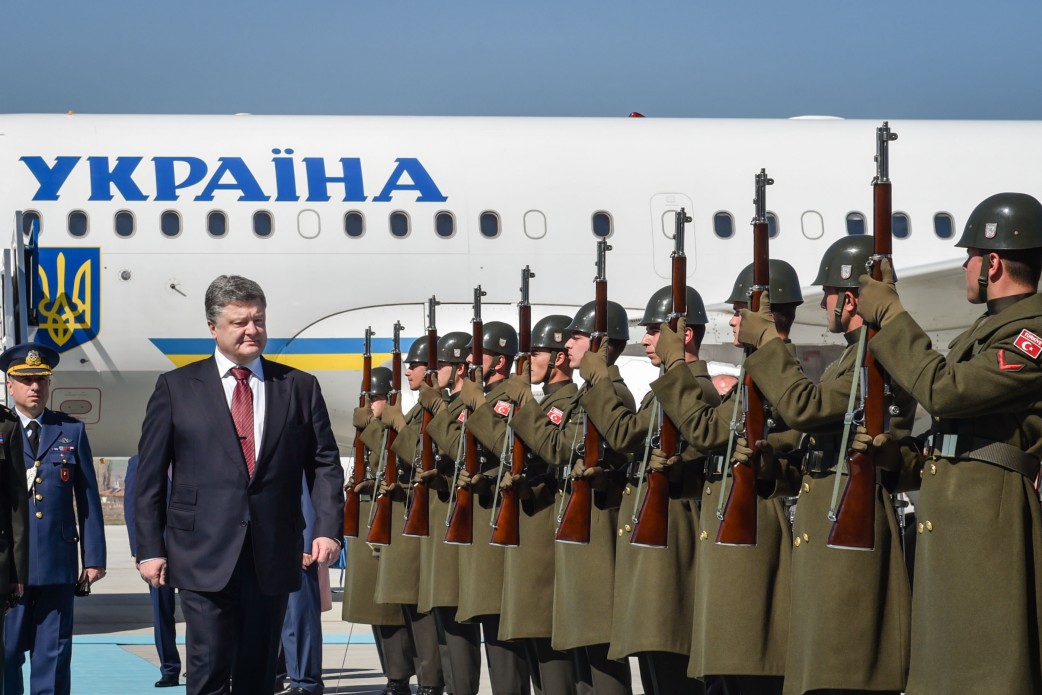 Russia, a common enemy since recently, has prompted Turkey and Ukraine, the big neighbors across the Black Sea, to step up political, economic and military ties. Bilateral contacts have been particularly intensive this year. Turkish Prime Minister Ahmet Davutoğlu flew to Kyiv in February, followed by Ukrainian President Petro Poroshenko's visit to Turkey in March. Both announced ambitious plans (Hurriyet Daily News, March 9). However, it is hard to predict for the moment how far-reaching this cooperation will be, given the wealth and influence gaps between the two countries and the difficult recent history of Turkish-Ukrainian relations.
Turkey has not been an easy partner for Ukraine. Several consecutive governments in Kyiv, including the incumbent cabinet of Prime Minister Arseniy Yatsenyuk, complained that Turkey's refusal to allow tankers to pass through the Turkish straits prevented them from developing a liquefied natural gas (LNG) terminal project on the Black Sea to diminish Ukraine's dependence on Russian energy (Theinsider.ua, June 3, 2014). Bilateral free trade talks were put on hold in 2013, as no agreement was reached on trade in agricultural and consumer goods (Zerkalo Nedeli, March 11). Last but not least, although Turkey condemned the annexation of Crimea by Russia two years ago, it did not join the Western sanctions against Russia.
The downing of a Russian bomber by a Turkish jet last November, after which Moscow severed ties with Ankara, prompted a rapprochement between Ukraine and Turkey. The two countries' leaders see each other as natural allies against a common enemy. Poroshenko and Davutoğlu discussed common threats in Davos last January (President.gov.ua, January 20). On February 15, Davutoğlu and Yatsenyuk announced in Kyiv that the free trade talks would be resumed, and that Turkey would lend Ukraine $50 million at a low interest (112.ua, February 15). The two countries' navies conducted maneuvers in the Black Sea in early March, with an eye to a potential threat from Russia (Uc.od.ua, March 6).
Poroshenko paid a visit to Ankara, on March 9–10, to forge closer defense and economic links. He was accompanied by Chief of the General Staff Viktor Muzhenko, who met with his Turkish counterpart, Hulusi Akar (Hurriyet Daily News, March 9). Poroshenko and Turkish President Recep Tayyip Erdoğan chaired a session of the Ukraine-Turkey high-level strategic council, which was summed up in a declaration condemning the Russian "aggression against Ukraine." Cooperation between the two countries' defense ministries will be enhanced, and mechanisms of regional security in the Black Sea will be strengthened, according to the declaration. Moreover, the declaration called for joint steps to "de-occupy Crimea" (President.gov.ua, March 9). As practical assistance, Turkey gave Ukraine five mobile military hospitals (5 Kanal TV, March 10).
Erdoğan, speaking at a press conference with Poroshenko, questioned the Russian interventions in Syria and Ukraine. He said Russia trampled on international law in Crimea and noted the plight of Crimean Tatars, a Turkic nation with strong links to Turkey, whose leaders have been persecuted by the occupation authorities after the annexation (Aa.com.tr, March 9). Poroshenko was accompanied on his visit by Refat Cubarov and Mustafa Cemilev, the two Crimean Tatar leaders who have been expelled by the Russian authorities from Crimea.
Poroshenko and Erdoğan also set ambitious goals in trade. They expressed the hope that a free trade agreement between Turkey and Ukraine will be signed this year, along with double taxation and bilateral investment protection agreements. Poroshenko invited Turkey to participate in Ukraine's privatization and to use Ukraine's underground natural gas storage facilities. Erdoğan said that trade turnover between Ukraine and Turkey should be increased to $20 billion by 2020 (President.gov.ua, Aa.com.tr, March 9). This is an ambitious goal, given that Ukraine's merchandise exports to Turkey fell by 22 percent, to $2.8 billion last year, and imports from Turkey plunged 35 percent, to less than $0.9 billion, according to the Ukrainian Statistics Committee. Nevertheless, Turkey was the third export market for Ukraine after the European Union and Russia last year.
Russia has played down the importance of the agreements between Turkey and Ukraine. Kremlin mouthpiece Izvestia cited several Moscow experts as saying that there would be no Ukraine-Turkey alliance, because on the one hand the two countries are too different, and on the other hand both have strong economic links with Russia. The newspaper cited a source from the Russian Ministry of Foreign Affairs as saying that Ukraine was "again being fooled" (Izvestia, March 11). The official news agency RIA Novosti quoted Moscow-appointed Crimean "deputy prime minister" Ruslan Balbek as claiming that Ukraine and Turkey, both "unreliable partners," would not dare to challenge the Russian army, "one of the strongest in the world." He also recalled that Turkey had intended to invest in Crimea prior to the incident with the Russian bomber (RIA Novosti, March 10).
The influential Ukrainian weekly Zerkalo Nedeli is also skeptical about Ukrainian-Turkish cooperation. An alliance between the two countries would not be long-lasting, according to the newspaper. Ankara, despite strong anti-Russian rhetoric, would be only too happy to normalize relations with Moscow as soon as possible, and it views cooperation with Ukraine only through the prism of relations with Russia and the West, argued the newspaper (Zerkalo Nedeli, March 11). The skepticism over Ukrainian-Turkish relations will be dispelled only if specific achievements follow the ambitious declarations.