Ukraine's Antiterrorism Cooperation With Russia
Publication: Eurasia Daily Monitor Volume: 12 Issue: 147
By: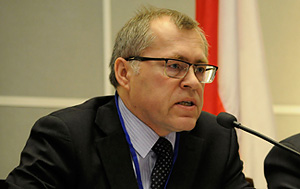 The financial intelligence services of Belarus, Russia and Ukraine have been intensively cooperating to prevent the financing of illegal armed groups, according to Vyachaslaw Reut, the head of the financial monitoring department of Belarus' State Control Committee (KGK) (TASS, July 22). "Despite the existing political differences between Russia and Ukraine, we have continued to fight the funding of terrorism and [are] maintaining close contacts [with each other] in the area of our activity," he said at a July 22 news conference, in Minsk. While his department has been in charge of investigating reports of financing participants of the Ukrainian conflict through Belarusian channels, it is, in Reut's opinion, rather difficult to identify terrorists. Russia and Ukraine should, according to him, sort things out among themselves. "As for us, we operate only on proven facts," he stated, pointing to the United Nations' lists of terrorists, which contain "very few Ukrainian citizens" (Soyuz.by, July 22). The ongoing cooperation between the Ukrainian and Russian financial intelligence agencies is surprising, particularly considering that Moscow has spent an estimated 53 billion rubles ($835 million) as of May 2015 to support and finance the separatist forces fighting in eastern Ukraine (UNIAN, May 12). At the same time neighboring Belarus illustrates the consequences, even in peacetime, of not restricting or regulating such links.
The Ukrainian State Service for Financial Monitoring declares its strong partnership with "more than 120 subdivisions of fiscal intelligence services of other countries." And its official website continues to boast of exchanging information "most intensively" with those of the United States, the United Kingdom, Germany and Russia (Sdfm.gov.ua, October 26, 2011).
Nevertheless, the Ukrainian side's friendly stance has not prevented Russia's Federal Security Service (FSB) from blaming Ukraine and the European Union for the growing volumes of arms smuggled from their territories to Russia via Belarus. Remarkably, 3 of the 14 members of the "interregional organized criminal group" engaged in gun smuggling, which the FSB had cracked down on in late July 2015, were reportedly Russian police officers (TASS, July 21).
Meanwhile, Belarus, which has indeed had a history of selling weapons to pariah regimes (State.gov, March 16, 2006), has been apparently trying to somewhat clean up its record lately. Thus, according to Reut, his financial monitoring agency has been closely cooperating with its counterparts from the US and the EU in tracking down the international flows of funds to the Islamic State. Furthermore, Belarus's foreign service has strongly condemned the recent terrorist acts carried out in mid-July in the Middle East and called for coordinated international action to fight terrorism (BELTA, July 20).
Minsk's recent dynamic efforts to raise its global profile notwithstanding (see EDM, June 12), after decades of close economic relations with Russia, Belarus has grown into a popular Eastern European laundry for structuring (a.k.a. "smurfing") money. Illicit money flows regularly come into the country from the Union State (of Russia and Belarus), the Customs Union (of Russia, Belarus and Kazakhstan), Eurasian Economic Union and all the other regional Kremlin-conceived pseudo-integration constructions. Earlier this year, Reut reported uncovering numerous attempts to surreptitiously move large sums of money in hard currencies from the Russian Federation to third countries through the Belarusian banking system (there is no customs border between Russia and Belarus), as a result of the international economic sanctions against Russia. During 2014 alone, Reut's agency opened more than 350 such criminal cases looking into the possibility of money laundering (Bdg.by, March 31).
Around the same time, the leader of the Belarusian opposition party BNF, Aliaksey Yanukevich (no relation to the former Ukrainian president Viktor Yanukovych), asked the country's authorities to tighten their control over Russian money donors and funds operating in Belarus. According to him, Belarusian legislation protects financing streams channeled to local pro-Russian organizations, such as the "Russian World" foundation and the "Russian Institute of Strategic Research," which engage in propaganda activities and information warfare. Yanukevich demanded that Minsk change the country's national legislation so as to deprive these Russian institutions of their exclusive privileges and equalize them with all the other foreign establishments operating in Belarus (Narodny.org, March 19).
BNF was also backed by Belarus' United Civic Party in its appeal to the government to limit the broadcasts of Russian information TV channels, in view of their unceasing disinformation about the situation in Ukraine and stirring up of hatred toward the Ukrainian people. Local sociologists note that Russian television is extremely popular and influential in Belarus. Thus, a poll conducted in fall 2014 by the Independent Institute of Socio-Economic and Political Studies (IISEPS) showed that the majority of Belarusians shared the Moscow-imposed view on the Ukrainian events. Specifically, 60.6 percent of those polled believe that the Ukrainian army's actions against the pro-Russia militants in Donbas are "a crime" and 67.4 percent of the respondents disapprove of the international sanctions against Russia. At the same time, 59.9 percent of those surveyed support Russia's annexation of Crimea as "a restoration of historic justice"; just 27.2 percent called it a Russian occupation (Iiseps.org, October 3, 2014).
The impact of Russian propaganda, through Moscow-sponsored institutions as well as via the media, has been so strong that a number of Belarusians have joined the pro-Russia separatists fighting in Donbas. The website psb4ukr.org, which aims to collect data about the separatists and terrorists active in Ukraine, lists the names and photographs of several Belarusians, some of whom are associated with Russian neo-Nazi organizations (Psb4ukr.org, accessed July 28; Charter97.org, January 9; By24.org, May 11, 2014). Despite such negative consequences, Belarus has not blocked Russian propaganda or the influence of Russian agencies on the Belarusian government and society. "The extent, to which [overly close collaboration with Russian organizations or government agencies] could be dangerous to the state, has been well demonstrated in Ukraine, where the pro-Russian structures, established and heavily sponsored by the Kremlin in Crimea and [Ukraine's] eastern regions, paved the way for separatism and foreign intervention," as Aliaksey Yanukevich remarked (Narodny.org, March 19).
Even with all this taken into account, Ukrainian top officials and government agencies have yet to break all their dependencies on Moscow that Kyiv had nurtured or developed anew since Ukraine's independence. The ongoing cooperation between the Ukrainian and Russian financial intelligence services is a case in point. It is difficult to believe that, as the Russian-inspired and Russian-funded war rages on in eastern Ukraine, Kyiv is maintaining such sensitive ties to the regime in Moscow—particularly with the certain prevalence of Russian money fueling illegal activity inside Ukraine.