Ukraine's Banking Sector in Dire Straits as War Continues
Publication: Eurasia Daily Monitor Volume: 11 Issue: 111
By: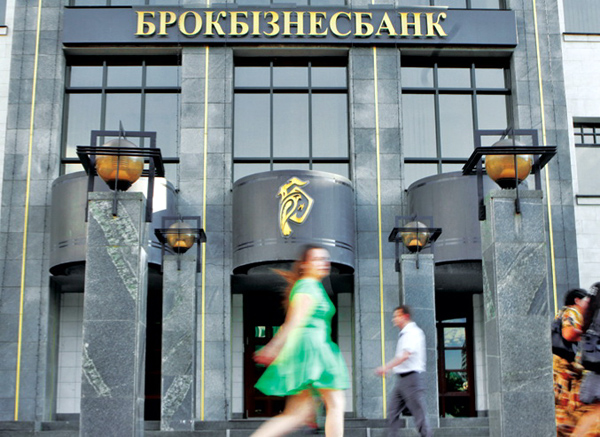 The National Bank of Ukraine (NBU) has decided to liquidate two large domestic banks. On June 11, the NBU said it would liquidate Brokbiznesbank (bank.gov.ua, June 11), and on June 16, it named Forum (bank.gov.ua, June 16). All in all, seven Ukrainian banks have sunk so far this year. More banks are likely to follow as Ukraine's banking sector, which has been one of the region's weakest, is taking blow after blow while the de facto war with Russia continues.
Ukraine's banks failed to fully recover from the 2008–2009 crisis by 2012, when Ukraine's industry—the main customer for most local banks and the main employer of their retail clients—plunged into recession again. Industrial production fell by 4.7 percent last year and by another 4.6 percent in January–May 2014 (ukrstat.gov.ua, June 18). The Maidan protests last winter triggered a run on deposits. Household deposits fell by 15.4 percent and corporate deposits fell by 3.9 percent in January–May (bank.gov.ua, June 12). The protests also prompted the owners of certain banks to withdraw their money, and some to flee Ukraine. The annexation by Russia of Crimea in March took Ukrainian banks there out of business. But the war with Russia-backed separatists in the east has been the latest blow to banks.
Brokbiznesbank and Forum were, respectively, the 16th and the 24th largest among Ukraine's 180 banks on January 1 (bank.gov.ua, January 1, 2014). Both changed hands shortly before the Maidan, and both sank so fast probably because they were closely linked to the previous government. This is especially the case with Brokbiznesbank. Nouveau riche Serhy Kurchenko, who reportedly fled Ukraine simultaneously with former president Viktor Yanukovych and may be hiding in Russia (censor.net.ua, April 9), bought a controlling stake in Brokbiznesbank a year ago (UNIAN, August 19, 2013). The Ukrainian edition of Forbes, itself linked to Kurchenko, reported, citing sources close to Brokbiznesbank, that several influential members of the formerly ruling Party of Regions (PRU) were linked to the bank (forbes.ua, June 10). Forum belonged to the German Commerzbank until the second half of 2012, when Commerzbank sold it to Smart Group, which is linked to Vadim Novinsky, a Ukrainian people's deputy. Novinsky is a member of the PRU faction in parliament. He has been a business partner of Rinat Akhmetov, Ukraine's richest businessman and a long-time supporter of Yanukovych.
Ukraine's largest bank, Privatbank, has been experiencing a different kind of problem. One of its two co-owners, Ihor Kolomoysky, was among the first oligarchs to openly back the post-Maidan government. In early March, he condemned Russia's invasion, speaking disparagingly of Vladimir Putin at a press conference (vovremya.dp.ua, March 3), and began to finance pro-government military volunteers. Putin, at a press conference on March 4, called Kolomoysky "an adventurer" and alleged, without giving details, that Kolomoysky fooled Russian oligarch Roman Abramovich (YouTube, March 4). On the same day, Communists in the Russian Duma requested prosecutors to check whether Moskomprivatbank, the Russian offspring of Privatbank, was involved in financing radical groups (Izvestia, March 4). Eventually, Privatbank owners had to sell Moskomprivatbank (privatbank.com.ua, April 2). Since March, separatists in Donbas (Donetsk and Luhansk regions) have been attacking Privatbank's cash machines and cash-in-transit vehicles. In early May, its office in Mariupol was set on fire, so Privatbank had to temporarily close its offices in the region (privatbank.com.ua, May 5).
Russia's annexation of Crimea has made it impossible for most Ukrainian banks to service their clients there. As a result, many large banks, including Privatbank and the state savings bank Oshchadbank, closed their offices on the peninsula (finance.liga.net, April 30), and the Central Bank of Russia banished several Ukrainian banks from Crimea (cbr.ru, May 26). Most banks have closed their offices in the towns of Slovyansk and Kramatorsk, which are in Donetsk Region, and locals have been unable to receive their pensions (fakty.ua, June 18).
The NBU has been taking measures to stabilize banks. In line with a recent loan agreement with the International Monetary Fund, the NBU last month launched stress tests for Ukraine's 35 largest banks (bank.gov.ua, May 30). However, some of the measures taken by the NBU have been highly controversial, such as restrictions on cash withdrawals, further undermining trust in banks. Even with such measures in place, clients continue to withdraw cash, further weakening the banks. The government-run Deposit Guarantee Fund, which issues compensation to clients of failed banks, recently had to borrow from the NBU, as it is quickly running out of cash (epravda.com.ua, June 18). The NBU has run into trouble in Donetsk itself, as separatists recently occupied its office, as well as the offices of the state treasury and the tax ministry there (censor.net.ua, June 16).
The economic trouble and the problems experienced by banks have been affecting the government's ability to fight insurgents in Donbas. Government troops there have been complaining of the shortage of weapons and individual protection means. The government increased its military budget to 1.25 percent of GDP this year from the earlier projected 0.99 percent (Interfax-Ukraine, June 12), but that is only $1.7 billion. President Petro Poroshenko wants to seal the border with Russia in order to stop the inflow of reinforcements to the separatists, but this would involve serious costs as the land border alone is almost 2,000 kilometers long. Thus, with its sinking banks and an economy in free fall, Ukraine cannot withstand Putin without greater Western assistance.