Ukrainian Aircraft Manufacturer Antonov Diversifies Away from Russia
Publication: Eurasia Daily Monitor Volume: 13 Issue: 149
By: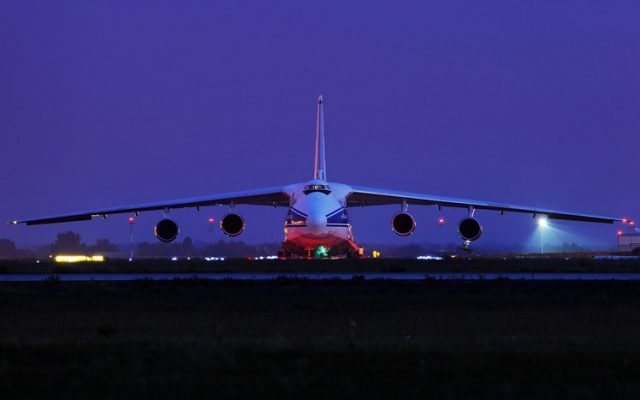 Antonov, Ukraine's only designer and manufacturer of aircraft, has severed all ties with Russia, which had been its main market and partner for decades (Ukrayinska Pravda, September 10). This was unavoidable, given the de facto war waged by Moscow, which prompted Kyiv to stop Ukrainian military-technical cooperation with Russia and join Western sanctions in 2014–2015 (see EDM, September 12, 2014). Antonov has been struggling to replace Russian components in its aircraft with parts made elsewhere. It has also not been easy for the company to find a replacement to the Russian market, although Antonov pins high hopes on Asia and China in particular.
The state-owned Antonov is famous for having designed the world's largest transport aircraft, the An-225 Mria and the An-124 Ruslan. The problem with Antonov planes is that their designs have roots in the Soviet past. The An-225, the An-124 and smaller Antonov transport planes were originally conceived to fit the needs of the Soviet military. The An-225 in particular (only one aircraft was assembled) was derived from the An-124 to transport the only Soviet space shuttle, the Buran. As a result, Antonov was heavily dependent on Russia even after the breakup of the Soviet Union. Antonov cannot rely on Russia anymore, especially as the firm became part of the state defense corporation Ukroboronprom last spring. However, without Russia, and in particular Russian-made components, Antonov has not assembled a single aircraft in 2016 (Ukrayinska Pravda, September 10).
The new management at Antonov has been eyeing Asian markets, while the West expresses little interest in Antonov planes. According to the company's Deputy President Oleksandr Kotsyuba, Antonov has been in talks with Turkey to produce sea patrol aircraft. Moreover, ten An-178 military transport planes are to be delivered to Azerbaijan starting from 2018. A contract was concluded with Iraq for the delivery of five aircraft. And Saudi Arabia is mulling over the option of building a factory to locally assemble An-132 light transport aircraft, Kotsyuba said in an interview last spring. At the same time, he admitted that it would be difficult to make the promising An-70 military transport aircraft without Russia, which contributed 50 percent of its components (Liga.net, May 27).
Antonov aims to build the world's second An-225 in order to strengthen its positions on the market for super-large transport aircraft. Kotsyuba noted in the aforementioned interview that Ukraine lacks the funds to finance such a project, and he hopes for cooperation with Chinese companies instead. On August 30, Antonov signed a cooperation agreement with the Aerospace Industry Corporation of China, which provides for building the second An-225 and for possible serial production of the aircraft in China in the future (Interfax-Ukraine, August 31). However, the deputy head of Antonov's planning department, Andry Khaustov, said in a radio interview afterward that it would take time and more talks to eventually sign a contract with the Chinese (Vesti-ukr.com, September 9).
As far as the replacement of Russian components is concerned, Antonov hopes for contracts with Western, as well as domestic suppliers. Khaustov mentioned that even tires for both the An-225 and An-124 were made in Russia, but he emphasized that a Western supplier would be found shortly (Vesti-ukr.com, September 9). Khaustov confirmed that Antonov stopped all cooperation with Russia. He said contracts were concluded with Canada's Esterline to supply electronic components for the An-148 and An-158 passenger planes. Contracts were also signed with Pratt & Whitney Canada to buy engines for the An-132 and with the British Dowty Propellers to supply parts for the same aircraft (UNIAN, July 12).
It will take time to replace hundreds of Russian components in Antonov planes. Otherwise the firm may collapse. Dozens of companies involved in the engineering sector, many of which located in eastern Ukraine, face similar problems as a result of depending on the Soviet and then Russian military-industrial complex for decades. The severing of ties with Russia means an uncertain future for them and thousands of their employees. This partly explains the high popularity of pro-Russian politicians there. According to official statistics, engineering sector output plunged 21 percent in 2014 and another 15 percent last year. In the first seven months of this year, it shrank by another 0.7 percent, although Ukraine's total industrial output grew by 1.7 percent (Ukrstat.gov.ua, accessed September 15).
Some local firms apparently continue to work with Moscow, risking sanctions from the Ukrainian government. Vyacheslav Boguslayev, the head of Motor Sich, the aircraft engine manufacturer from Zaporizhya, made it clear in a recent interview that he did not support diversifying away from Russia (Ukrinform.ru, July 7). Motor Sich reportedly continued to service old engines on Russian orders last year (Nv.ua, November 16), and new engine deliveries to Russia continued although halving compared to pre-war 2013 (Rian.com.ua, March 30).
Meanwhile, local businessmen are ridding themselves of factories located in the areas controlled by Russia-backed militants in the Donbas region. Valentyn Landyk, the owner of Ukraine's biggest refrigerator producer, the Donetsk-based Nord, sold the firm to the Russian group Diorit, after cutting production at Nord by 52 percent in 2015 (Interfax.com.ua, September 13). Ukraine's richest man Rinat Akhmetov, who also hails from Donetsk but whose main assets are located in government-held areas, sold a coal dressing factory near Donetsk in August (Dsnews.ua, September 2). So if Russia's war against Ukraine was meant to bring the country back into its sphere of influence, it appears all Moscow has achieved was to progressively sever the major cross-border value chains with its southwestern neighbor.