Ukrainian Big Business Joins Effort for Country's Political Stabilization
Publication: Eurasia Daily Monitor Volume: 11 Issue: 43
By: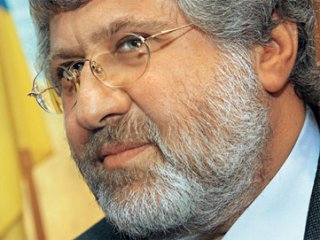 On March 2, Ukrainian interim president Oleksandr Turchynov appointed new heads of state administrations (governors) in several oblasts in eastern and southern Ukraine (Ukraiynska Pravda, March 2, 3). The main cities in Ukraine's southern and eastern oblasts have most recently experienced pro-Russian, potentially separatist demonstrations, in parallel with Russia's military invasion in Crimea (see EDM, March 4 and accompanying article).
The governors appointed in the east and south include several business tycoons ("oligarchs") and their associates. The Kyiv government welcomes their decisions to share responsibility for stabilizing the country and for resisting Moscow-encouraged centrifugal trends (Ukraiynska Pravda, March 3, 4).
The newly appointed governors are native to these oblasts, control major economic and political bases there (although their business activities encompass the entire Ukraine), and they hold social clout in these oblasts. Appointing them as governors is a move expected to calm the atmosphere by reassuring it that real, competent authority is in place again. It is a means to fill the vacuum of authority that developed in these oblasts as well as in Kyiv with the ouster of the Yanukovych regime (Interfax-Ukraine, UNIAN, Channel 5 TV, March 3–5).
According to Turchynov, the billionaire Ihor Kolomoyski came up with this initiative and enlisted several other leading businessmen to follow suit. Kolomoyski, in turn, has acknowledged his role in this idea (Korrespondent.net, businessliga.net, March 3).
Ukraine's reputedly wealthiest industrialist, Donetsk-based Rinat Akhmetov (steel production and associated enterprises) has endorsed the idea that big business must share that responsibility. Although not taking up a gubernatorial post, he seems ready for a political role in the current emergency: "Ukraine's future is in danger. Domestic political tensions can degenerate into lengthy conflicts and destroy Ukraine's integrity. Economics today is a real political force," he announced in a media release. "Our Systems Capital Management (SCM, Akhmetov's conglomerate) is doing everything possible to maintain the integrity of our country, uphold its sovereignty, defend a united and independent Ukraine" (media release, shakhtar.com, March 2).
Following the regime change in Kyiv, top European diplomats have been visiting Akhmetov in Donetsk. The latest visitors include the foreign affairs ministers of the Visegrad Four group of countries (Poland, Slovakia, Czech Republic, Hungary) and of Sweden—i.e., some of the most active promoters of the European Union's Eastern Partnership. For his part, Akhmetov announced, "I reassured them of my position for a united and independent Ukraine" (Interfax-Ukraine, March 1; shakhtar.com, March 6).
Kolomoyski has been appointed head of the state administration in his native oblast of Dnipropetrovsk. He owns (jointly with Henady Boholyubov) Ukraine's largest bank—Pryvatbank—as well as metallurgical, transportation, oil and gas enterprises.
In his first meeting with the oblast administration staff upon his appointment in Dnipropetrovsk, Kolomoysky noted that Moscow would like to turn Ukraine's southeast into "another Transnistria"; he characterized Russian President Vladimir Putin as a "schizophrenic with a messianic complex […] who hopes to restore a Russian Empire or a Soviet Union"; and he noted, citing historical experience, that "no agreement signed with Russia is worth the paper on which it is written." He exuded good-humored confidence while offering these assessments (korrespondent.net, March 3; Novyi Region, March 4; video recording on NR2.com.ua/kiev; https://www.youtube.com/watch?v=saooXEjR-Ac#t=71). Putin responded the following day, attacking Kolomoyski and the Ukrainian government as illegitimate (Interfax, March 4).
Serhiy Taruta has been appointed head of the state administration in his native oblast of Donetsk. He is the half-owner and board chairman of Industrial Union of Donbass, a holding of steel and other metallurgical-sector enterprises. Taruta offered to serve "so as to employ not only state efforts, but also private efforts for Ukraine's unity in this time of danger." He is considered to be politically in sympathy with Yulia Tymoshenko. Taruta replaces Andriy Shishatsky as governor while Shishatsky, who is known to be close to Akhmetov, becomes chairman of the oblast council (top elected body).
Mykola Romanchuk has been appointed head of the state administration in the Mykolayiv oblast, in Ukraine's southeast. Romanchuk is the president and CEO of the Okean shipyard (naval and commercial shipbuilding) in the city of Mykolayiv, as well as a Ukrainian-Dutch shipbuilding company. These shipyards form part of the Smart Group Holding (mainly ferrous and nonferrous metallurgy), where the billionaire Vadym Novinsky is the main owner. Novinsky is a parliamentary deputy to the Verkhovna Rada (national parliament) from the Sevastopol City single-seat electoral district. Sevastopol last week seceded de facto from Ukraine. Novinsky made public his protest against the illegality of that move (One Plus One TV, March 2; businessliga.net, March 3).
Clearly, the unconsolidated Ukrainian government in Kyiv needs to draw on the resources and experience of influential business figures in these problematic parts of the country. A further consideration must be, from the government's standpoint, delivering votes in the May 25 presidential election. A low turnout would be a Kremlin triumph.
According to Turchynov, with these appointments the government has taken an emergency measure in a high-risk political situation. The move is seen as a positive signal to the population in these regions. The appointees have volunteered to serve, and the government anticipates that they will separate themselves from politics, once the situation in these regions stabilizes (businessliga.net, March 3).