Ukrainian Coalition Nears Collapse
Publication: Eurasia Daily Monitor Volume: 6 Issue: 126
By: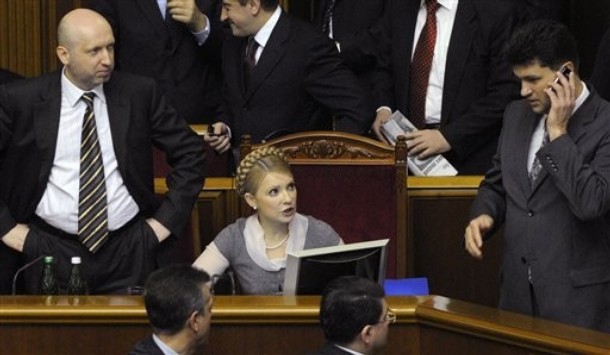 The Ukrainian parliament on June 23 scheduled the next presidential election for January 17, 2010. Although the motion was passed by an overwhelming majority of 399 votes in the 450-seat unicameral chamber, it came as a result of the long confrontation between Prime Minister Yulia Tymoshenko and her rivals. This was yet another setback for Tymoshenko and a consequence of an earlier major defeat – the failure to form a ruling coalition with the Party of Regions (PRU) headed by Ukraine's currently most popular politician Viktor Yanukovych (EDM, June 10).
In April parliament scheduled the election for October 25, as the two major caucuses, Tymoshenko's and the PRU feared that President Viktor Yushchenko would call an early parliamentary election. An earlier presidential election would have precluded that possibility. Yushchenko appealed, and the constitutional court on May 12 found parliament's decision to be unconstitutional. In theory, parliament could try to set an early presidential election date again, but this was no longer in the PRU's interests after the break-up of the grand coalition talks with Tymoshenko. Had the talks proven successful, Yanukovych would need the current parliament to elect him as president in accordance with Tymoshenko's parliamentary republic design.
As it is now clear that the next president will be elected popularly, Yanukovych has lost interest in the fate of the current parliament. Moreover, he has resumed his earlier calls for snap parliamentary elections. Meanwhile, he wants the Tymoshenko cabinet to continue (Inter TV, ICTV, June 28).
Prior to scheduling the election for January 2010, parliament rejected a bill drafted by an ally of Tymoshenko's which called for holding the election in November. Only 42 people's deputies voted for that bill, which showed the depth of Tymoshenko's defeat (www.proua.com, June 23). It was in her interest to hold the election sooner rather than later, since the protracted financial crisis which hit Ukraine hardest within the entire CIS region damaged the popularity of the prime minister -who is also a presidential candidate.
Now Tymoshenko's chances of defeating Yanukovych in the run-off which most probably will be held on February 7, 2010 (Interfax-Ukraine, June 23) appear quite slim. Furthermore, Tymoshenko might not even make it into the run-off. The popularity gap between her and the third most popular candidate, the liberal prodigy Arseny Yatsenyuk (he turned 35 this past May) has been within the range of just one to four percentage points over the past six months. According to the most recent poll, conducted by the Kyiv International Institute of Sociology, 34.7 percent of Ukrainians were ready to vote for Yanukovych in mid-June, 21.5 percent for Tymoshenko and 17.6 percent for Yatsenyuk (Zerkalo Nedeli, June 27).
This makes Tymoshenko nervous. Her team has called on the public to distrust opinion polls. "A special operation has been developed to fool voters, a massive falsification of public opinion," said Tymoshenko's parliamentary caucus leader Andry Kozhemyakin. "The surveys will show that Yanukovych and Yatsenyuk make it into the run-off," he warned (Interfax-Ukraine, June 22). Tymoshenko personally called on "every true Ukrainian" to abstain from watching Inter, the nation's most popular TV channel which has been openly supporting Yatsenyuk and, most recently, Yanukovych (UNIAN, June 26).
Meanwhile the Tymoshenko government is becoming increasingly unstable, which makes it less effective and Tymoshenko's campaigning more difficult. Over the past six months she has lost several key ministers. Some of them resigned such as Finance Minister Viktor Pynzenyk, while others were ousted by Tymoshenko herself like the pro-Western Foreign Minister Volodymyr Ohryzko. These vacancies have remained unfilled, yet it has also proven difficult for Tymoshenko to negotiate replacements with partners in her minority coalition.
Tymoshenko has also been unable to get rid of several ministers who were appointed to her government by Yushchenko. His party Our Ukraine (NU) decided at its convention on June 27 to officially withdraw from the coalition, but it stopped short of withdrawing its ministers from the government (Ukrainska Pravda, June 27). Yet they may be out before long as the PRU has decided to make use of the confrontation between the former allies turned bitter enemies, and submitted to parliament a motion to dismiss the Interior Minister Yury Lutsenko over his clash with German policemen (EDM, May 15) and the ministers of culture and education, Vasyl Vovkun and Ivan Vakarchuk respectively, on suspicion of Russophobia (UNIAN, June 26). The three had been appointed to the government under NU's quota, although Lutsenko is in Tymoshenko's camp now.
Tymoshenko wants to appoint two new deputy premiers, the new ministers of finance and transport as well as replace the pro-Yushchenko Justice Minister Mykola Onishchuk in early July (Ukrainska Pravda, June 26). She might not be allowed to do that as the PRU has threatened to block the new appointments in parliament (Interfax-Ukraine, June 30). Yushchenko's choice for foreign minister, Ambassador to the U.S. Oleg Shamshur, is also still in limbo.