Ukrainian Courts Prevented From Fair Judgment On Tymoshenko
Publication: Eurasia Daily Monitor Volume: 8 Issue: 134
By: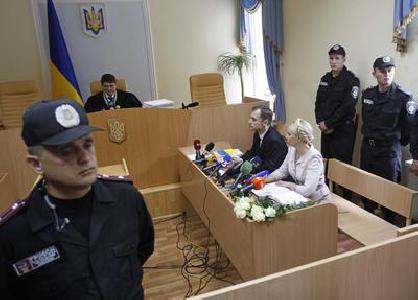 The Security Service of Ukraine (SBU) on July 5 opened a criminal case against a former business of current opposition leader and former Prime Minister, Yulia Tymoshenko, the United Energy Systems (UES). The SBU alleged that the UES tried to embezzle $405 million, adding that the case was prompted by a letter from Moscow to Ukrainian Prime Minister Mykola Azarov dated June 10, 2011, in which Russian Defense Minister Anatoliy Serdyukov demanded that Ukraine pay the UES's debt to Russia (www.sbu.gov.ua, July 5). This is the latest in a stream of criminal cases targeting Tymoshenko which have been opened since her ouster as prime minister in March 2010. She was earlier charged with misspending Kyoto credits from Japan and Spain, rigging a tender for ambulances and damaging state interests by authorizing the 2009 gas contract with Russia.
The UES affair is a long saga which started in the late 1990's when the UES, an intermediary in the gas trade with Russia which Tymoshenko chaired in 1995-1997, reportedly failed to deliver on contracts with the Russian defense ministry which were concluded in 1996-1997. The UES was edged out of the gas market in 1997 following the ouster of Tymoshenko's then patron, Prime Minister Pavlo Lazarenko. As Lazarenko has been serving a prison sentence in the US for money laundering, Tymoshenko went into politics and proclaimed opposition to the president. She remained in the opposition ever since, apart from a brief period in 2000 when she served as a deputy prime minister and immediately after the December 2004 Orange Revolution. When Tymoshenko was prime minister, Moscow ignored UES' debts.
Like other cases against Tymoshenko, this one will be politically charged as it involves the interests of Russia with which Ukraine has been holding difficult gas price talks, inevitably it will be used in domestic political battles ahead of the October 2012 parliamentary elections, and also because it was launched by the SBU –chaired by Valery Khoroshkovsky. In 2009, Khoroshkovsky as then deputy head of the SBU actively opposed the contract with Russia, authorizing a search in the offices of the national oil and gas company Naftohaz Ukrainy. Tymoshenko accused him of acting in the interest of Dmytro Firtash whose joint venture with Gazprom, RosUkrEnergo, lost the status of monopoly exporter of gas to Ukraine because of the Tymoshenko-authorized January 2009 gas contract.
Similar to other cases involving Tymoshenko, it would be naïve to expect a fair judgment from Ukrainian courts which are under pressure from all sides. First, this is President Viktor Yanukovych's team. Despite Yanukovych's attempts to convince everyone of his non-involvement, the public and pundits both at home and abroad strongly believe that the investigations against Tymoshenko were approved –if not authorized– by Yanukovych. The campaign against Tymoshenko may have been prompted by a variety of reasons ranging from the desire to weaken the opposition ahead of the 2012 election to trivial revenge as Yanukovych and several of his allies were under investigation themselves when Tymoshenko became prime minister and her people controlled the SBU in early 2005. Following the formation of a pro-Yanukovych majority in parliament and the restoration of the 1996 constitution last year, Yanukovych formally and informally has all the branches of power under his control, prosecutors and courts being no exception.
The second element is the role of the West. Since early this year, both the European Union and the US have increased pressure on Yanukovych and Ukrainian courts, saying that the investigations against Tymoshenko and the criminal cases against several of her allies were examples of "selective justice." British Ambassador to Ukraine, Lee Turner, said that as little as the "impression of selective and disproportionate use of legal action may substantially and permanently damage the reputation of Ukraine" (www.day.kiev.ua, June 22). On June 24, the US State Department warned that "when the senior leadership of an opposition party is the focus of prosecutions, out of proportion with other political figures, this creates the appearance of a political motive" (www.kyivpost.com, June 24). Third, Ukrainian courts are openly denigrated by Tymoshenko herself. She refuses to adhere to court procedures and mocks her judge and the prosecutors calling them Yanukovych's servants and figureheads, apparently feeling untouchable given the international support for her. Tymoshenko's supporters in the courtroom also hurl insults at the court (www.liga.net, UNIAN, Channel 5, June 29). All Ukrainians can see this live as pro-opposition channels have been allowed to broadcast from the courtroom.
With the criminal cases against Tymoshenko, Yanukovych has backed himself into a corner ahead of crucial domestic elections and when difficult talks with the EU on political association and free trade are about to be completed. This is a lose-lose situation for Yanukovych: if Tymoshenko is found guilty, this will be viewed as proof of the absence of justice in Ukraine so the talks with the EU will hardly be completed successfully and Yanukovych may become an international pariah. Alternatively, her acquittal will be seen by Yanukovych's supporters in Ukraine, who outnumber Tymoshenko's support base according to opinion polls, as his personal capitulation.