Ukrainian Dependency on Belarusian Fuels in Light of the Belarus Sanctions Debate
Publication: Eurasia Daily Monitor Volume: 18 Issue: 53
By: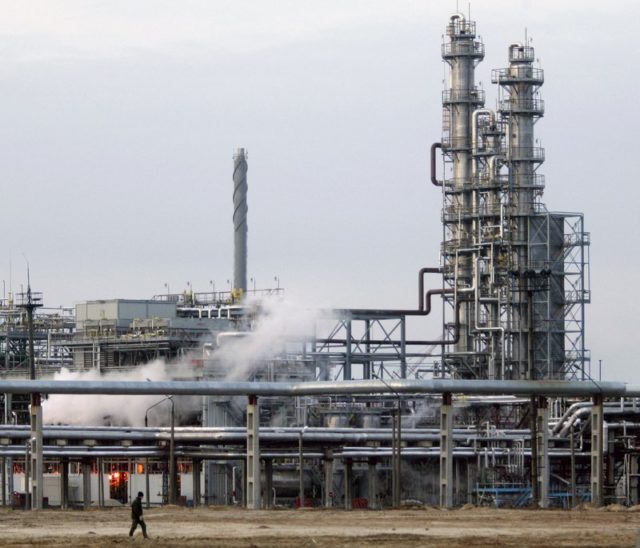 As Russia appears to be escalating the war in eastern Ukraine (see EDM, March 11), the debate in the West on possible sanctions against Belarusian President Alyaksandr Lukashenka's regime goes on. One of the potential actions presumably under consideration may be the imposition of an embargo on Belarusian oil product exports to Europe. Such a policy, however, would only be partially effective without Ukrainian participation, as the latter accounts for up to approximately one-third of Belarusian fuel export volumes (Argusmedia.com, February 16). And for this same reason, it would be highly unlikely that Kyiv could back such a sanctions proposal.
The Ukrainian petroleum refinery sector effectively collapsed over the past few years, and as a result, the country is heavily dependent on fuel imports. The only large-scale Ukrainian crude oil processing plant in operation is the Kremenchug refinery, which is controlled by Ihor Kolomoysky (one of the country's most powerful oligarchs, designated by the Department of State for his involvement in high-level corruption efforts—State.gov, March 5). In 2020, this asset covered only a small part of Ukraine's domestic fuel demand: 21 percent of combined diesel and gasoline consumption. As much as 64 percent of the country's combined demand for diesel and gasoline was secured through imports from Belarus and the Russian Federation (also taking advantage of an existing, post-Soviet oil-product pipeline connecting Russia with Ukraine and Hungary) (Argusmedia.com, February 16).
Taking that fact into account (along with other, not mentioned here, sectoral interdependencies between the two countries), it seems fully understandable why Ukraine is likely to be rather reluctant to support economic sanctions against Belarus. However, it is still important to delve into the details, as the problem is of a twofold nature.
On the one hand, a hypothetical embargo on Belarusian fuel supplies to Ukraine (51 percent of gasoline and 30 percent of diesel consumption in 2020—Argusmedia.com, February 16) could effectively destabilize the market situation in the latter country, creating an additional burden for the Ukrainian people in the shape of higher fuel prices. The potential risks should be considered relatively high due to a few reasons. First, Ukrainian fuel importers already face the possibility of fuel shortages, as Rosneft's diesel and liquefied petroleum gas (LPG) supplies are to be halted from April 1 of this year (Argusmedia.com, March 15). Second, the Ukrainian population as a whole remains economically vulnerable, and the potential domestic fuel price hikes, if significant, could spark protests across the country. Indeed, a similar situation already took place in January of this year, with people going out into the streets to oppose the rise in natural gas tariffs; these demonstrations ultimately forced the government to put a cap on gas prices (Opendemocracy.net, March 15).
On the other hand, the issue of possible sanctions against Belarus should also be analyzed in the context of the associated risks to mobility of the Ukrainian Armed Forces. Ukraine's military is currently supplied with fuel (diesel, gasoline, jet fuel) via a public e-procurement system, ProZorro. And in 2020, the Armed Forces entered into numerous agreements with as many as ten different domestic companies (Enkorr.ua, February 11). However, due the Ukrainian oil product market's dependency on imports from Belarus, most of the above-mentioned suppliers also rely on the Belarusian refineries' production.
In 2020, the total volume of fuel requested by Ukraine's Ministry of Defense (via open procurement processes) reached 200,000 tons, which is around 40 percent more than the year before and the highest figure over the past seven-year period (Enkorr.ua, February 11). From a market-wide perspective, 200,000 tons is not so much; and so a ban on supplies from Belarus would be unlikely to result in extended fuel shortages for the Ukrainian military. Nevertheless, even temporary disruptions in some cases could be problematic, at least in the short term—for instance, were the war in Donbas to escalate rapidly, and/or if Russia simultaneously halted all supplies to Ukraine.
Therefore, Europe and the United States' possible responses to the mass violence and repressions imposed by Lukashenka's regime should be properly assessed, with particular attention devoted to whether sanctions could generate additional risks for the Belarusian people or, like in the discussed case, for pro-Western countries in the region. Even if sectoral or economic sanctions are ultimately deemed necessary due to the ongoing situation inside Belarus, they will nevertheless come with a price. And this should not surpass the expected benefits.