Ukrainian Government Mishandles Gas Negotiations with Moscow
Publication: Eurasia Daily Monitor Volume: 9 Issue: 7
By: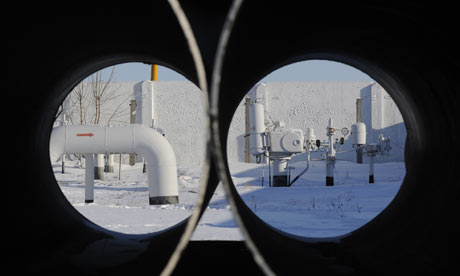 President Viktor Yanukovych and his government are setting the stage, politically and legislatively, for transferring Ukrainian pipelines to Russian control, in a package deal with Gazprom. The president and government wavered and agonized at times, but are now actively preparing Ukrainian public opinion for an imminent deal. In the endgame of negotiations, Ukraine's governing Party of Regions is rushing legislation through parliament to authorize transfers of gas infrastructure. Leasing pipelines to Gazprom is one form of transfer, out of several under consideration (UNIAN, Interfax-Ukraine, January 9, 10).
Ukraine's transit system has a capacity of some 140 billion cubic meters (bcm) per year, operates at nearly 120 bcm annually, and carries 75 percent of Russia's total gas exports to Europe. It consists of 22,000 kilometers of pipelines; and alongside the transit capacity it boasts 31 bcm in storage capacities. It is the largest by far among gas transit systems, and a unique strategic asset for Ukraine. But it is an ageing system on the brink of technological obsolescence, requiring massive investments for modernization, which the Ukrainian government expects Gazprom to undertake after the proposed takeover.
Bringing these pipelines under Gazprom's control is a longstanding objective of Kremlin policy in Ukraine. The system's vulnerability to such a takeover is higher now than at any stage in the past.
First, the sheer passage of time increases the system's obsolescence while Ukraine fails to generate investment funding for overdue upgrades. As these can no longer be delayed, the Ukrainian government turns to Gazprom, offering to share control in return for investment.
Second, the surging price for Russian gas (resulting from oil-gas price indexation) pressures Kyiv to seek a classical post-Soviet solution: transferring infrastructure into Gazprom's hands, in return for lower gas prices. The price to Ukraine has risen to $416 per one thousand cubic meters in the first quarter of 2012 (Interfax-Ukraine, December 26, 2011).
Third, Russian export pipeline projects in the North can in the future leave less gas available for the already existing export routes. Kyiv, however, wants Moscow to "guarantee" the existing gas transit level through Ukraine in the future; and even to build new pipeline capacities in Ukraine, in return for shared control of the transit system.
Fourth, Gazprom's South Stream bypass project in the Black Sea, threatening to divert significant volumes from Ukrainian pipelines, alarmed President Yanukovych and his government. In late December 2011, Turkey (against Kyiv's expectations) allowed Russia to start work on this project in Turkey's exclusive economic zone in 2012. This shocked the Ukrainian government into concluding that the way to stop South Stream is to give Russia a share of control in some form (if not ownership) in Ukraine's pipeline system (see EDM, January 9).
This also triggered the Party of Regions' draft law that would authorize transfers of gas infrastructure. The Ukrainian government wants to have this legislation approved and in its hand when it goes to Moscow for decisive negotiations. These are scheduled for January 15; and the Russian government expects the Ukrainian delegation to carry the necessary legal authority to make such concessions.
Ukraine's existing legislation bars any form of "alienating" pipelines and related infrastructure assets of the state-owned Naftohaz Ukrainy oil and gas company and its subsidiaries. Yulia Tymoshenko, the opposition leader currently jailed by the authorities, authored that legislation in 2007, as opposition leader at that time. The parliament adopted that legislation overwhelmingly. The Party of Regions, in power at that time with Yanukovych as prime minister, voted in favor.
Tymoshenko's law meticulously enumerates, and forbids, all possible forms of "alienating" these types of assets. The prohibition extends to any type of privatization, sale, lease, merger, acquisition, restructuring, division, sharing, consortium, trust management, joint venture, joint operatorship, rental, lending, concession, and yet other forms. Tymoshenko's initiative and the parliament's consensus were responding to Russia's then-president, Vladimir Putin's, tactless public call to Ukraine to pay for Russian gas by giving up its infrastructure (UNIAN, January 3, 10; see EDM, February 16, 2007).
At present, however, the Party of Regions proposes to nullify that legislation and authorize some forms of asset transfers, ahead of the next round of negotiations with Russia. For its part, the Yulia Tymoshenko Bloc has announced its intention to resist. Wrenching scenes can be expected in parliament if the Party of Regions goes ahead with this initiative.
If the Ukrainian government enters into an asset-sharing deal with Moscow, it would do so reluctantly, but also unnecessarily. The government has neglected or declined other options notably that of EU-assisted reform of the energy sector.
This government inherited a gas sector in permanent crisis from previous governments; but the incumbent team has maneuvered itself into an untenable negotiating position with Moscow. It wants Russia to: cut the price of gas to Ukraine; guarantee the existing volumes of gas transit via Ukraine and even increase those volumes; finance the upgrading of Ukrainian pipelines; and abandon the bypass South Stream project, taking this threat unjustifiably at face value.
On top of all this, Yanukovych and the government have displayed panic over the price of gas, and advertised their fear of South Stream for all to see. This group has severely undermined its own bargaining position vis-à-vis Russia. But it still has time to reconsider before going to Moscow.