Ukrainian Tycoon Returns to Government as Foreign Minister
Publication: Eurasia Daily Monitor Volume: 6 Issue: 193
By: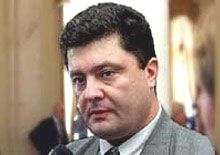 On October 9 the Ukrainian parliament appointed the candy and automobile tycoon Petro Poroshenko as the foreign minister. His nomination, submitted by President Viktor Yushchenko, was backed by 240 deputies in the 450-seat body. All caucuses voted in his favor except the opposition Party of Regions (PRU) and the communists. Poroshenko's appointment is a compromise between Yushchenko and Prime Minister Yulia Tymoshenko. He might improve relations with Russia where he has business interests. European integration and border issues are also among his priorities, while NATO membership and relations with the U.S. are apparently not among them.
Poroshenko was a former key ally of Yushchenko, but he has recently drifted towards Tymoshenko. He joined Yushchenko while he was in the opposition in 2002. Very ambitious, he was considered as a potential candidate for prime minister several times, but was outplayed by rival candidates; Tymoshenko in 2005 and PRU leader Viktor Yanukovych in 2006. Poroshenko served as the Secretary of the National Security Council in 2005, but resigned amid accusations of corruption from Tymoshenko's camp, which were never proven. At some point Poroshenko tried to dominate Yushchenko's party but was demoted to rank and file after Yushchenko purged the party of businessmen, and in 2007 he even failed to secure a seat in parliament. Since 2007 Poroshenko has been chairing the central bank council – not an influential position, since the bank is run by the board and not the council.
The appointment of Poroshenko represents the only major personnel choice for several months over which Yushchenko and Tymoshenko have not disagreed. It was suggested in the press that Tymoshenko did not object to Poroshenko's nomination because she expects his support for her presidential election bid in January 2010 from Kanal 5, an influential television news station owned by Poroshenko (Ukrainska Pravda, October 9; Zerkalo Nedeli, October 17). Andry Kozhemyakin, the deputy head of Tymoshenko's caucus in parliament, expressed the hope that Poroshenko would seek to improve relations with Russia (Interfax-Ukraine, October 9).
Poroshenko's predecessor Volodymyr Ohryzko was fired by parliament in March primarily because relations with Russia had reached their nadir under him. While NATO integration and relations with the U.S. were priorities under Ohryzko, these two directions will not be high on Poroshenko's agenda. Zerkalo Nedeli noted on October 17 that Poroshenko omitted any mention of NATO in his speech to Ukrainian diplomats on October 13. Also, within hours after his appointment, he rejected the suggestion made by the U.S. Assistant Secretary of Defense Alexander Vershbow that U.S. early warning systems could be stationed in Ukraine. Poroshenko said that this would violate Ukrainian laws (Segodnya, October 9).
Addressing Ukrainian diplomats, Poroshenko stressed that the Russian direction will be a priority of his foreign policy. Relations with Russia should be "less emotional, more pragmatic and equal," he said (Interfax-Ukraine, October 13). These relations were emotional under Ohryzko whose very dismissal was prompted by his threat to expel the Russian Ambassador Viktor Chernomyrdin for speaking disparagingly of Yushchenko in a newspaper interview.
Improving relations with Russia is also in Poroshenko's personal interests. Russia is the key market for his Bogdan automotive corporation and Ukrprominvest confectioneries and he also owns a confectionery in Lipetsk. In 2006 Poroshenko announced an ambitious project to build a factory to assemble automobiles in Nizhny Novgorod, but bad relations with Russia apparently affected his plans. As an ally of Yushchenko, whom the Kremlin holds responsible for spoiling bilateral relations, Poroshenko was blacklisted by the Russian authorities and denied entry to Russia in 2007. Recently, the government of Nizhny Novgorod warned Poroshenko that he would lose the land reserved for his factory if construction work did not start soon (ProUA, October 9).
However, among his other priorities Poroshenko listed E.U. accession and "the eastern direction," in particular relations with China, India and the Arab states (Interfax-Ukraine, October 13). Yushchenko instructed him to do everything possible to sign an association agreement with the E.U. at the Ukraine-E.U. summit scheduled for December 4. This task is probably too ambitious and the Ukrainian envoy to the E.U. Andry Veselovsky predicted that the agreement would not be signed this year (www.liga.net, October 13). The agreement should include a free trade zone clause, which will not be ready for signing because of the disagreements over many issues ranging from visa-free travel to sanitary norms in agriculture. The E.U. is opposed to signing the agreement without a free trade clause.
Poroshenko is also expected to make progress in relations with other neighbors such as Belarus, which has failed to ratify a border agreement with Ukraine, and Moldova whose shared border has not been demarcated (Zerkalo Nedeli, October 17). Consistent with these priorities, Poroshenko paid his first visits to Moldova, Belarus and Sweden which took over the E.U. rotating presidency in July. He is scheduled to visit Moscow on October 23, where he will likely try to address Russian concerns over U.S. missile defense plans. Poroshenko also plans to visit the United States according to Ukraine's Ambassador to the U.S. Oleg Shamshur (UNIAN, October 15).