Turkey: a Bridge or Bottleneck for Caspian Gas to Europe?
Publication: Eurasia Daily Monitor Volume: 6 Issue: 193
By: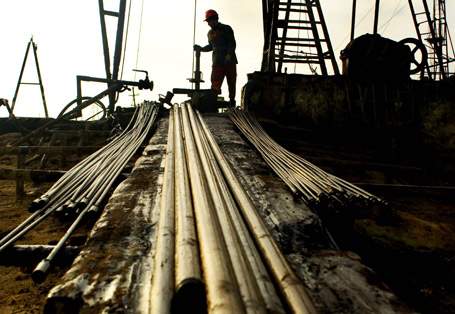 President Ilham Aliyev broke two years of silence regarding Turkey's obstruction of Azerbaijani gas exports westward, while chairing an expanded session of Azerbaijan's government on October 16 (www.day.az, October 17). Ankara's stonewalling can cause further delays to the European Union's Nabucco and Southern Corridor projects, which rely on Azerbaijan as the linchpin country.
Azerbaijani gas is earmarked as the mainstay of supplies for the E.U. and U.S. backed Nabucco pipeline, due to become operational in late 2014 to early 2015. Furthermore, Azerbaijan is the designated transit country for Turkmen gas that would flow into Nabucco and onward to Europe. Nevertheless, Turkey's AKP government imposes extortionate terms on the price of Azerbaijani gas and its transportation via Turkey to Europe. This behavior can also undermine Turkey's credibility with gas producing countries farther east, such as Turkmenistan, that seek a reliable transportation route to Europe.
According to Aliyev at the government session, Ankara has been paying merely one third of the average European price for Azerbaijani gas in recent years. Ankara's price offer to Baku is slightly higher, but still 50 percent below what Ankara pays for Russian gas. Azerbaijan would be content to receive 10 percent less than the Russian price but could never accept the discriminatory price that Ankara offers to Baku, according to Aliyev.
Under a bilateral agreement signed in 2002, Azerbaijan sells gas to Turkey at merely $120 per one thousand cubic meters. That price may have had its reasons in 2002, but had lost all justification by the time the agreement expired in April 2007. From the expiration to the present, Ankara has stonewalled the negotiations on a new price, while continuing to pay the old price for Azerbaijani gas and bargaining for slight increments, still far below the Turkish or European market prices. Azerbaijan sells approximately 7 billion cubic meters (bcm) of gas per year to Turkey at deeply discounted prices, forfeiting substantial revenues in this process.
The AKP government is also stonewalling on a transit agreement for Azerbaijani gas via Turkey to Europe. In the absence of a transit agreement, the Nabucco inter-governmental agreement can hardly become operational on Turkish territory. Turkey hosted the signing of the inter-governmental agreement in Ankara on July 13, but has not relented on the transit agreement thus far. According to Aliyev at the Azerbaijani government's session, the Turkish government proposes to charge transit fees that are as much as 70 percent higher, compared with fees charged by other countries for their transit services. While the figures under negotiation are confidential, the AKP government clearly does not adhere to the concept of cost-based transit fees as embodied in the Nabucco inter-governmental agreement (www.day.az, October 17).
Meanwhile, Ankara maintains ambiguity about the volumes of Azerbaijani gas it expects to import in the coming years. Those volumes can originate either from the international consortium's Shah Deniz project or from the Azerbaijani State Oil Company's own gas fields. Clarity is urgently necessary on volumes –as well as on prices and transit fees– in order for the Shah Deniz consortium to advance from Phase One to Phase Two of that project. Shah Deniz Phase Two is the main supply source for Nabucco's first stage.
The start of commercial production of Shah Deniz Phase Two has already been postponed by two years, due in part to Ankara's prevarications. Phase Two would increase production from 9 bcm to 16 bcm per year. Its start is possible by 2015 and the consortium is ready for a $20 billion investment decision in 2010, provided that Turkey cooperates in good faith, according to Aliyev at the government meeting. Meanwhile, the consortium is "seriously concerned. The companies are in a hurry and I share their view," Aliyev warned. This statement implies that the consortium would have to seek other export routes to markets, if Turkey remains uncooperative. The six Nabucco participant countries as well as Greece, Italy, and Switzerland are all expressing interest in purchasing Azerbaijani gas.
Azerbaijan is not without alternative options for its gas exports. On October 14 its State Oil Company signed an agreement with Gazprom for an initial volume of 500 million cubic meters in annual deliveries to Russia, susceptible to further increases (EDM, October 15). Azerbaijan is also considering the possibility of starting gas exports to Iran in small volumes in early 2010. Pipeline connections are available to Russia and Iran, totaling up to 10 bcm in terms of annual spare capacities.
Furthermore, Aliyev alluded to the proposed White Stream pipeline for the first time during the October 16 government session. White Stream is conceived to carry Azerbaijani gas via Georgia and the seabed of the Black Sea to Romania and onward into E.U. territory (an earlier version would have run on the seabed to Ukraine). Aliyev discussed the White Stream proposal with Romanian President Traian Basescu in late September in Bucharest, in the context of the strategic partnership agreement the presidents signed on that occasion. White Stream is also one element in the E.U.'s Southern Corridor concept. This option would potentially enable Caspian gas producers to demonstrate that Turkey does not necessarily enjoy a monopoly on gas transportation to Europe. And that Turkey can ultimately be circumvented, if the AKP government overplays its hand or overestimates the value of its own "strategic partnership" with Russia.