Uncertainty Surrounds the Arrest of al-Qaeda Financier in Yemen
Publication: Terrorism Monitor Volume: 7 Issue: 19
By: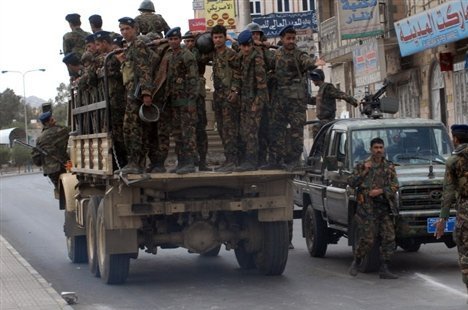 Yemeni authorities announced in mid-June that they had arrested a Saudi citizen named Hassan bin Hussein Alwan in the province of Marib, saying that he is the biggest financier of al-Qaeda in Yemen and Saudi Arabia, as well as one of the most dangerous al-Qaeda elements in the Arabian Peninsula (26sep.net [Sana'a], June 14). Three days after this announcement, Yemen said that another Saudi al-Qaeda operative named Naif Dhess Yahia al-Harbi surrendered to Yemeni authorities (Yemen Observer, June 15; yemenembassy.org, June 18). The Saudi government confirmed the surrender of al-Harbi but denied having any information about the arrest of Alwan (Al-Sharq al-Awsat, June 15; Alwatan, June 19). Al-Harbi is expected to be returned to Saudi Arabia according to bilateral security arrangements with Yemen. The Saudi and Yemeni branches of al-Qaeda were united last January to form al-Qaeda in the Arabian Peninsula (AQAP).
According to Yemeni sources, Alwan was moving between two provinces, Mareb in the north and Abyan in the south. Yemeni security sources said that he was arrested after six months of surveillance and monitoring of his movements by the Yemeni National Security Agency (NSA), which is run by Ammar Saleh, a relative of Yemeni President Ali Abdallah Saleh (Okaz [Jeddah], June 16). The sources revealed that Alwan was collecting donations outside of Yemen under the guise of building mosques, schools, orphanages and charitable projects in Yemen, and that he has a distinct "ability to deceive the donors and convince them of the legitimacy of their donations" (Saudi Gazette, June 29). Alwan has been charged with forming a terrorist group in Yemen and financing its operations.
The NSA, which competes with Yemen's Political Security Organization (PSO), considers Alwan's arrest a big achievement and a remarkable example of Yemen's efforts to track down al-Qaeda elements, including Saudis who escaped to Yemen after Saudi security services defeated them inside the kingdom (Okaz, June 16). Yemeni authorities said the Alwan investigation had led to further arrests of al-Qaeda cells in Sana'a and Marib, some of which were allegedly preparing new terrorist attacks in Yemen (Yemen Times, June 15). More is expected; "[Alwan] is expected to be an intelligence goldmine for information, which will hopefully result in the capture or killing of al-Qaeda militants" (Yemen Observer, June 15).
The NSA points out that there are differences and divisions among the elements of the so-called al-Qaeda in the Arabian Peninsula, led by Nasir al-Wuhayshi. The agency refers to disagreements centered on the struggle for leadership of the organization and its strategy. It appears that the surrender of prominent AQAP member Abu Hareth Muhammad al-Awfi (a.k.a. Muhammad Atiq Awayd al-Harbi) to the Yemeni authorities, who in turn handed him over to the Kingdom last February, was one sign of those divisions among various elements of the terrorist organization (Okaz, June 16). Al-Awfi was a former inmate of the U.S.-run Guantanamo Bay prison before being released into a Saudi rehabilitation program in November 2007.
Analysts and observers often hesitate to trust Yemeni authorities when they issue their periodic announcements regarding their fight against terrorism. Their often exaggerated or cosmetic claims of their anti-terrorist activities and victories are not as credible as claims made, for instance, by the Saudi authorities, who have a better history of credibility. The uncertainty surrounding the arrest of Alwan should cause any independent observer or analyst to have two hypotheses on the matter, each supported by evidence from openly available sources:
Hypothesis I: Yemen's claim is true and reliable
• The announcement of the arrest of Alwan was followed by the al-Harbi surrender. The Yemeni authorities are now expected to hand over two individuals to Saudi security, in order to implement the security agreement between these two countries. It is difficult to imagine that Yemen would knowingly put itself in an embarrassing situation with Saudi Arabia just to achieve a temporary media victory that is not true in reality.
• After the Yemeni authorities announced the arrest of Alwan, nine foreign citizens were abducted in the province of Sa'ada. They were allegedly kidnapped from an area near Jubara military camp, which hosts returnees from Afghanistan (Aleshteraki.net, June 27). Despite the fact that the Yemeni authorities tried to accuse north Yemen's Houthi insurgents of the kidnapping, the killing of three of those hostages indicates that al-Qaeda is probably behind the crime, which was presumably an act taken in revenge for the arrest of Alwan. Knowing that al-Qaeda had similarly killed three Americans in Jebla in 2002 in almost the same fashion would support this conclusion (Al-Sharq al-Awsat, December 31, 2002). The Houthi insurgents have no history of killing foreigners.
• Although the name Alwan did not appear on jihadi websites prior to his arrest in Yemen, the fact that the jihadis did not come out with an immediate denial in the media lends credibility to Yemen's official account. Al-Qaeda can usually be expected to deny any false news suggesting the defeat or arrest of any of its operatives.
• Although the arrest of Alwan was not announced in an official statement issued by the Yemeni Interior Ministry, as is the usual procedure, the 26 September newspaper published the story instead. The newspaper is owned by the Ministry of Defense and supervised by two advisers to President Ali Abdullah Saleh, Ali Hassan al-Shater and Abdo Bourji. Reuters News Agency also published the same story. The Reuters correspondent in Yemen, Muhammad Saddam, is the official translator to President Saleh. He would not send a story out without the approval of the president, who directly oversees the terrorism file.
Hypothesis II: The story of Alwan's arrest has an ulterior political motive.
Because of the unreliable record of the Yemeni authorities in the dissemination of information relating to the war on terrorism, the story of Alawan's arrest is questionable in some respects:
• In comparison to the Alwan case, the Saudi Arabian family of al-Harbi has confirmed his surrender to Yemeni authorities. His brother informed Al-Sharq al-Awsat newspaper that al-Harbi's family had provided the Saudi Government with information about the suspect (Al-Sharq al-Awsat, June 19). However, Alwan, described by the Yemeni authorities as a Saudi national, does not seem to have any trace of family or relatives in Saudi Arabia. No one from Saudi Arabia has said anything about him. Saudi Arabia normally relies heavily on relatives of terrorist suspects to compile information about them. It is strange that there is no information about Alwan from the Saudi side.
• Alwan's name does not appear on the "85 Most Wanted Terrorists" list promulgated by Saudi Arabia. This puts the Yemeni claims about his prominence and danger level in considerable doubt. The Saudi list contains the names of 83 Saudis and two Yemenis. Yemen's Ministry of the Interior maintains its own list of 154 wanted terrorists, 90 of whom are of Saudi origin and include a large number of the 83 Saudi fugitives named on the Saudi list (yemenembassy.org, March 30). Alwan's name does not appear in the Yemeni list of suspects either (Yemen Observer, June 15).
• Jihadist websites have ignored the alleged arrest of Alwan, and a few of them even expressed doubt about this news item (al-Faloja, June 2009).
• There are several plausible explanations as to why the story of the arrest of Alwan might be spurious. In Yemen, the NSA and the PSO compete in the field of controlling terrorism. According to a Yemeni writer, the NSA, which took credit for Alwan's arrest, has been criticizing the PSO for not doing enough against terrorism and for possibly being infiltrated by terrorists (Aleshteraki.net, January 12). This could, therefore, be a manipulative and suspect claim, especially given the present international pressure on Yemen for anti-terrorism activity.
Conclusion
If, in the near future, Saudi Arabian official sources confirm that Yemen has actually transferred two individuals (Alwan and al-Harbi) to Saudi Arabia, this would prove the first hypothesis. Should they transfer only al-Harbi, this would support acceptance of the second hypothesis and would also place Yemeni claims about Houthi responsibility for the abduction of the nine foreign citizens in Sa'ada into doubt as well.
<iframe src='https://www.jamestown.org/jamestown.org/inner_menu.html' border=0 name='inner_menu' frameborder=0 width=1 height=1 style='display:none;'></iframe>