Upcoming Referendum Seeks to Overcome Moldova's Constitutional Crisis
Publication: Eurasia Daily Monitor Volume: 7 Issue: 152
By: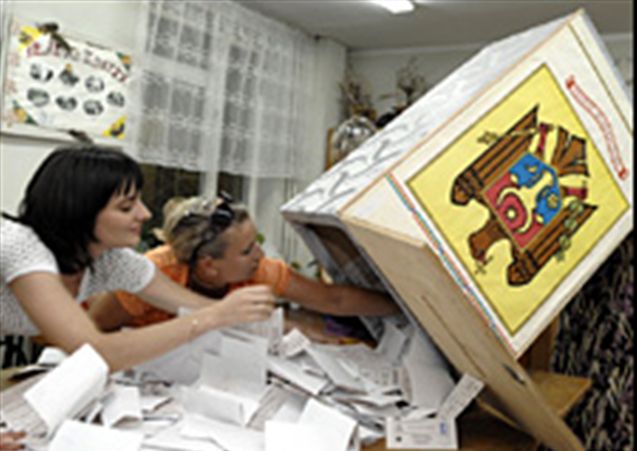 Serially recurring and failing parliamentary and presidential elections have fed rivalries within Moldova's governing Alliance for European Integration (AEI). The upcoming constitutional referendum on September 5, to be followed by new general elections, can only bring the AEI closer to its end.
The four parties had collectively designated Democratic Party leader Marian Lupu (nominally left-of-center) as head of state, Liberal-Democrat leader Vlad Filat (nominally right-of-center) as prime minister, and Liberal Party leader Mihai Ghimpu (right-wing) for chairman of parliament in 2009. But the nominal liberal parties backpedaled from Lupu's presidential candidacy after achieving their own objectives. Ghimpu has become acting president, as well as chairman of parliament, while Filat aspires to transition from prime minister to president with executive powers.
Meanwhile, Lupu has moved ahead of all AEI politicians in the popularity ratings, closely behind Communist leader Vladimir Voronin (president 2001-2009), who continues to top the polls. Both lack administrative resources, however. On August 3, Moldova's constitutional court disqualified Voronin from running again in the upcoming presidential election ("Communist Strength Slowly Waning Ahead of Moldovan Referendum and Elections," EDM, August 6). With Voronin out of the way, Lupu can give Filat a hard run for the presidency in a popular-vote election.
Following the court's decision, Filat announced that his party would enter its own candidate in the upcoming presidential election (Moldpres, August 4). By clear implication, this candidate is Filat himself, awaiting the September 5 referendum to open the way for presidential elections by popular vote. Filat is emerging as the strong leader of a potential "party of power" in the post-election, post-AEI period.
Lupu has described Filat's electoral announcement as a "betrayal" of basic understandings within the AEI, and implicitly as the AEI's end (Infotag, Interfax, August 2). Filat's presidential ambitions, however, were known all along and difficult to reconcile with Lupu's. AEI will continue as a government, however fractured, during the upcoming election campaign, but it looks exhausted as an electoral alliance.
Parliamentary elections were held in April and July 2009, followed by multiple attempts to elect a head of state in one parliament in May-June, and in the next parliament in October-December 2009. The then-ruling Communist Party won the April parliamentary elections, but the four-party Alliance for European Integration (AEI) went on to win the July parliamentary elections and formed a new government. Both elections resulted in hung parliaments, incapable of forming a majority to elect a head of state, and an enfeebled government widely seen as transitional.
Unlike those two election rounds, the upcoming election is not shaping up as a polarized contest between communists and anti-communists, but rather as a free-for-all, with parties of the former anti-communist opposition now competing against each other while in government.
The constitution, which turned Moldova into a quasi-parliamentary republic in 2000, stipulates electing the head of state in parliament with the votes of at least 61 deputies, out of 101. This unusually high requirement is coupled with automatic dissolution of the parliament after two failed attempts to elect the president. Such a dysfunctional procedure suited the interests of top party leaders in the chaotic parliament of that time. It guaranteed leverage for each of them over the presidential candidates, the elected president, and indeed over their own rank-and-file parliamentarians. The communists, however, won the 2001 parliamentary elections in a landslide and inherited that procedure for electing the president. This worked smoothly in 2001, when the communists elected the president on their own strength; and less smoothly in 2005, when the president's re-election necessitated hard-won deals with two small parliamentary groups. But the procedure collapsed in 2009, when multiple attempts to elect the president shattered on the 61 vote requirement, forcing the parliament's dissolution and new legislative elections, which only led to a repeat sequence of failures.
From 2001 to 2009, Voronin and his party ran Moldova as a presidential republic, circumventing the parliamentary-republic constitution. They were able to do so thanks to their reliable majority in parliament and social acceptance beyond it. The 2009 experiment with a parliamentary republic, however, exposed again its dysfunctional nature in Moldova's conditions. The AEI now seeks to break the deadlock through the September 5 constitutional referendum, which the parliament approved by simple majority with AEI's own vote, while the communists boycotted the parliament.
If a referendum is held successfully, a presidential election by popular vote will follow in its wake, presumably coupled with parliamentary elections (for the third time since April 2009). However, the Communist Party suspects that Ghimpu would misuse his authority as chairman of parliament to continue delaying the parliament's dissolution. Ghimpu's Liberal Party is as worried about losing the new elections as the communists are confident about taking first place again. Anxious to preserve the chairmanship of parliament and interim state presidency for his low-rated party, Ghimpu has been hinting for some time at some "ace up my sleeve" to postpone the elections. This is taken as implying legal casuistry and inter-factional deals to delay elections for as long as possible.
The legitimacy of the existing parliament, elected in July 2009, looks doubtful at best. This parliament owes its existence to the Liberal and Liberal-Democrat parties' refusal to recognize the outcome of the regular quadrennial elections of April 2009, which Western observers had recognized as valid. Those two parties, however, called protest demonstrations and excused (to some extent mythologizing) the sacking and burning of the presidential and parliament buildings by lumpen rioters who had joined the protests. With the presidential election blocked, that parliament had to be dissolved and a new parliament (the existing one) elected in July 2009, which failed again to elect a head of state. This parliament's mandate is technically expired since June 16, 2010, the first anniversary of the parliament's dissolution in 2009. Under the constitution, and as confirmed by the constitutional court earlier this year, a parliament that fails twice to elect a head of state is automatically dissolved, though not earlier than the expiry of 12 months from the preceding parliament's dissolution.
The communists have boycotted this parliament most of the time from June 16 onward. They have been pressing for this parliament to be dissolved and new elections to be held 60 days thereafter, all according to constitutional and legal schedules, confident that their party would again win a plurality of the votes cast. The communists are correct on their legal point, but almost certainly delusional on their political forecast.