US-Moldova Relations 'Stronger Than Ever' Politically
Publication: Eurasia Daily Monitor Volume: 11 Issue: 62
By: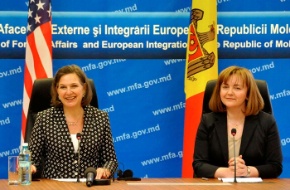 Visiting Moldova on March 29, US Assistant Secretary of State Victoria Nuland declared that US-Moldova relations "have never been stronger" (Moldpres, March 30). Nuland's visit was the latest in the series of high-profile US-Moldova meetings following Russia's seizure of Crimea from Ukraine.
US President Barack Obama and Vice President Joseph Biden received Moldovan Prime Minister Iurie Leanca at the White House in Washington on March 3 (see below). The US Special Envoy and Coordinator for International Energy Affairs, Carlos Pascual, conferred with the Moldovan government in Chisinau on March 24. Nuland capped this series of visits on March 29 with an inter-agency delegation, including a Pentagon component, to Chisinau. Prior to this, John Kerry became the second US Secretary of State to alight in Moldova (December 4, 2013) in 21 years of the country's independence (James Baker had been the first to visit Moldova in 1992 as Secretary of State).
Concerns that Russia could, after Crimea, move militarily or in some other forms against Moldova, precipitated these serial demonstrations of Washington's political support. The Moldovan government avidly sought these US gestures. But the United States also needs to dispel the perception of its strategic disengagement, after being caught off guard over Ukraine (as in 2008 over Georgia) and to demonstrate that it can still be counted upon by its partners in this region.
The Moldovan and Ukrainian governments are (to varying degrees) experiencing similar vulnerabilities vis-à-vis Russia. First, their neutrality is wholly defenseless, was declared unilaterally, and is guaranteed by nobody. Second, they lack external protection from Russian moves to derail the signing of the European Union association agreements with Moldova and Ukraine, as well as their ratification. Third, Russia-oriented organizations threaten to subvert and destabilize the ongoing electoral campaigns in Moldova and Ukraine. Fourth, the governments of both countries are exposed to Russia's combination of economic coercion and economic incentives. And fifth, centrifugal movements are emerging in parts of Moldova's and Ukraine's territories, other than the "frozen" conflicts in Transnistria and now Crimea.
On March 23 the Supreme Commander of the North Atlantic Treaty Organization (NATO), US General Philip Breedlove, expressed concern that Russian forces massed against Ukraine could promptly advance into Moldova's Transnistria, if so ordered. A possible Russian thrust via Ukrainian territory toward Moldova was seen as "very worrisome" at NATO (moldova.org, March 23).
Washington shares the Moldovan government's concerns that Russia could provoke armed clashes in Transnistria or intrude into Moldova's upcoming parliamentary elections to change the country's European orientation. To defuse such potential threats and avert another international crisis, the United States is moving pro-actively to discourage possible Russian mischief in Moldova. The series of visits just completed did not produce material deliverables. The political symbolism counts for more at this juncture.
According to the White House's announcement, President Obama and Vice President Biden jointly "praised the strong and important friendship between our two countries, and underscored the United States' deep commitment to supporting Moldova's European aspirations. The United States has a profound interest in Moldova's success as a democratic partner" (White House press release, March 3). According to the Moldovan government's announcement, "My heart is with you, my support is with you and I want to see you succeeding," Obama said, joining Biden at the meeting with Prime Minister Leanca (Moldpres, March 4).
Hyperbole on that unusual scale (far beyond routine endorsements of the territorial integrity) suggests that Washington would take a stand and impose some costs on Russia, should the latter move overtly to destabilize Moldova.
During the same visit, Secretary Kerry and Prime Minister Leanca inaugurated a US-Moldova Strategic Dialogue, to be held periodically (and by request if necessary), as an institutional format of bilateral consultations. They also re-launched the bilateral committee on economic cooperation and investment, after a nine-year hiatus (Unimedia, March 30).
Special Envoy Pascual's visit to Chisinau (arriving directly from Kyiv) inaugurated a US-Moldova Energy Working Group, similarly designed as an institutionalized format at the inter-governmental level (Moldpres, March 24, 25). This first session focused on European Energy Community–mandated reforms (Russia has compelled Moldova to postpone gas pipeline unbundling by four years) and connecting Moldova with the European Union's energy market by pipeline through Romania. Both goals are realistically expected to be met by 2020, provided that Moldova's pro-Europe government continues in power.
Nuland's visit was another necessary and well-timed flag-showing event. Beyond her assessment of bilateral relations as "stronger-than-ever" (see above), however, Nuland's concluding press conference statement injected an unexpected note of ambiguity about Moldova's European orientation: "We see a future for Moldova where it has equally strong relations with Europe, with Ukraine, with Russia, a bridge of trade and education across this space, linking Europe and Russia and Ukraine" (Unimedia, March 30; https://uni.md/nSut).
This statement went beyond the usual disavowal of "zero-sum games." It alluded to some equidistant positioning for Moldova in the future between Russia and Europe. The Moldovan government, however, is oriented toward the EU unambiguously, in order precisely to avoid being consigned to a grey zone, or some kind of "space."
The Obama administration all along has taken a back seat to that of the European Union in the EU's eastern neighborhood. Basically, the US would confine its role to supporting the EU's policies there. Consequently, Washington champions a "European orientation" for these countries. Nuland's official agenda in Chisinau, however, did not seem to include meetings with the EU's representatives there. Whether Nuland's concluding statement was inadvertent or reflects a last-moment decision by the Obama administration (coordinated or not with the EU) to conciliate an aggressive Russia is far from clear, but might emerge with the administration's further steps.