Uzbekistan Accords Turkmenistan Status of Closest Neighbor and Partner
Publication: Eurasia Daily Monitor Volume: 14 Issue: 36
By: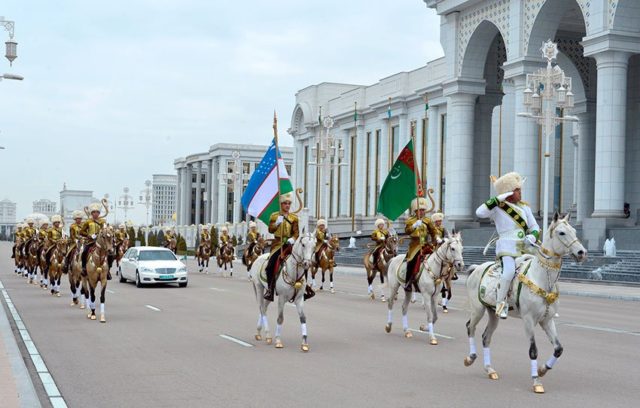 Three months since his election last December, Uzbekistan's President Shavkat Mirziyaev made his first official trip abroad, visiting neighboring Turkmenistan on March 6–7. The visit put an end to rampant speculation about where his maiden foreign trip would take him. Some, for instance, had expected the Uzbekistani leader to first travel to Moscow, in order to bolster his "pro-Russian credentials," while others claimed that he was vacillating between Kazakhstan and Turkmenistan, two important neighbors with which his country has recently enjoyed quite positive relations (Izvestia, December 6, 2016; Ng.ru, December 7, 2016). President Mirziyaev is expected to visit Kazakhstan on March 23–24, and Russia on April 4–5 (Ng.ru, February 12).
In Ashgabat, Mirziyaev emphasized that his choice of Turkmenistan for his first foreign trip was a clear indication that Uzbekistan considers the country its closest neighbor and partner. Turkmenistan's leader, Gurbanguly Berdimuhamedow, voiced similar sentiment, saying that the two nations shared a common destiny. The visit was hailed by both sides as historic and as the beginning of a new chapter in bilateral relations, which would be marked by greater openness toward one another (Uza.uz, March 6).
Yet, despite the current abundance of good-will and the spirit of bonhomie, the two countries still maintain a visa regime toward each other. Even by Central Asian standards, the two post-Soviet republics are considered extremely closed when it comes to granting access to foreigners, thus hampering greater cross-border travel and business cooperation. During this visit, there was no mention of the possibility of establishing visa-free travel arrangements between the two sides. Currently only residents of border areas in Bukhara and Khorezm provinces of Uzbekistan and Lebab and Dashaus provinces of Turkmenistan are allowed to visit each other without visas, for up to three calendar days. The two neighbors also lack direct flight connections between the two capitals, which were stopped a few years ago due to limited passenger flows (Ozodi.org, March 12).
The existing low levels of bilateral trade, less than $500 million in 2016, do not indicate that these countries are necessarily one another's best trading partners. Berdimuhamedow's comments that Turkmenistan should not look for goods and services from far-away countries if they are available next door in brotherly Uzbekistan could be an encouraging signal that the two countries are willing to turn that situation around, however. And indeed, the two presidents signed a number of trade-related deals during Mirziyaev's visit, including for the import of fertilizers and agricultural equipment from Uzbekistan and to service Turkmenistan's railway coaches in Uzbekistani factories (Uzbekistan TV, March 8). However, Turkmenistan has always strived to have balanced trade relations with all its neighbors. In return for gaining greater access to Turkmenistan's market for Uzbekistani industrial and agricultural exports and services, Uzbekistan will need to import Turkmenistani oil and natural gas products in greater volumes. Not only would this boost in energy imports keep its neighbor happy, but it would also to fill the acute annual oil and gas shortages being experienced by Uzbekistan's own population due to the country's fast-dwindling reserves.
Earlier, Uzbekistan's request to import Russian oil at discount prices using a Soviet-era pipeline was rejected by the Kremlin due to technical problems and World Trade Organization (WTO) obligations to treat all foreign customers equally. Therefore, the Uzbekistani National Oil and Gas Company's chairman, Alisher Sultanov, announced that Uzbekistan and Turkmenistan had reached an oil supply agreement and a gas condensate import deal. This agreement, Sultanov asserted, might remove the need for President Mirziyaev to again seek the Kremlin's favor regarding oil supplies when he travels to Moscow later this year (Uzbekistan TV, March 6).
Uzbekistan and Turkmenistan are mutually interdependent thanks to their energy and transport links. So naturally, energy and transport issues were the main items of discussion on the bilateral agenda during Mirziyaev's visit to Tashkent. In a significant departure from its previous policy, Uzbekistan agreed to transit Turkmenistani electricity flows across its territory to Tajikistan—a hydro-power dependent country, which experiences electricity shortages every winter (Uzbekistan TV, March 8). Despite Uzbekistan's chronic poisonous water disputes with Tajikistan, apparently the latter is no longer considered an adversary by Tashkent, as the new Uzbekistani leader pursues a policy of "no enmity and no rivalry with neighbors." Moreover, during the visit, the two presidents launched a newly constructed 1,750-meter-long Turkmenabad-Farab railway bridge and a 1,600-meter-long automobile bridge across the Amu Darya river. These two bridges form part of the proposed Uzbekistan–Turkmenistan–Iran–Oman–Qatar transport corridor and are expected to facilitate international cargo flows (Uza.uz March 7).
Uzbekistan needs Turkmenistan to reach Persian Gulf ports in order to market its products to the world, while Turkmenistan exports its main export product—natural gas—via three pipelines that cross the territories of Uzbekistan and Kazakhstan to reach China. The importance of these natural gas pipelines increased recently after Turkmenistan stopped exporting its gas to Russia and Iran in 2016 and 2017, respectively, due to various commercial disputes. This has left China as its main and currently only large gas customer (Lenta.ru, January 6, 2016, RFE/RL, January 1).
Most importantly, the unspoken reason why Uzbekistan's Mirziyaev chose Turkmenistan for his first trip abroad was the host country's similar position regarding Russia's efforts to bring former Soviet countries under its domination through Russia-led economic and military alliances, which both countries refuse to join. Turkmenistan hides behind its status as a "positively neutral state," while Uzbekistan's foreign policy doctrine prohibits it from joining any international political and military blocs (Centre1.com, March 6). The fact that Uzbekistan and Turkmenistan were not included in Russian President Vladimir Putin's late-February tour of Central Asia—he instead visited the more loyal Kazakhstan, Tajikistan and Kyrgyzstan—could also be a symbolic indication of the existing division between the regional republics as far as acceptance of Russian dominance is concerned (Rosbalt.ru, March 3).
On the second day of Mirziyaev's visit to Turkmenistan, the hosts unveiled a memorial complex, in Turkmenabad city, in honor of Uzbekistan's late president, Islam Karimov—one of the most vocal critics of the former Soviet Union. This gesture could thus be interpreted as another strong message of unity against any efforts to restore the former Soviet Union in one form or another (Uza.uz, March 7).