European Union Poised to Scrap Visa Requirements for Ukraine
Publication: Eurasia Daily Monitor Volume: 14 Issue: 36
By: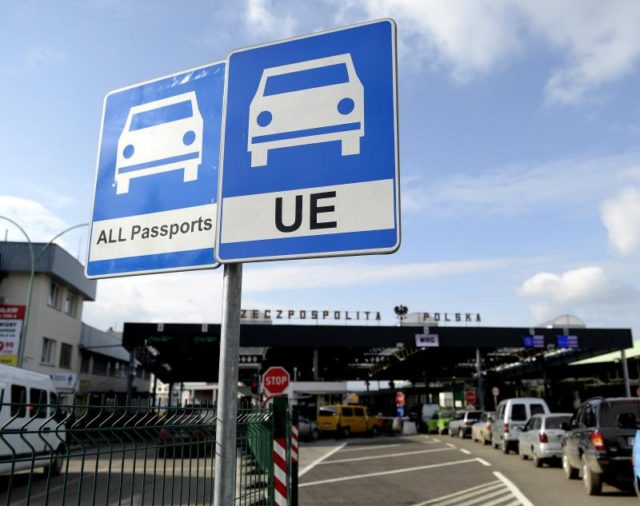 Negotiators from the European Parliament and the Council of the European Union (a.k.a. the Council) struck an informal deal, on February 28, for Ukrainian citizens to travel visa free throughout the EU, except for in the United Kingdom and Ireland. Later, the deal was endorsed by the civil liberties committee of the European Parliament (Ukrainska Pravda, March 9). Although EU bureaucratic procedures still require a formal approval of the deal by the European Parliament and the Council, Ukraine is now almost sure to follow Georgia into the privileged club of countries whose citizens do not need visas to enter the EU's border-free Schengen area. The formal endorsement is expected in May, and Ukrainians will start to travel to the Schengen area without visas by the end of June, according to EU Ambassador Hugh Mingarelli (UNIAN, March 13; Ukrainska Pravda, March 2).
Visa-free travel to the EU was one of the main demands of the pro-European protesters in November 2013. Those "EuroMaidan" demonstrations led to the toppling of President Viktor Yanukovych in February 2014. Several months later, Ukraine signed an association and free trade deal with the EU, which provisionally came into effect in January 2016. However, it would be wrong to think that the EU rewarded Ukraine for the pro-Western and anti-corruption revolution. Ukraine introduced its own visa-free regime for the EU, the United States and other Western democracies in 2005 and began its talks with the EU on both free trade and visa-free travel in 2008. Ukrainians had for years complained of red tape involved with applying for visas to EU countries, which often resulted in travel plan cancelations. Ukraine had met most of the EU's requirements for visa waivers by 2014.
The EU was reluctant to scrap visa requirements in 2014–2015 because it feared an inflow of refugees following Russia's invasion of southeastern Ukraine. Last year, the EU bureaucracy was worried by the migrant crisis triggered by the war in Syria. This prompted another delay related to Ukraine and Georgia, as the EU decided to first set up a visa-waiver suspension mechanism to prevent similar emergencies in the future. The final agreement on the mechanism was reached last month (Liga.net, February 27). Now, the delay until May–June seems to be due to the upcoming elections in France in April–May, where it is apparently feared that a visa waiver for Ukraine might boost the popularity of anti-establishment and Euro-skeptical candidates.
The absence of a visa-free-travel regime has not prevented millions of Ukrainians from already seeking jobs in the EU, mainly Poland. In January 2016, Polish Prime Minister Beata Szydło claimed in the European Parliament that her country accepted one million refugees from Ukraine. However, only 2,000 Ukrainian citizens applied for refugee status in Poland in 2014, and only two of them were granted the status in 2015, according to local statistics (Radiopolsha.pl, January 20, 2016). The people Szydło was evidently alluding to were labor migrants. Poland issued over 1.3 million work permits to Ukrainian citizens last year (BBC Ukraine, January 23).
Once the visa curtain is lifted, more people from Ukraine are likely to seek jobs in the EU countries more economically developed than Poland, such as Germany, whose Ukrainian consulates have thus far been much more reluctant to issue visas than the Polish ones. According to a survey conducted by the local pollster Rating last December, 36 percent of Ukrainian labor migrants work in Poland, but that destination is preferred by only 22 percent of them. Meanwhile, Rating reports, Germany, where only 5 percent of Ukrainian labor migrants work, is preferred by 23 percent overall. Moreover, 61 percent of the polled said their unemployment was informal, mainly seasonal in construction and agriculture—so the EU's caveat that the visa waiver will not apply to job seekers is unlikely to be an effective deterrent for seasonal labor migrants from Ukraine (Ratinggroup.ua, February 1).
Low incomes rather than joblessness prompt Ukrainians to seek work in the EU. Last year, unemployment did not exceed 10 percent in Ukraine (Ukrstat.gov.ua, accessed on March 16). This is worse than in Germany and Poland, but better than in Italy or Portugal, where many Ukrainian guest workers also reside. At the same time, wages are incomparable. The average monthly income barely exceeded $200 in Ukraine last January. This is roughly half the minimum wage in Poland, which itself is not rich by EU standards.
The EU visa waiver will be a rare achievement for President Petro Poroshenko, who has thus far failed to fulfil such election campaign promises as an end to the war with Russia and a successful anti-corruption campaign. The middle class, which brought Poroshenko to power in 2014, will benefit from free travel most of all. After all, the richest Ukrainians—who could afford to pay the steep fees to visa intermediaries in order to travel to Europe—frequently have multiple citizenships or hold diplomatic passports and thus rarely encountered any visa barriers anyway. The support of the middle class may again be crucial for Poroshenko if he runs for re-election in 2019.
The worse-off may also benefit from more access to seasonal jobs and lower transportation fares, as European low-cost air and bus carriers are likely to queue up to the local market after the visa waiver comes into effect. Ryanair, Europe's biggest low-cost airline, has already announced its first 11 new routes from Kyiv and Lviv to EU airports, to be launched next fall (UNIAN, March 15). Thus, the impact of the EU's visa-free travel regime for Ukraine could prove significant for the country's gradually recovering but still fragile economy.