Belarus: Public Protests in the Geopolitical Context
Publication: Eurasia Daily Monitor Volume: 14 Issue: 37
By: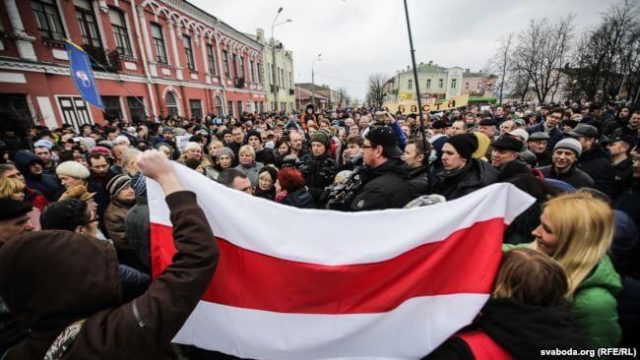 Predicting that Belarusian authorities would begin apprehending the most active participants of the continuing rallies against the decree on social parasites was like pushing at an open door. While first arrests occurred on March 11 (see EDM, March 14), four days later, amidst a new splash of protest activity, they became more numerous. Most (about 50) occurred in the city of Minsk; eight people were arrested in Mogilev (Tut.by, March 16), and three in Grodno (Newsru.com, March 15). The majority of those detained were quickly released.
These occurrences raise three important questions: First, what is going to happen on March 25, when opposition-minded Belarusians routinely celebrate Freedom Day, which commemorates the anniversary of the creation of the Belarusian People's Republic (BPR) in 1918? Although the BPR's life span was just six months, some Belarusians believe it ushered in Belarus's statehood. Second, what will be Russia's reaction to ongoing street protests in Belarus? Third, what will be the reaction of the West?
Whether the opposition is able to mobilize a large crowd of protesters on March 25 remains to be seen. Early signs are not promising. Three opposition leaders received 15-day sentences for violating public order on March 11 (see EDM, March 14), and there is no unity among the remaining leaders. For instance, Andrei Dmitriev, of the Tell the Truth civic campaign, harshly criticized Nikolai Statkevich, the most radical of the opposition leaders, for his March 25 plan. Statkevich's agenda for protests in Minsk envisages the meeting point for the rally near the headquarters of the Academy of Sciences, marching to Independence Square (a 5 kilometer distance), and then deciding what to do based on how many protesters reach the square. According to Dmitriev, this is no plan, especially considering that it does not involve safety and security precautions (Svaboda.org, March 17). Andrew Wilson, a professor of Ukrainian Studies at the University College of London and an author of a 2011 book on Belarus, observes that "[President Alyaksandr] Lukashenka's opponents have become isolated and ineffective, able to win Western grants but very poor at reaching out to ordinary citizens. Indeed, their belated attempts to latch onto the protests is one of the few things working in Lukashenka's favor" (Politico.eu, March 17). Wilson believes that "if the Belarusian president is to survive, he will have to walk a narrow path, with his citizens pushing him from below and the Kremlin watching for its opportunity from outside."
While this prediction may be a bit overdramatized, particularly in regard to a "narrow path," Russia's reaction to the crisis in Belarus is a serious issue indeed. In Russian media, assessments of goings-on in Belarus have become confusingly reassigned, much like in Belarus itself (see EDM, March 8). Thus, Russian government-friendly media outlets are now soliciting opinions of the opposition-minded Belarusians, including those working for Radio Liberty (RL), which would be taboo if the focus of the narrative were on Russia itself. For example, Lenta.ru quotes Valery Karbalevich of RL, who suggests that because in Belarus the parliament is purely decorative, there is no other way of conveying the popular opinion to the authorities except via street protests. The subtitle of the Lenta.ru commentary on protests in Belarus is "Why Belarusians Stopped Being Leery of a Maidan in Their Country" (Lenta.ru, March 15). At the same time, some in the Russian opposition opine that Belarus is being pushed out of its union with Russia by a "dirty public relations campaign" and by depriving it of legitimate level-playing-field prices on hydrocarbons. This is done out of "ideological hatred" and self-seeking by Russian oligarchs (Svobodnaya Pressa, March 13). By and large, however, the opinion that Belarus is a parasite living off Russia's largesse is being pushed by the Russian mainstream media as never before. Belarus's response that Russia is selling its natural gas to the European Union cheaper than to Belarus can hardly sway public opinion in Russia. But this is exactly what appears to be happening: if export duties are subtracted from the Russian gas price for Germany, the latter is purchasing this resource for significantly less than Belarus. Such duties would be at odds with economic integration within the Eurasian Union, so their subtraction when comparing the two price structures is justified (Respublika, March 16).
The West's stance regarding the Belarusian demonstrations is unclear. When the Organization for Security and Cooperation in Europe (OSCE) expressed concern over the arrests of protesters, the chairperson of its Parliamentary Assembly, Christine Muttonen, received assurances that the Belarusian authorities would exercise restraint (Tut.by, March 16). The Lithuanian commentator Vytis Jurkonis opined that the European Union would not revert to its policy of sanctions on Belarus (Svaboda.org, March 17). A re-imposition of sanctions, however, is exactly what Belarusian opposition leaders Stanislaw Shushkevich, Andrei Sannikov and Nikolai Statkevich asked of the EU in their recent joint statement (Naviny.by, March 17). Shushkevich was the speaker of Belarus's parliament; in 1991, he signed the Belavezh Accord, which terminated the Soviet Union. Sannikov and Statkevich were 2010 presidential hopefuls; the former is now in exile in Poland. For all three of them, an appeal like the one cited above is an opportunity to signal they are still around and, possibly, to be heard in the West. In turn, the Tell the Truth campaign is categorically against the resumption of sanctions as it would arguably make the human rights situation in Belarus worse (Za Praudu, March 16).
It appears that Wilson's advice to Europe to keep an eye on Minsk is warranted. The current unstable situation will probably be resolved soon one way or another. But it might make sense for the West to be a participant of some sort, not a bystander. On March 16, the delegation of the International Monetary Fund (IMF) made an unscheduled visit to Minsk and met with President Lukashenka (Naviny.by, March 17). Its loan program to Belarus has been in the works for three years now. Meanwhile, on the same day as the IMF delegation visit, the transfer of the third tranche of the Eurasian Economic Union's loan to Belarus was postponed—now for the second time (Tut.by, March 17). Minsk is thus in a particularly tight fiscal bind, and support from the IMF would be instrumental for the government at this juncture.