Uzbekistan and Russia Reach Agreement on Construction of New Nuclear Power Plant
Publication: Eurasia Daily Monitor Volume: 15 Issue: 102
By: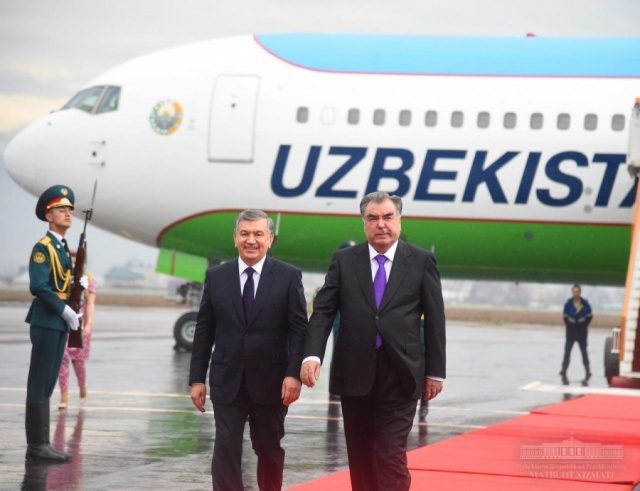 A series of meetings since late December 2017 between officials from Uzbekistan and ROSATOM, the Russian state nuclear energy corporation, suggests that both sides have reached an agreement to build a two-reactor nuclear power plant (NPP) in this Central Asian republic. According to Bakhrom Ashrafkhanov, Uzbekistan's ambassador to Russia, "[T]he nuclear power plant will definitely be constructed," and the two sides are working on a road map. It is expected the final deal will be signed this autumn in Tashkent, during President Vladimir Putin's visit to Uzbekistan (Uzdaily.uz, June 22).
Media outlets suggest that the idea to build an NPP, most likely to be located in the southwestern uranium-mining province of Navoi, came from Uzbekistani authorities. According to the reports, ROSATOM, a global leader in its industry, readily agreed. Plans to build an NPP in Uzbekistan have existed for many years, but were given a final decisive push by President Shavkat Mirziyoyev (Interfax, May 30). The timing is particularly promising—the NPP plan coincides with other bold, wide-ranging reforms meant to rejuvenate the country after years of general economic and political stagnation as well as neglect of the energy sector in particular. However, there are also concerns Uzbekistan's government or the heavily indebted ROSATOM might require years to raise the necessary funds, particularly given ROSATOM's existing commitments to build 42 nuclear reactors in 12 countries around the world (RIA Novosti, December 1, 2017).
Uzbekistan's former president, the late Islam Karimov, also realized the need for constructing an NPP since the country's fossil fuel–based energy sector is not sustainable in the long term. Proven oil and natural gas reserves are projected to last, at current rates of consumption, for the next 30–35 years; and approximately 86 percent of Uzbekistan's electricity is generated by thermal power plants running on gas. Nevertheless, due to environmental concerns, high costs, the region's seismic peculiarities, and, perhaps, Karimov's inherently cautious and slow-moving approach, Uzbekistan's nuclear aspirations were put on hold during his rule (Odnako.ru, August 30, 2014).
The late president's so-called "gradualist approach" became a euphemism among his critics for not taking necessary measures to tackle critical, worsening power shortages. The entire country, with the partial exception of the capital, Tashkent, chronically suffers from acute electricity shortages, especially in winter. Millions of Uzbekistani families struggle to survive the winter season, spending large parts of their already meager incomes to buy traditional sources of energy such as coal and firewood or mini electricity generators that run on gasoline. Similarly, power shortages force owners of many small- and medium-sized businesses in the provinces to scale down their operations or send workers on unpaid leave during the winter months (Ozodlik Radiosi, May 12, 2014).
If constructed, the envisaged NPP will add 2,400 megawatts (MW) of capacity to Uzbekistan's existing total installed capacity of 14,100 MW. To some extent, this may alleviate current power shortages. Yet, more future brownouts will continue to loom, as the country's electricity consumption is expected to rise by 50 percent in the next decade (Review.uz, June 29).
Paradoxically, Uzbekistan is a net exporter of both natural resources and electricity. Every year, it earns hundreds of millions of dollars by exporting electricity to neighboring countries, mainly to Afghanistan, and billions of dollars by exporting natural gas to China, Russia and its neighbors. For years, the government prioritized boosting export earnings over domestic consumption needs. Questions persist, therefore, as to whether the planned NPP will really serve to ease the plight of the population, or will merely become another source of export revenues for government officials and affiliated business groups (Sputniknews-uz.com, March 24).
Such fears are not entirely baseless: in order to recoup the cost and to meet loan repayment targets associated with the nuclear plant, Uzbekistan's government might again be tempted to sell most of the electricity to neighboring markets to generate quick cash. Corroborating these fears, proponents of the NPP within the government tend to look at the issue through the prism of freeing more natural gas for exports, rather than satisfying the growing demand for gas from the people and businesses of Uzbekistan (Review.uz, June 29).
Bahtiyor Ergashev, an Uzbekistani researcher, has voiced mainly positive assessments of the government's NPP plans. And yet, he also thinks it might make long-overdue radical reforms of the energy sector even more urgent. According to Ergashev, Uzbekistan's power supply system is "totally rotten, through and through corrupted with unbelievable rates of electricity loss that can reach as high as 38 percent." Therefore, the rehabilitation and modernization of the existing power generation units and transmission infrastructure are prerequisites for the effective management of the energy system (Vestnik Kavkaza, June 3).
Anvar Husainov, a former senior energy official and political commentator, does not think an NPP would be the most effective solution for Uzbekistan's energy crisis. Instead of embarking on an enterprise that could cost $10 billion–13 billion, he believes the government should consider investing in neighboring Tajikistan's long delayed but more cost-effective Rogun Hydro Power Plant (HPP), estimated to cost $4 billion. When fully completed, the dam would cheaply generate 3,600 MW of electricity and could meet the growing energy needs of both Tajikistan and Uzbekistan as well as other countries in the region (YouTube, May 31).
Beginning this year, Uzbekistan has resumed importing electricity from Tajikistan and Kyrgyzstan. The electricity is priced at $2 cents per kilowatt in summer, and $2.5 cents per kilowatt in winter, quite close to Uzbekistan's prices for domestically generated energy (Podrobno.uz, April 3). Uzbekistan's attitude toward the Rogun hydro plant and the heretofore similarly controversial Kambarata HPP in Kyrgyzstan has changed dramatically after President Mirziyoyev came to power. Once strongly opposed, Uzbekistan has even expressed a willingness to invest in both of these HPPs, calling them "important projects for the whole region" (President.tj, March 9; Kabar.kg, December 28, 2017).
In the final analysis, construction of the proposed NPP will not completely solve Uzbekistan's energy shortages. Uzbekistan will still need to expand power-generating capacity (perhaps by building additional NPPs) as well as look for alternative sources of energy, including from neighboring countries. Moreover, the government's current practice of favoring exporting energy resources without first fully satisfying domestic demand is quite contentious. If it continues, it may undermine Uzbekistan's ability to fully realize its human and industrial potential.