Belarus Celebrates Independence While Rejecting Having to Choose Between East and West
Publication: Eurasia Daily Monitor Volume: 15 Issue: 103
By: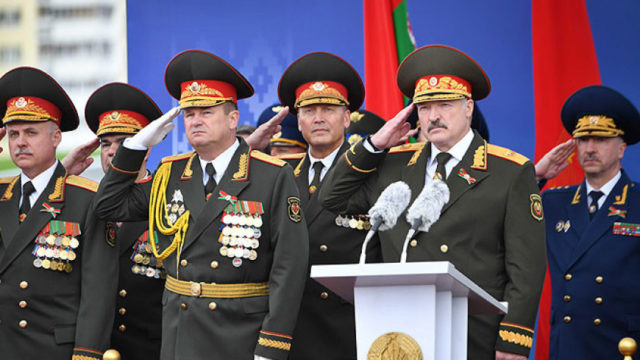 Three implicitly interrelated events eclipsed all other developments in Belarus over the course of the past two weeks: Belarus's Independence Day (July 3); the inauguration of the Maly Trostenets memorial (June 29); and, strangely enough, an off-the-cuff pronouncement by President Alyaksandr Lukashenka seemingly lamenting the fragility of Belarusian sovereignty (June 23).
In the successor states of the former Soviet Union (FSU), independence days were selected to commemorate either declarations of sovereignty adopted in 1991, as was the case in Ukraine, the countries of Central Asia, and Armenia, or the 1918 declarations of independence by the antecedents of the modern states, as was the case in Azerbaijan, Georgia and the Baltic States. From 1992 to 1996, Belarus followed the former routine and celebrated its independence on July 27. However, in the wake of the 1996 constitutional referendum, the national Independence Day was shifted to July 3, the day of liberation of Minsk from Nazi Germany in 1944.
The association of Independence Day with that event underscores not just the significance of World War II—after all, Victory Day (May 9) is a separate public holiday—but also its formative influence on Belarus as a national community. "We have paid an overly high price for independence," declared Lukashenka in his speech on the eve of the holiday. "Belarus will not be choosing between West and East. Our people are choosing independence, peace and partnership. We are choosing Belarus!" Two groups of foreigners participated in the July 3 military parade in Minsk: Russian paratroopers and an honor guard from China (Tut.by, July 3).
Reinforcing the significance of the Second World War for Belarus's historical memory was also the opening of the Maly Trostenets memorial, marking the site of what was the fourth-largest Nazi concentration camp in Europe (after Auschwitz, Treblinka and Majdanek), where 206,500 people were exterminated (Belta, June 28). Besides Lukashenka, the presidents of Germany and Austria, Frank-Walter Steinmeier and Alexander Van der Bellen, respectively, attended the ceremony; also present were officials from Poland and the Czech Republic. The camp was created by the German occupiers in the fall of 1941, at the former Karl Marx collective farm. It is 22 kilometers from the Minsk Ring Motorway, the current city line. Commentators have invoked two main reasons for why it took 70 years to create this memorial, despite thousands of other war monuments of various stature having long been around in Belarus. First, most of the camp's victims were Jews; but in the Soviet Union, and for some time after its demise, it was not considered politically correct to emphasize this group's disproportionate size among war casualties. Second, prior to 1941, the Soviet secret police used the same site to kill innocent Soviet civilians (Svaboda.org, June 29; Deutsche Welle—Russian service, June 28; BBC—Russian service, July 2).
The participation of high-level European guests of honor alongside the president of Belarus could be seen as a further boost to his international standing. This is what the Council of the Belarusian People's Republic (Rada BNR), a self-proclaimed Belarusian government in exile, underscored in its statement, claiming that while it honors the memory of the Maly Trostenets victims, the visit of two presidents enhances the "international legitimacy of the dictatorial regime" (Svaboda.org, June 29). Some messages are expressly delivered to remind the recipients about the messenger, which seems to have been the intention in this particular case. After all, Belarus's international contacts at all levels have been numerous and intense in recent years (see EDM, October 20, 2015; July 26, 2017; October 16, 2017; June 1, 2018) even without the occasion in question. Moreover, every newly appointed ambassador to Belarus hands in his/her credentials to President Lukashenka, and there are 39 embassies in Minsk.
Europe supports an independent Belarus and sees contacts with its leadership as key to this support (Cer.eu, April 3, 2014; Europa.eu, November 21, 2016). Hence, Lukashenka's recent off-the-cuff pronouncement about sovereignty seemed especially jarring. Several weeks ago, the Belarusian president traveled to the town of Shkvov, Mogilev Oblast—Lukashenka's home base, from which he began his successful political rise back in 1990. Meeting with the regional agricultural management team, Lukashenka suddenly declared that if Belarus's farmers do not stick to the production plans, "Belarus will soon go around the world without pants… We are at war. If we […] give up, we will have to become part of another state. Or they will use us as a doormat and, God forbid, unleash a war like in Ukraine" (RIA Novosti, June 23).
Although the pronouncement in question was excluded from the official report from that meeting, the press pounced on it. Particularly in Russia, hardly any media outlet refrained from interpreting or over-interpreting Lukashenka's impromptu pronouncement. Explanations ranged from "this is a calm and rational statement" (Vzglyad, June 25) to "this communicates a pent-up desire of most Belarusians to unite with Russia the way Crimea and Sevastopol did" (ForPost, June 27). Others claimed Lukashenka's remarks represented fear-mongering about the putative designs of Russia, thus raising the necessity for Moscow to support Russia-loyal Belarusians instead of Lukashenka (Kultura, June 27). In response, some Belarusian commentators committed to both union with Russia and to Belarus's independence painted a heart-wrenching picture of the expected consequences of Russia's would-be annexation of Belarus. Notably, they raised the prospect of an ensuing civil war and imminent clash between Russia and the North Atlantic Treaty Organization (NATO) (Sonar2050, June 29).
In the opinion of the usually levelheaded Tut.by analyst Artyom Shraibman, currently a student at the London School of Economics, Lukashenka's pronouncement hardly reflected a genuine fear of Russia. Rather it revealed "accumulated nervousness" and the fact that Lukashenka could not find a better bugaboo with which to mobilize the regional economic management elite, whose importance would inevitably be downgraded were Belarus to be swallowed up by an unnamed larger country (Carnegie.ru, June 29). As such, these remarks by Lukashenka should not overshadow the fact that a free and peaceful Belarus has recently celebrated its 26th year of independence and honored its war victims.