Uzbekistan and Turkmenistan: Can Common Interests Push Old Quarrels Aside?
Publication: Eurasia Daily Monitor Volume: 10 Issue: 189
By: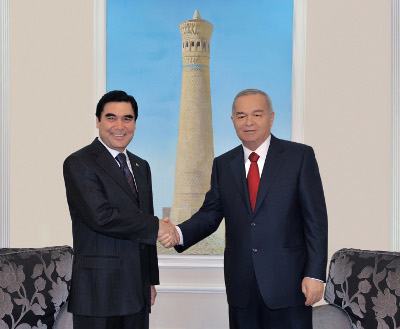 Uzbekistan and Turkmenistan suffered from serious bilateral tensions in the first decade after both Central Asian republics had gained their independence. But following the election of Turkmenistan's new president, Gurbanguly Berdimuhamedov, personal relations between the two countries' heads of state visibly improved. A complex series of factors helps to explain the sudden and unusual improvement in bilateral relations between Tashkent and Ashgabat: from common interests in a natural gas pipeline to China, to the two regimes' similarities.
At the end of September 2013, an inter-governmental Uzbekistan-Turkmenistan commission reconvened in Bukhara, Uzbekistan, to discuss the issues of the delimitation and demarcation of the border between two countries. Bilateral negotiations over the border issues have a long history. Although a treaty on border delimitation was signed back in 2000, four year later, in 2004, the then-president of Turkmenistan, Saparmurad Niyazov, and Uzbekistan's President Islam Karimov met in Bukhara to sign further agreements on the issue. The two governments reached a real breakthrough regarding the rights of residents from 12 districts of Uzbekistan who were granted simplified access to Turkmenistan's territory (https://eurasec.com/evrazijjskie-novosti/3635/).
As with many other former Soviet republics, the collapse of the Soviet Union led to the emergence of a set of problems between Uzbekistan and Turkmenistan, including border disputes, unresolved territorial claims and, most importantly, ethnic problems. Uzbeks are the second largest diaspora in Central Asia after Russians, and their number in Turkmenistan is around 9 percent of the total population. On the other hand, there are some 150,000 Turkmens living in Uzbekistan's border regions, making up just 0.5 percent of the total population (https://asgabat.net/stati/turkmenistan-turizm/mnogonacionalnyi-turkmenistan-uzbeki.html; https://iwpr.net/report-news/uzbek-turkmen-talks-disappoint-both-ethnic-minorities).
The two countries share a long and densely populated border, in some parts crossed by the Amu Darya river. And since Turkmenistan has a visa regime with practically all countries in the world (except Turkey), this complicates the communication between people across the border—especially considering that cross-border family ties are traditionally strong there, including inter-ethnic marriages. For a long time the residents of border areas were able to cross the border once a month without a visa for three days. Eventually, a citizen of Uzbekistan had to pay six dollars as an entrance fee to visit Turkmenistan. Additionally, there are still several disputed territories on the border between the two counties where some large-scale energy objects are found, like the Talimarjhan power plant (https://www.uzdaily.com/articles-id-22508.htm), located in Uzbekistan, and the Kokdumalak oil field (https://www.eia.gov/countries/cab.cfm?fips=UZ), which the two countries are developing jointly. Along the border areas, Uzbekistan also has critical irrigation infrastructure, but most of these outstanding issues had been settled within the last few years. On the other hand, the use of common water resources from the Amu Darya remains a source of potential conflict between two countries, although their bilateral water problems are somewhat less pronounced than the broader dispute between Central Asia's upstream and downstream republics (https://www.cacianalyst.org/publications/analytical-articles/item/9511-analytical-articles-caci-analyst-2004-12-1-art-9511.html).
Open conflict between Uzbekistan and Turkmenistan almost erupted in the past not over border or water issues, but around murky politics. In November 2002, Turkmenistan's government reported an unsuccessful assassination attempt on then-president Niyazov and accused Uzbekistan's ambassador in Ashgabat of assisting with a coup plot. Independent analyst Dr. Hooman Peimani notes: "This accusation severely damaged Turkmen-Uzbek relations and forced the Uzbek ambassador to leave for Uzbekistan. In the following days, the Turkmen authorities forcibly relocated ethnic Uzbeks living near Turkmenistan's border with Uzbekistan" (https://www.cacianalyst.org/publications/analytical-articles/item/8101-analytical-articles-caci-analyst-2003-6-4-art-8101.html).
Relations between the two countries remained frozen until 2004, when Niyazov and Karimov met in Bukhara, and made general declarations of friendship and cooperation amid rising global energy prices and a mutual concern over the Russian gas monopoly in the region. Yet, relations between Uzbekistan and Turkmenistan arguably did not significantly improve until after a new Turkmenistani president, Gurbanguly Berdimuhamedov, come to power in February 2007. Already in October 2007, Karimov made a state visit to Turkmenistan, which was followed by Berdimuhamedov's trip to Uzbekistan in March 2008. The next visit of Berdimuhamedov to Tashkent took place in February 2009, and the meeting of both presidents in October 2012 in Ashgabat was almost unilaterally acknowledged as a tangible breakthrough in bilateral relations, being made in an exceptionally friendly atmosphere. The presidents declared their common positions on security, sustainable development and global challenges. Islam Karimov supported his counterpart in foreign, political and regional policy, and also complimented on his economic success (https://www.turkmenistan.gov.tm/?id=2407).
Economic cooperation, trade and transportation were named as priority spheres. For the double-landlocked country of Uzbekistan, Turkmenistan presents a convenient geographic connection to the Caspian Sea port of Turkmenbashi and also to the markets of Iran and the Middle East. Moreover, given Turkmenistan's growing needs in industrial products and increasing volumes of construction there (https://www.azernews.az/region/57675.html), Uzbekistan views its market as easily accessible and promising, and hopes to increase exports to its southwestern neighbor (https://uza.uz/en/politics/3059/).
Several external factors also drive bilateral cooperation. First, Tashkent seeks Ashgabat's support in its efforts to block the completion of the Rogun hydroelectric power plant in Tajikstan (see EDM, October 22). Second, Turkmenistan and Uzbekistan are interested in increasing their gas supplies to China—such as via the Central Asia–China natural gas pipeline that traverses Turkmenistan, Uzbekistan and Kazakhstan, eastward toward China's Xinjiang province. As one Russian analyst put it: "Turkmenistan became the first country in Central Asia to do something about dependence on Russia as a transit country… Part of this strategic [Central Asia–China] pipeline will run across [Uzbekistan's] territory. This [is] why Berdymuhamedov [sic] goes out of his way to please Karimov… Uzbekistan itself, a country with substantial gas reserves on its territory, needs new transport routes and investments in its gas industry… That is why it is has been casting hopeful looks west, at Turkmenistan" (https://enews.fergananews.com/articles/2342).
Finally, a third factor unifying Uzbekistan's and Turkmenistan's positions is the similarity of their respective regimes. Systemic examples of the suppression of human rights, attacks on the domestic opposition, and control over the economy and other spheres of society can be readily found in both countries. Mutual support thus helps them oppose criticism from the West and elsewhere.
Although the two countries have managed to settle the most acute issues in their bilateral relations, some incidents still occasionally occur. For example, in 2010, a border incident led to the killing of an Uzbekistani citizen by border guards from Turkmenistan. Also, the personal relations between the two countries' presidents, although seemingly warm today, may change over time, given their autocratic and eccentric nature, putting all the achievements to date in jeopardy. However, Tashkent and Ashgabat's bilateral relations have now reached the point whereby their mutual understanding of common national interests largely overweigh old concerns. Today, Turkmenistan and Uzbekistan could even serve as a positive regional example of good neighborly relations in Central Asia.